Most memorials or monuments include your lost loved one's name, relationship, birth and death date. However, also including a personal memorial quote or special saying can make your loved one's final resting place much more comforting and unique.
Memorial quotes—or epitaphs—are engraved on memorials like cemetery markers and mausoleums to portray the significance and memory of a lost loved one.
From values to character, personality and interests, the following list provides endless memorial quote options unique to your loved one's life.
Click through the different non-religious and religious memorial quote sections linked below for inspiration as you begin designing your loved one's headstone.
For a downloadable version of this guide, please click here.
Commonly Used Memorial Quotes

​​When deciding on a memorial quote, it's important to consider what kind of message best represents your loved one. Here are some of the most commonly used epitaphs to serve as a starting point.
We miss you and love you always.

Nothing can ever take away a love the heart holds dear.

Those who touch our lives, stay in our hearts forever.

Your life was a blessing, your memory a treasure. You are loved beyond words and missed beyond measure.

The best is yet to come.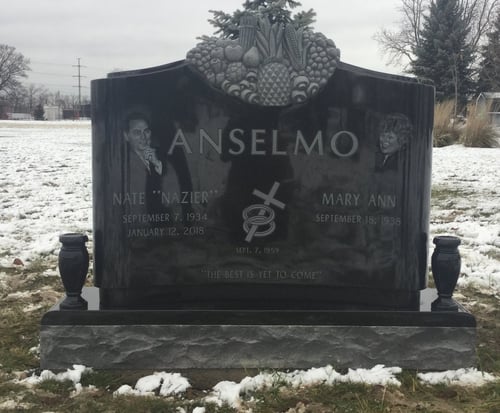 When someone you love becomes a memory, the memory becomes a treasure.

Not a day goes by when you are not loved and missed.

A heart of gold stopped beating / Working hands at rest / God broke our hearts to prove to us / He only takes the best / Leaves and flowers may wither / The golden sun may set / But the hearts that loved you dearly / Are the ones that won't forget.

You may be gone from my sight, but you are never gone from my heart.

Our hearts still ache in sadness and secret tears still flow. What it means to lose you, no one will ever know.

It broke my heart to lose you, but you didn't go alone. Part of me went with you, wherever you may roam.

Remembering you is easy. I do it every day, but there is an ache within my heart that will never go away.

I did not see you close your eyes or hear your last sigh. I only heard that you were gone, too late to say goodbye.

No farewell words were spoken, there was no time to say goodbye. You were gone before we knew it and only God knows why.

Beautiful as a bright shining star.

Goodbye is not forever. Goodbye is not the end. It simply means I'll miss you until we meet again.

It's hard to forget someone who gave me so much to remember.

Sometimes memories sneak out of my eyes and roll down my cheeks.

There is no foot too small, that it cannot leave an imprint on this world.

The loss is immeasurable, but so is the love left behind.



Famous Memorial Quotes
There are thousands of quotes from well-known individuals, books or prayers that can be turned into beautiful memorial quotes for headstones. Below are several of the most common famous memorial quotes that families incorporate into their loved one's headstones.
—D. Morgan
—Cesare Pavese
—Dr. Seuss
—Helen Keller
"If ever there is a tomorrow when we're not together, there is something you must always remember. You are braver than you believe, stronger than you seem and smarter than you think. But the most important thing is, even if we're apart, I'll always be with you."
—Winnie The Pooh
—Winnie The Pooh
—Mahatma Gandhi
—Bob Dylan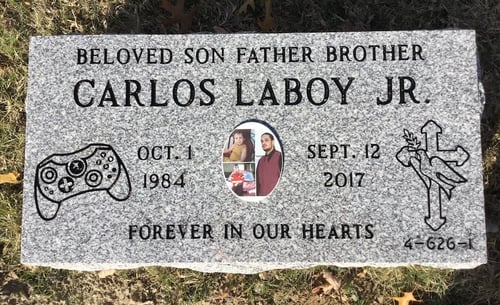 "Know when to seek peace / For as long as the moon shall rise / For as long as the rivers shall flow / For as long as the sun shall shine / For as long as the grass shall grow / Let us have peace."


—Native American Poem
"Our legacy is really the lives we touch, the inspiration we give, altering someone's plan - if even for a moment - and getting them to think, cry, laugh, argue. More than anything, we are remembered for our smiles; the ones we share with our closest and dearest, and the ones we bestow on a total stranger, who needed it right then, and God put you there to deliver."
—Carrie Hamilton
—Dr. Seuss
—Jewish Prayer
—Richard Russo
—Mitch Albom
Short Memorial Quotes
If you aren't able to find a lengthier epitaph, Bible verse or famous quote you like, short memorial quotes are just as impactful. Here are some short memorial quotes you'll see at a cemetery.
In loving memory.

Loving you forever.

Forever in our hearts.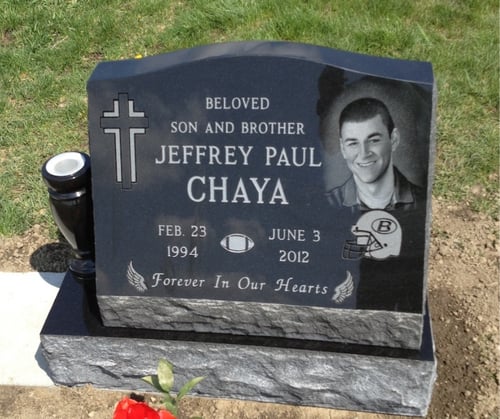 Greatly loved, deeply missed.

Beloved by all who knew them.

Rest in peace.

You will forever be my always.
Memorial Quotes For Parents and Grandparents

Personalizing a parent's or grandparent's headstone is one of the most important ways to honor their unique life lived. Choose one of the following memorial quotes that best suits your loved one.
We lived together in happiness. Now we rest together in peace.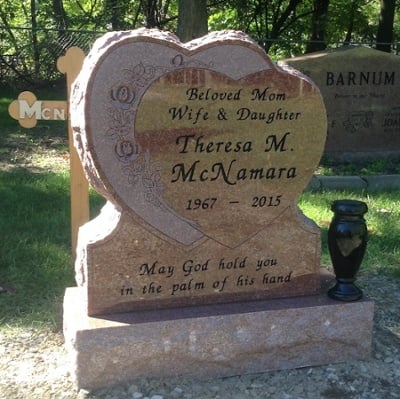 Mother and Grandmother Memorial Quotes
Consider the following memorial quotes for mothers and grandmothers when designing their headstone.
—Proverbs 31:25
—Proverbs 31:31
—Proverbs 31:29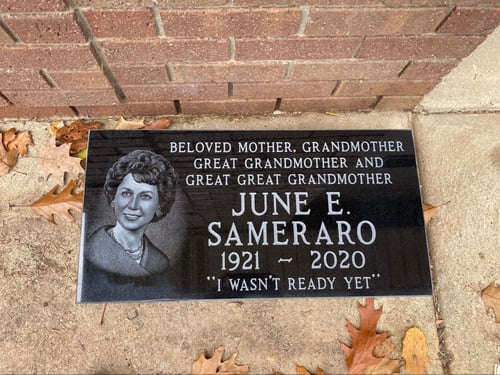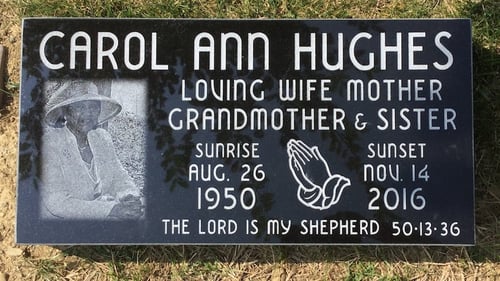 "You are gone, but thank you for all these soft, sweet things you left behind. In my home, in my head, in my heart."
—Nikita Gill
—Ariana Dancu
—Abraham Lincoln
Father and Grandfather Memorial Quotes
Consider the following memorial quotes for fathers and grandfathers when designing their headstone.
—Kazuo Koike
—Psalm 103:13
—Kate Summers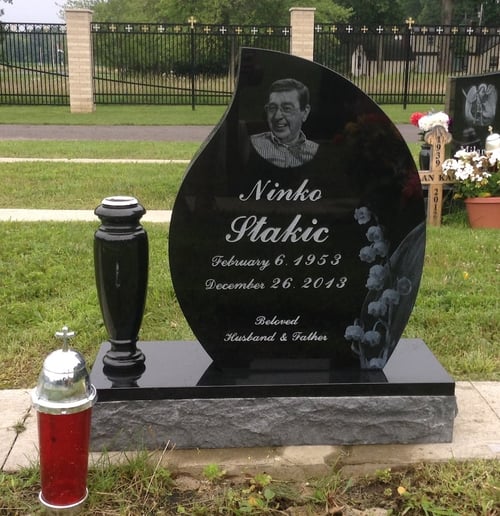 My grandfather didn't tell me how to live, he lived. And let me watch him do it.

One day we will meet again with you, Grandpa.
—Hebrew Proverb
—Bessie Anderson Stanley
Memorial Quotes For Teachers
Creating a headstone or community memorial is one way to help you cope with the loss of a teacher and/or memorialize a loved one that dedicated their life to teaching. Here are a few memorial quotes for teachers you can choose to incorporate as you begin the design process.
They always made the classroom brighter with their knowledge and wisdom.

A good teacher is like a candle—it consumes itself to light the way for others.

"The best teachers are those who show you where to look, but don't tell you what to see."
—Alexandra K. Trenfor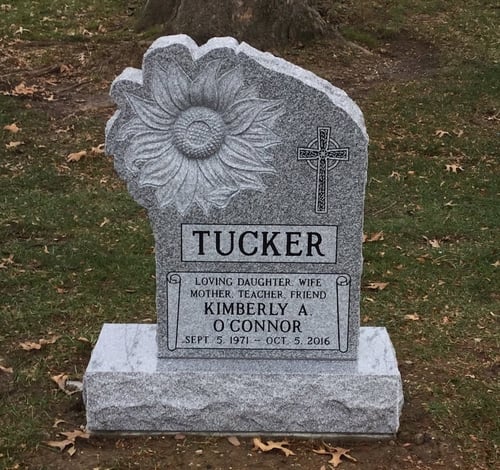 —Idina Menzel
A good education can change anyone. A good teacher can change everything.

To the world you may just be a teacher, but to your students, you were the world.

A teacher is the greatest blessing of the Lord.

With his insight and experience, he always made the classroom brighter.

Once in a lifetime people get to meet an amazing teacher like him.

Teachers plant seeds that grow forever.

She made a difference in the lives she touched.

In grateful remembrance of a teacher who made a difference.

Kids always first.

"The mediocre teacher tells. The good teacher explains. The superior teacher demonstrates. The great teacher inspires."
—William Arthur Ward
—Jeannette Walls
—Rainn Wilson
—Henry B. Adams
—Michael Morpurg
—G.K. Chesterton
—Allan Bloom
—Nelson Mandela
Memorial Quotes For Music Lovers
Adding a special saying that relates to your loved one's interests, like a love for music, helps make their final resting place much more personalized. Some of the following memorial quotes for music lovers may be a perfect fit for your lost loved one.
—Igor Stravinsky
"To send light into the darkness of men's hearts - such is the duty of the artist."




—Robert Schumann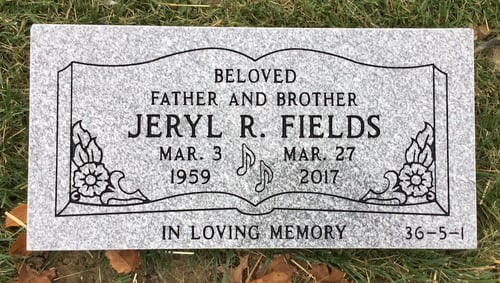 —Thomas Carlyle
"Music gives a soul to the universe, wings to the mind, flight to the imagination, and life to everything."
—Plato
"Music, once admitted to the soul, becomes a sort of spirit, and never dies."
―Edward Bulwer-Lytton
―Albert Einstein
―Jean Paul Friedrich Richter
―Percy Bysshe Shelley
"If you play music with passion and love and honesty, then it will nourish your soul, heal your wounds and make your life worth living. Music is its own reward."
—Sting
―Robert Schumann
—Claude Debussy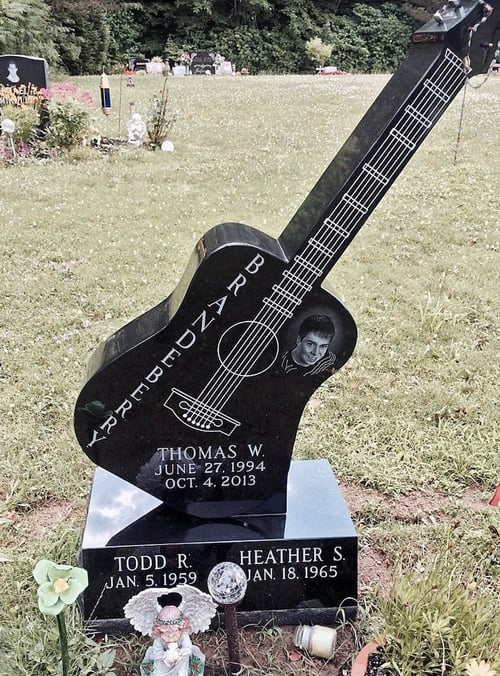 —Franz Liszt
"There was no one near to confuse me, so I was forced to become original."




—Franz Joseph Haydn

"I would rather write 10,000 notes than a single letter of the alphabet."
—Ludwig van Beethoven
—Wolfgang Amadeus Mozart
—Richard Wagner
—Billy Joel
—Beyoncé
—Prince
—John Lennon

Song Lyrics for Headstones
'Cause meanwhile up in Heaven they are waiting at the gate
Saying 'We'd always knew you'd make it,
Didn't think you'd come this late.
Some bright morning when this life is over, I'll fly away.
The only thing I knew how to do
Was to keep on keepin' on
Like a bird that flew.
But Tonto he was smarter
And one day said, 'kemo sabe,
Kiss my ass I bought a boat
I'm going out to sea.'
And he said someday I hope you get the chance
To live like you were dying.
Lord, make me a rainbow, I'll shine down on my mother
She'll know I'm safe with you when she stands under my colors.
I carry the things that remind me of you
In loving memory of the one that was so true
You were as kind as you could be
And even though you're gone
You still mean the world to me.
Memorial Quotes For Athletes, Coaches and Sports Lovers
Oftentimes, quotes for athletes or coaches appear on memorial plaques, community memorials or dedications at sports stadiums. The following list includes several memorial quotes for a lost loved one who was an athlete, coach or sports lover.
Those we love never leave us. They become our guardian angels in the outfield.

A coach will impact more young people in a year than the average person does in a lifetime.

At peace in Heaven's end zone. Forever in our hearts.

Gone to play ball with the angels.

I'd give my best day to play ball with you one more time.

Those we love don't go away—they play beside us every day.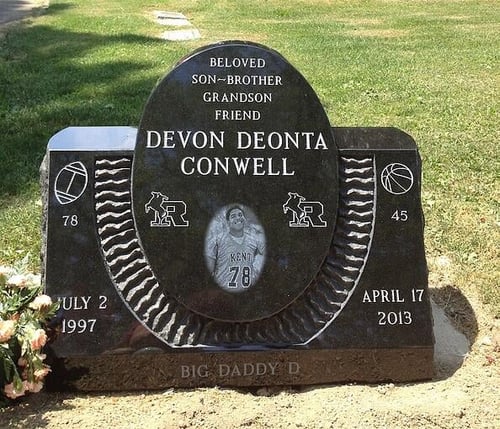 —Billie Jean King
—Michael Jordan
—Wayne Gretzky
—Mary Lou Retton
—Matt Biondi
—Babe Ruth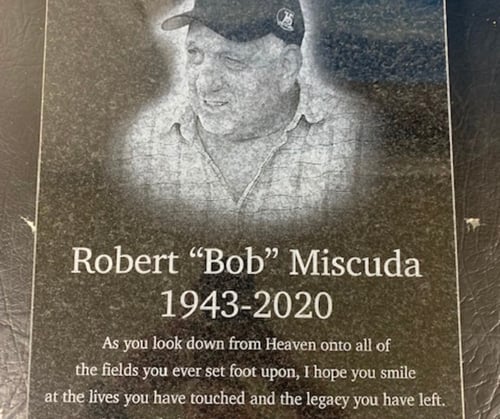 —Mia Hamm
As you look down from Heaven onto all of the fields you ever set foot upon, I hope you smile at the lives you have touched and the legacy you have left. May God place his hand on your shoulder and say, "Well done".

"Your vision will become clear only when you can look into your own heart. Who looks outside, dreams; who looks inside, awakes."
—Carl Jung
A great coach is hard to find, but impossible to forget.

"A good coach will make his players see what they can be rather than what they are."
—Ara Parasheghian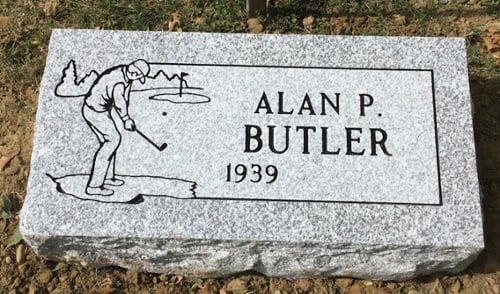 —Rosalynn Carter
—John Wooden
Leadership is about making others better as a result of your presence and making sure that impact lasts in your absence.

There are some who bring a light so great to the world, that even after they have gone, the light remains.
Memorial Quotes For Husband and Wife
Whether a couple is planning their memorial design together or individually after the husband or wife passes, one of the first items that need to be considered is how the headstone design will honor both of their lives. These memorial quotes are perfect for husband and wife headstones.
In you, I've found the love of my life.

Forever and always the hero of my heart.

"A soulmate is one person whose love is powerful enough to motivate you to meet your soul, to do the emotional work of self-discovery, of awakening."
—Kenny Loggins
—Richard Bach
—Joseph B. Wirthlin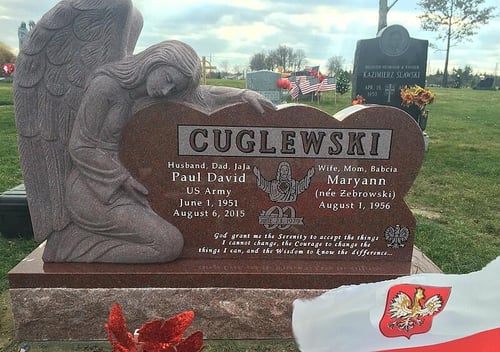 Two halves of the same soul joining together in life's journey.

"Part of my soul has loved you since the beginning of everything."
—Emery Allen
—Rupi Kaur
—Dave Meurer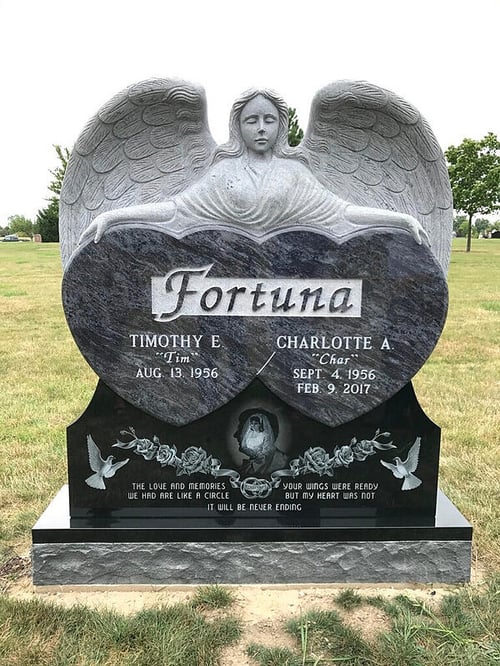 "Love is patient, love is kind. It does not envy, it does not boast, it is not proud. It does not dishonor others, it is not self-seeking, it is not easily angered, it keeps no record of wrongs."
—1 Corinthians 13:4-5
—1 Corinthians 13:8
—Romans 12:10
"Two are better than one, because they have a good return for their labor. If either of them falls down, one can help the other up."
—Ecclesiastes 4:9-10
"Place me like a seal over your heart, like a seal on your arm; for love is as strong as death, its jealousy unyielding as the grave. It burns like blazing fire, like a mighty flame."
—Song of Songs 8:6
—1 Peter 4:8
—1 John 4:12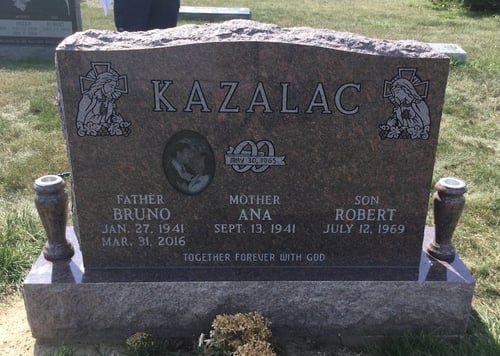 —Colossians 3:14
—1 Corinthians 16:14
Forever in our hearts.

Together in life and death.

Always in our hearts.

Everlasting love.

Your love will light the way, and your memory will be forever with us.

Together forever with our Savior.
Click here to view our gallery of husband and wife headstones.
Memorial Quotes For Nature Lovers
The elements of nature often serve as a subtle reminder that our lost loved ones are near. Memorial quotes can also serve as daily reminders of your loved one. If nature was a big part of your loved one's life, consider using one of these epitaphs on their headstone.
—Gary Snyder
—Lady Bird Johnson
—Khalil Gibran
—William Blake
–Nelson Henderson
—David Searls
—Eskimo Proverb
—Frances Hodgson Burnett
—Rabindranath Tagore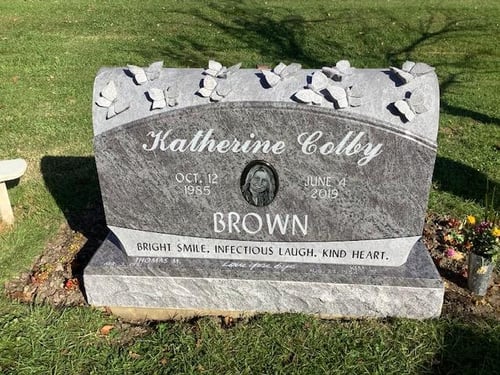 —Vicki Brown
To plant a garden is to believe in tomorrow.

"Rise above the storm and you will find the sunshine."
—Mario Fernandez
—The Beatles
—Angie Weiland-Crosby
—Bernard Williams
—Yoko Ono
—Hal Borland
Memorial Quotes For Travelers
Travel takes us out of our comfort zones and inspires us to see, try and learn new things. If traveling was a big part of your loved one's life, consider using one of these travel memorial quotes on their headstone.
The journey of a thousand miles begins with a single step.

Dare to live the life you've always wanted.

In the end, we only regret the chances we didn't take.

Not all those who wander are lost.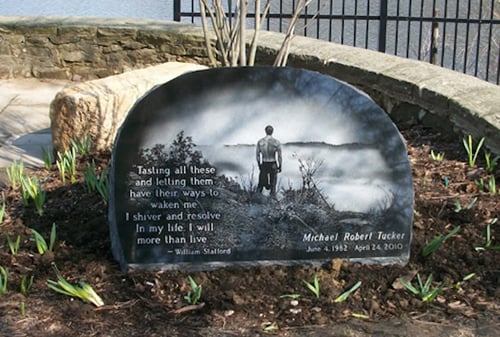 Always take the scenic road.

Travel makes you realize that no matter how much you know, there's always more to learn.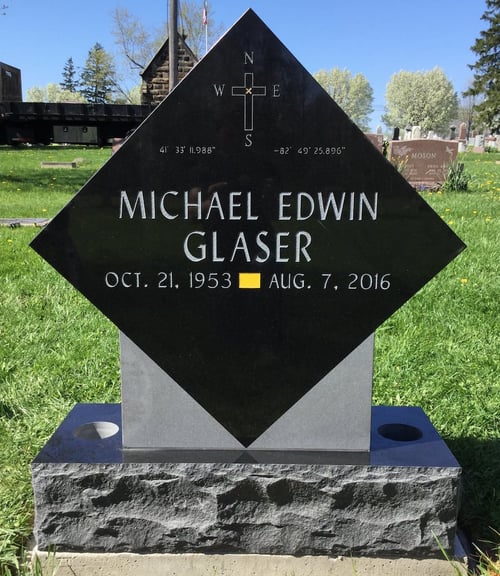 Memorial Quotes For Artists
If you ask an artist what they were meant to do in this life, they are sure to tell you it was to live out loud in creativity. If your loved one spent the majority of their life creating art, consider using one of these art-related memorial quotes on their headstone.
"Art is never finished, only abandoned."




—Leonardo Da Vinci

"Everything has its beauty, but not everyone sees it."




—Andy Warhol

"I dream of painting and then I paint my dream."




—Vincent Van Gogh

"Art is not a thing, it is a way."




—Elbert Hubbard

I would like to paint the way a bird sings.

"The artist sees what others only catch a glimpse of."
—Leonardo Da Vinci
Memorial Quotes For Animal Lovers
Pets provide companionship and bring joy to many people's lives. If animals were a big part of your loved one's personality, consider using one of these memorial quotes on their headstone.
"The ideal of calm exists in a sitting cat."




—Jules Renard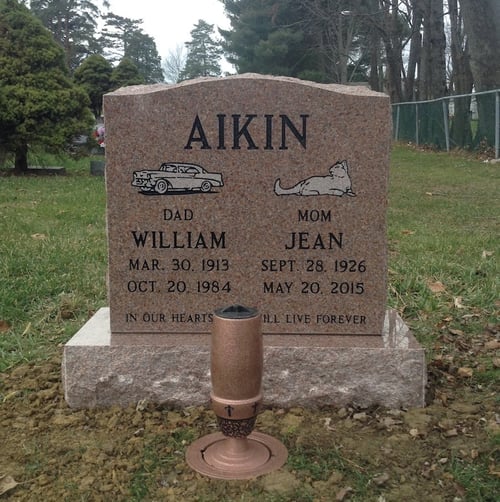 "Until one has loved an animal, a part of one's soul remains unawakened."




—Anatole France

"An animal's eyes have the power to speak a great language."




—Martin Buber

"A dog is the only thing on earth that loves you more than you love yourself."




—Josh Billings

Running through the fields of Heaven with my furry friend.

The best day of my life is when I get to meet my furry friend again.

No Heaven will be a Heaven without my furry friend there.



Memorial Quotes For Book Lovers
For many, reading unlocks aspects of themselves they never knew existed. If your loved one spent a large portion of their life with their nose in a book, consider using one of these memorial quotes on their headstone.
"A reader lives a thousand lives before he dies."




—George R.R. Martin

"The more that you read, the more things you will know. The more that you learn, the more places you'll go."




—Dr. Seuss

"The whole world opened to me when I learned to read."
―Mary McLeod Bethune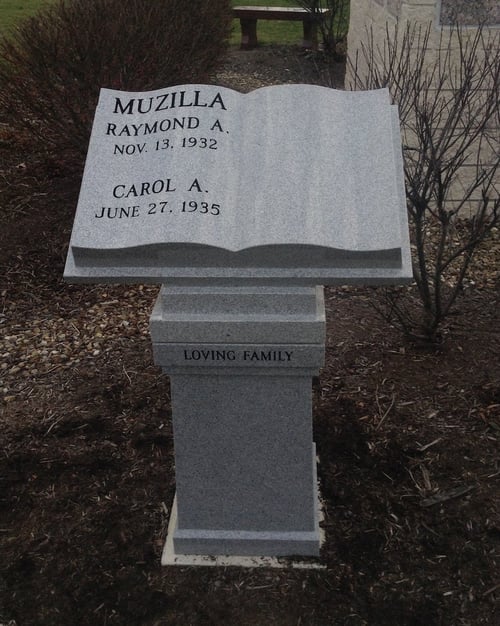 ―Jorge Luis Borges
―Lisa Kleypas
―Margaret Atwood
Memorial Quotes About Rest
Perhaps your loved one was suffering a terminal illness or was simply in pain from aging. When this rings true, we often just wish our loved one peace and rest. Below are a few simple yet impactful memorial quotes about rest.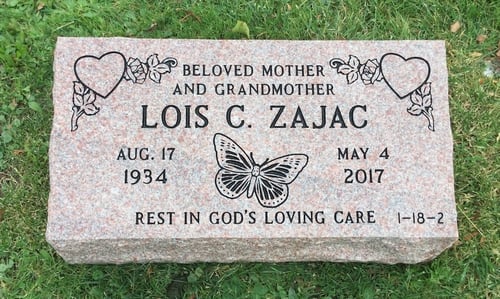 The just man shall be in rest.

Eternal rest grant unto them, O Lord.

And you may find eternal rest.

Sleep on now and take your rest.



Memorial Quotes About Prayer
If your family or your lost loved one was a religious person and was known to use the power of prayer often, one of these memorial quotes about prayer may be the perfect fit for their headstone.

Mother of Christ, pray for us.

Mother of Mercy, pray for us,

Mother of God, pray for us.

Holy Mary, pray for us.

Our Lady of Lourdes, pray for us.

St. Joseph, pray for us.

St. Anthony, pray for us.

St. Jude, pray for us.

St. Patrick of Ireland, pray for us.

Pray for me to the Lord, our God.



Memorial Quotes About Mercy
If your loved one was known to show grace and forgiveness toward others, one of these memorial quotes about mercy may be a good option for their headstone.
Have mercy on us, O Lord.

Lord, have mercy.

"There is no true justice without mercy. Mercy precedes everything, and it is why we are here."
—Kabir Helminski.
—Matthew Henry.
Every new morning shows the mercy of the Almighty God.

"Embrace all people with love, mercy and faith."
—Lailah Gifty Akita.
Lord, have mercy upon us.

Heart of Jesus, have mercy on us.

Christ, have mercy on us.
Christian Memorial Quotes
Christian quotes or Bible verses are one of the most common epitaphs families put on their loved one's headstones. If your loved one was religious, one of these memorial quotes may be the perfect headstone addition.
I am the bread of life.

I am the light of life.

To Jesus through Mary.

The Lord is my refuge.

God is our refuge and our strength.

God, grant me the serenity to accept the things I cannot change, the courage to change the things I can and the wisdom to know the difference.

My God and my all.

My God, I love thee.

My Lord and my God.

Sacred heart of Jesus.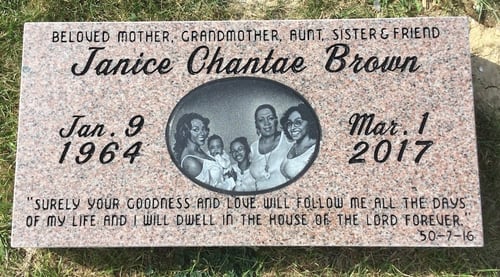 The Lord be with you.

In God's loving care.

Go to God, little angel.

A heart of gold stopped beating, two shining eyes at rest. God broke our hearts to prove, He only takes the best.

Queen of the most holy rosary.

Heart of Mary be our salvation.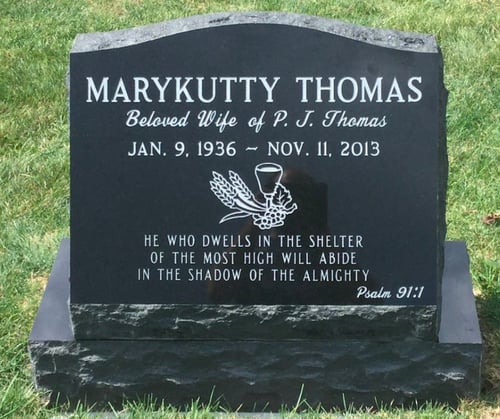 Hail Mary, full of grace.

Do all for the glory of God.

Let all that you do be done in charity.

Into thy hands I commend my spirit.

He who believes in me hath life everlasting.

May the angels lead you into paradise.

Make a joyful noise unto the Lord, serve the Lord with gladness.
—Psalms 100: 1-5

Let perpetual light shine upon them.

Thy will be done.

He who dwells in the shelter of the most high will abide in the shadow of the Almighty.
—Psalm 91:1
Blessed are they that mourn for they shall be comforted.
—Matthew 5:4
The Lord watch between me and thee, while we are absent one from another.
—Genesis 31:49

My kingdom is not of this world.

Whosoever so believeth in him should not perish but have eternal life.
—John 3:15

Theirs is the kingdom of Heaven.

In thee, O God, have I hoped.

My soul hath hoped in the Lord.

We are saved by hope.

Thy faith hath saved me.

I have kept the faith.

I know Heaven is a beautiful place because they've got you.

Blessed be God.

Bless His holy name.

Blessed are they that trust in Him.

Blessed are the pure of heart.

Blessed is the man who maketh the Lord his trust.



Design a Headstone With a Memorial Provider You Can Trust

At Milano Monuments, we personally work with each family and individual to design a memorial that is both personal and exceptional. Whether it is for yourself or a loved one, we will guide you and take the time to answer any questions you may have during this difficult time.
We believe in educating families so they understand the value of this gift that will last forever.
Schedule an appointment and one of our family representatives will partner with you, handle all communication with the cemetery (even for one out of the area or in a different state) and keep you updated as the memorial is created.