Mausoleum Guide
We all hope to be remembered for what we accomplished throughout our life. Whether it was success in business, dedication to a cause or commitment to family, the knowledge that we had a positive impact on others is comforting. For some, it's important that individuals recognize that impact long after their physical life ends. One of the ways people ensure their legacy is felt for generations is through a mausoleum.
Rich in history and tradition, mausoleums, also known as above ground burial chambers or tombs, can be found at sites around the globe. From the Taj Mahal to the pyramids of Egypt, these elaborate examples were built for the likes of emperors and kings. Although modern day mausoleums are much smaller in size, they remain beautiful works of architecture designed to honor those who have passed on, offering a peaceful and private setting for loved ones to pay their respects.
Much like a home, the cost of a mausoleum is an investment. A private mausoleum for one person runs about $35,000. On average, a walk-in mausoleum for eight people varies between $300,000 to $600,000. Larger mausoleums can cost upwards of $1 million based on the size, number of tombs, materials, labor, ornamentation details and add-ons.
In this guide, we invite you to explore the possibilities of these grand structures, including mausoleum designs, artistic and architectural personalizations, and the typical costs of mausoleums.
This guide offers information on:
For a downloadable version of this guide, please click here.
What Is a Mausoleum?
Mausoleums are above ground structures, traditionally made of granite, that are created for people who don't want to be buried below ground. They provide families and future generations a place to be laid to rest together—in caskets or in niches.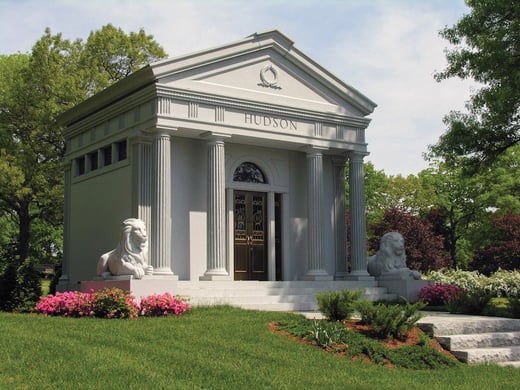 The term mausoleum was derived around 353 B.C. after King Mausolus whose tomb, the Mausoleum at Halicarnassus, was named one of the Seven Wonders of the Ancient World. Made entirely of white marble (which is no longer recommended as a construction material due to its tendency to warp and sag), the massive structure was said to have been 135 feet high.
Ancient mausoleums were designed to be grand in scale to represent the wealth, power and stature of the people laid to rest in them. Today's mausoleums can be grand in their own way, based on a person's wishes and desires. A mausoleum serves as a unique tribute to the person you were and a legacy for generations to come.
Why Choose a Mausoleum?
Individuals and families choose to build mausoleums on a case-by-case basis, but many prefer these grand structures because they:
Different Types of Mausoleums
Mausoleums vary in size and cost depending on a number of factors, like number of individuals entombed, materials used and level of personalization. The different types of mausoleums include the following.
Private Mausoleums
Private mausoleums are just that—private. It's one of the many reasons people select them for their final resting place. They can be designed as a single tomb or consist of multiple crypts and feature decorative engravings, a seating area and vases, or shelves to hold items like flowers, photos or other mementos. A lesser-known benefit to a private mausoleum is that they can provide a reduction in estate taxes when they are planned prior to a person's death.
Family Mausoleums
Family mausoleums serve as private sanctuaries that can be designed and customized down to the last detail. These types of mausoleums feature a single or double above-ground burial unit, or a large walk-in space with doors and windows. Large-scale mausoleums can house tombs for 20 or more people. Whether the mausoleum is placed in a cemetery or on private property, it is subject to the rules and regulations of the state regarding construction, materials, placement, disposition of the deceased and rules for endowment care.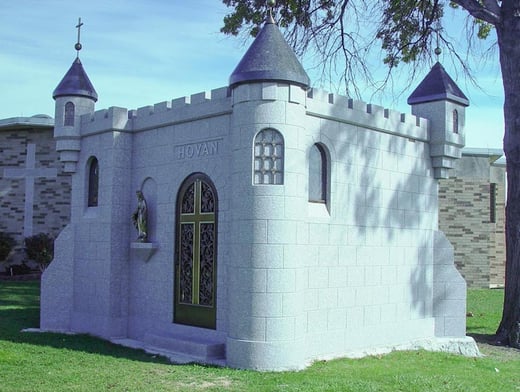 While regulations are generally less restrictive regarding design, certain factors, like the thickness of the slabs used for the floor and walls, are usually non-negotiable. This is to ensure the structure is built properly and will hold up to centuries of wear and tear. Some cemeteries require the establishment of a trust or care fund for regular maintenance or landscaping. As the trustee, you can specify the frequency and details of how you would like the mausoleum and area around it maintained.
Public Mausoleums
Since private mausoleums don't fit into everyone's budget, public or community mausoleums allow families to purchase a private niche where the casket is interred and sealed with a stone marker. These indoor structures offer families a place to meditate or pray while viewing the exterior crypt of their loved one. It's always a good idea to visit a public mausoleum before purchasing a crypt to see if it will be a pleasant place for people to visit. Make sure there are no strong odors, which could indicate bodies are not properly entombed or sealed.

Garden Mausoleums
Not only do garden mausoleums offer chambers for caskets, they can also display urns and other remembrances like statues and works of art. Since the door of each crypt opens to the outdoors, there is no indoor space for gathering and reflection.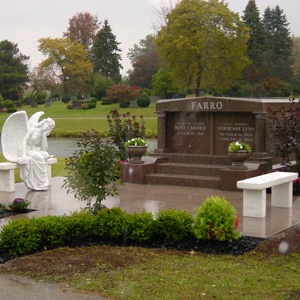 Columbarium
A columbarium is a public or private structure that houses cremated remains instead of caskets. It is composed of small niches that hold a single urn. Niches are like real estate—their cost is often based on their location. Prime locations are at eye level where a person's name can be easily seen. Niches located up high are less expensive. The face of the niche can be personalized the same way as a headstone—with inscriptions as well as with flower vases.

Advantages of Mausoleums
If you don't like the idea of being cremated or buried underground, mausoleums offer a cleaner and drier option. For those who live in a place where low elevation makes it too wet to bury a casket, you may have no choice but to purchase space in a mausoleum.
People interested in reducing their carbon footprint will find mausoleums more environmentally friendly because they reduce the amount of land used for burial. Tombs inside a mausoleum are stacked on top of each other—saving space and resources compared to a traditional burial.
Indoor mausoleums can be comfortable, peaceful places to visit because they provide protection from heat, cold and rain and allow family members to visit in comfort year-round. Some public mausoleums feature soft music, offering a serene setting to sit and reflect.
Mausoleum Design and Material Options
The construction process of a mausoleum is almost identical to buying land and building a house. You can choose just how much curb appeal you would like it to have—from its size, colors and customizations, to the landscaping surrounding it. It will be designed by a professional who will provide you with sketches and drawings. Once you approve the design, materials will be sourced and prepared by expert craftsmen.
Cemeteries will offer to subcontract these services for you, but we recommend you work directly with a monument company with the knowledge and experience to guide you through the process from start to finish. Experienced companies can help with all the decisions you will need to make as well as troubleshoot any issues that arise.
Depending on size and scale, mausoleums take on average between four to six months from sketch to setting. They can be prefabricated and transported fully built or built onsite by a construction team.
Granite colors for mausoleums are limited because larger slabs are needed to reduce the number of seams and joints (which can allow water and cold to seep in). Gray, which comes in polished (a darker gray) or unpolished (a frosted white appearance), is a popular option. Additional choices include rose granite, mahogany and black.
Other customization options:

Cost of a Mausoleum
The price of a mausoleum is determined by its materials, size, level of architectural detail and location. Mausoleums are an investment and may not be a practical alternative for everyone's budget. In general, you can expect to pay:
$25,000 to $100,000 for a simple, one or two crypt above-ground unit.
$300,000 to $800,000 for an average walk-in mausoleum for eight people.
$1 million or more for larger, more elaborate structures and embellishments.
Don't forget, you also must purchase or own the land where you plan to erect the mausoleum. A third-party vendor, such a memorial provider, can give you valuable insight about cemetery options in your area. They can go with you and help you find a picturesque plot (think: mature trees and water views) that will enhance how the mausoleum will appear once erected. Their expertise can also help guide you through:
Hidden costs or fees that arise during the plot selection process.
Complicated cemetery regulations about mausoleums.
Requirements and rules about plots that differ between cemeteries.


While not technically a part of the mausoleum, many people consider landscaping an important aspect of the finished look. As such, the costs of plants, flowers and trees should also be considered in the final cost.
Is a Mausoleum Right for You?
Deciding if investing in a mausoleum is right for you or your family is a personal choice. If you don't want to be buried or cremated, or you like the eco-friendlier option of entombment above ground, you will need to decide if the associated costs fit into your budget.
Public mausoleums offer a more affordable option, but not all cemeteries offer them. If you are intent on being laid to rest in this manner, look for a facility that is well-maintained and attractive. Make sure you fully understand any additional fees that may need to be paid at time of death.
Regardless of what you decide, you should never feel pressured by a cemetery or company to put down money or sign papers until you feel comfortable. If the person trying to sell you a mausoleum can't answer basic questions like the quality of the granite or where it comes from, you should look elsewhere.
Consult a Professional to Discuss Mausoleums
Milano Monuments works directly with individuals and families to construct custom mausoleums that fit their interests and needs. As a third-generation, family-owned business, we prioritize building relationships with our customers, providing transparent pricing, sourcing quality materials from reputable partners, and carefully guiding you throughout the planning, design, implementation and maintenance phases of mausoleums (including setting up a trust for the cemetery to continue maintenance once the entire family is deceased).
"The mausoleum we chose is a beautiful resting place. Mr. Feinberg and Milano Monuments were very helpful and reverent to our circumstances. The engraving we tasked them with turned out exceptional. From our initial conversation to delivery and following, everything proceeded effortlessly." Many thanks, The Iozzo Family
We work with both local and out-of-state customers to help find and select an appropriate cemetery location. We will build and install the mausoleum, or work with a reputable third party to set the mausoleum if you are located outside of Northeast Ohio.
We can also renovate or clean and restore existing mausoleums by designing, constructing and installing additions like statues and benches.
Our staff is available for phone or virtual consultations to offer guidance and expertise should you need help deciding what company is the right fit for you. If you're ready to talk about mausoleums, call us at 216-362-1199, or schedule an appointment online.