A headstone is a deeply personal and important tribute that celebrates a life lived. It plays an essential role in the remembrance of those who have passed and serves as a lasting representation of your loved one.
The headstone design process is tremendously rewarding, but can seem overwhelming at first. Along with selecting the memorial's size, material and style, there are several personalization options to consider including which design method your family prefers—headstone engraving or headstone etching.
But what is the difference between headstone etching and headstone engraving?
Continue reading to learn more about the process, cost, and design options related to headstone engraving and headstone etching.
What Is Headstone Engraving?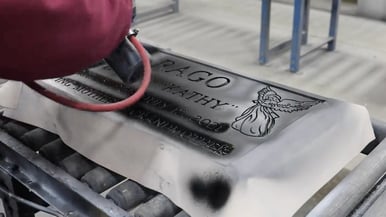 Headstone engraving is the process or art of cutting designs into a hard surface, like a granite headstone. And, it's the most common design method used to create the lettering and symbols on most headstones.
While hammers and chisels were traditionally used for granite engraving, sandblasting has become the preferred headstone engraving method.
Sandblasting uses compressed air to shoot small particles of sand through a hose to erode the granite surface. The technique is considered one of the most effective methods for engraving granite headstones and creates the most visually impressive result. Sandblasting enables both light and dark colors of polished granite to be exquisitely engraved.
What Is Headstone Etching?
When a granite memorial requires a more detailed image, headstone etching is the preferred method. While headstone engraving makes a deeper v-cut shape, only hand etching produces a high contrast marking on the surface of the material. Thus, it can create fine, detailed designs.
There are two methods that can be used to etch highly detailed designs in stone—hand etching and laser etching.
Hand Etching
Hand etching is a unique and difficult skill that adds incredible character and customization to a memorial. Talented hand etchers can take a scenic picture or even multiple images of a person and create a one-of-a-kind image.
Using a diamond-tipped etching tool, the image is drawn into the granite one dot at a time, creating more depth and contrast in the headstone. This type of headstone etching is deeper than laser etching and is best used on black granite.

Not only is hand etching a precise skill, but it is also a true art that requires creativity a machine cannot yet create on its own.
Laser Etching
Laser etching enables artists to produce accurate and detailed recreations of original designs and photographs in stone. This process uses a computerized laser that burns the surface of the stone.
Laser etching is a less expensive alternative to hand etching, and is especially effective when a family is able to provide a clear photo.
However, laser etching does not involve the same level of artistic creativity that hand etching requires. It does not provide the same depth of hand etching that creates contrast for lettering and designs.
How Are Headstone Engraving and Headstone Etching Similar?
While headstone engraving and headstone etching are two vastly different methods of personalizing a memorial, they do have one major similarity—both create a memorial of distinction that is unique to your loved one.
Each of these methods is a unique and highly specialized practice that adds incredible character and customization to a memorial. No matter which method you choose, you will leave with a customized headstone fit for your loved one.
How Does Headstone Engraving and Headstone Etching Affect Price?
The cost of a memorial can vary based on which method is used and it's important to keep in mind that pricing and quality may vary by provider. Standard engraved letters and symbols are typically included in the price of a headstone. Different lettering techniques and custom designs, however, may be an additional engraving cost.
Below are estimates of our headstone etching prices at Milano Monuments.

Single portrait etching:
8-inch laser etching starts at $595
8-inch hand etching starts at $1,095
Double portrait etching:
8-inch laser etching starts at $1,150
8-inch hand etching starts at $2,190
For other images, such as scenery, pets and symbols, pricing will depend on the picture's complexity.
>>> Download our Memorial Cost Guide to better understand the costs and recognize the value of your headstone design.
Design Options For Headstone Engraving and Headstone Etching

Over the years, our certified memorial specialists at Milano Monuments have engraved and etched headstone designs. Check out a few of our projects below.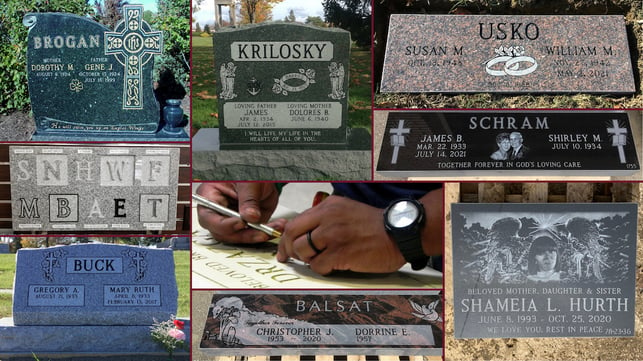 To view more memorial designs, visit our cemetery memorial gallery page.
Take the First Step in Designing a Memorial of Distinction
Now that you better understand the similarities and differences between headstone engraving and headstone etching, you can start determining what design elements you want to incorporate into your loved one's headstone—like a memorial quote. Download our ultimate guide to memorial quotes for inspiration as you get started.