A headstone is a deeply personal and important tribute that celebrates a life lived. It plays an essential role in the remembrance of those who have passed, serving as a lasting representation of a loved one.
The headstone design process is tremendously rewarding, but can feel overwhelming at first. Along with selecting the memorial's size, material and style, there are several personalization options to consider, such as the design, inscriptions, symbols and images to be set in stone.
To help alleviate some of the stress that comes with these important personalization decisions during an already emotional time, we've explained the difference between two common design methods—engraving and etching.
Engraving
Engraving is the most common design method used to create the lettering and symbols into most headstones. Engraving is defined as the process or art of cutting designs into a hard surface, like a granite headstone.
While hammers and chisels were traditionally used for granite engraving, sandblasting has become the preferred engraving method.

Sandblasting uses compressed air to shoot small particles of sand through a hose to erode the granite surface. The technique is considered one of the most effective methods for engraving granite headstones and monuments and is best suited for lettering and creates the most visually impressive result.
Sandblasting enables both light and dark colors of polished granite to be exquisitely engraved.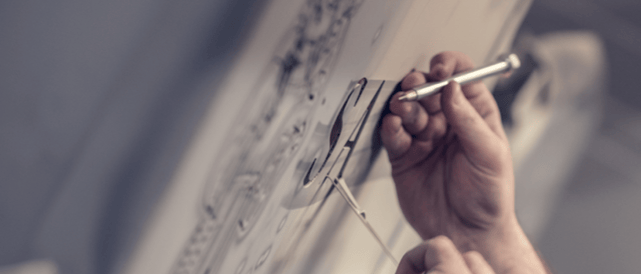 Etching
When a granite memorial requires a more detailed image, etching is the preferred method. While engraving makes a deeper v-cut shape, only a hand engraved etching can create fine, detailed designs. This is because the etching produces a high contrast marking on the surface of the material.
There are two methods—hand and laser etching—available to etch highly detailed designs in stone.
Hand Etching
Hand etching is a unique and difficult skill that adds incredible character and customization to a memorial. Talented hand etchers can take a scenic picture or even multiple images of a person and create a one-of-a-kind image.
Using a diamond tipped engraving tool, the image is etched into the granite one dot at a time, creating more depth and contrast in the headstone. This type of etching is deeper than a laser etching and is best used on black granite.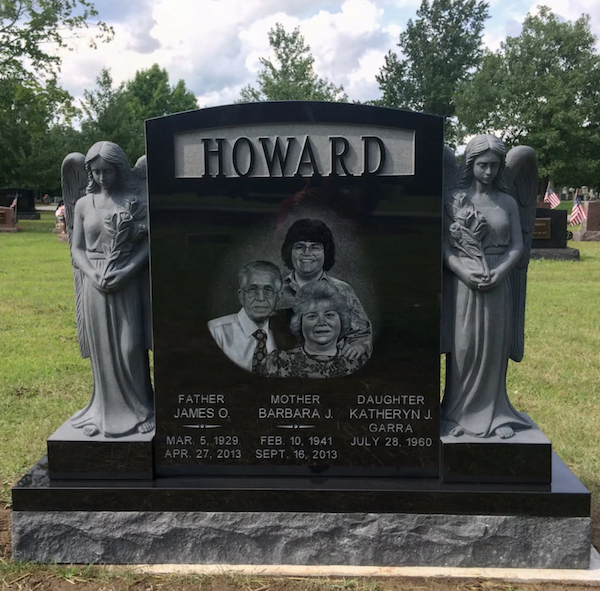 For example, the portrait on the memorial above was hand etched. It may have been created from three separate photos and etched into one. Not only is a hand etching an impressive precision skill, it is a true art that requires creativity that a machine cannot yet create on its own.
Laser Etching
Laser etching enables artists to produce accurate and detailed recreations of original designs and photographs in stone. This process uses a computerized laser that burns the surface of the stone.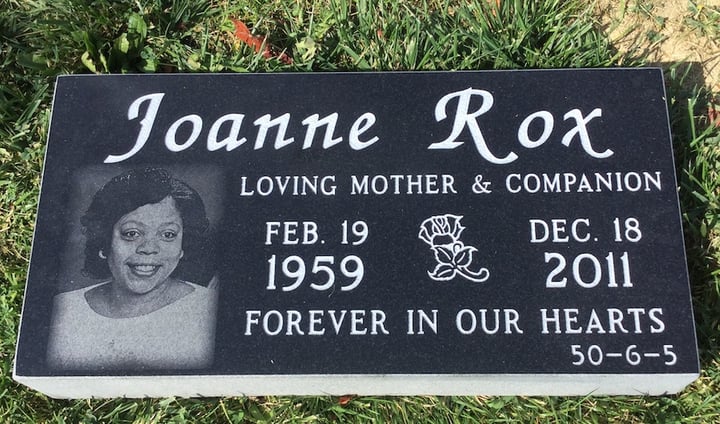 Laser etching is a less expensive alternative to a hand etching, and is especially effective if the a family is able to provide a clear photo.
The downside to laser etching is that it does not offer the artistic difference of hand etching. Also, laser etching does not provide the same depth that creates contrast for the lettering and designs.
Learn More about Headstone Design Options
There are several other aspects that go into the design of a headstone. Each provides a means of uniquely honoring the life of a loved one. For a detailed overview of these customization options, download the Headstone Design Guide.