A headstone is deeply personal and important to honoring and celebrating those who have passed away.
Though greatly meaningful, the reality is that most people will only plan and purchase one or two memorials in their life; meaning the available options are not well known. If you're feeling overwhelmed by the decision, you're not alone.
The purpose of this guide is to give you the resources to become informed about what's possible—as well as what might not be allowed—so that you can design and purchase a memorial that is as unique and memorable as the person it's made to honor.
If you would prefer to view the guide as a PDF or download it for printing, click here.
5 Questions to Ask Before Choosing a Headstone
Before diving deep into the available headstone design and personalization options, we recommend first asking yourself five questions:
Who is the memorial for?
Is this a traditional burial or will there be a cremation?
Where will the memorial be placed?
What type of design are you interested in?
What is your budget?
1. Who is the memorial for?
Is the headstone for an individual, a couple, or will it memorialize a family?
There are three general situations that can impact memorial planning, depending on who it is for:
An individual memorial, which memorializes an individual and marks a single grave.
A companion monument is for just two people who were very close—typically for spouses or siblings—and is usually a single stone marking two graves.
A family monument incorporates multiple gravesites where members of a family are currently or will eventually be buried. Often, the main focus of the family plot is a large monument with the family name, an epitaph and just a minimal amount of information on it. Smaller grave markers for individual family members can then be added over time.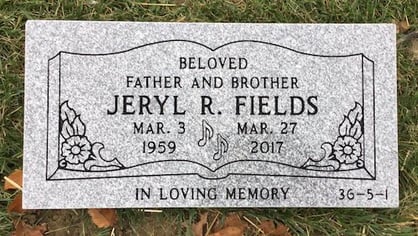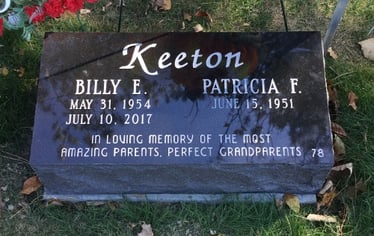 Individual memorial (left). Companion memorial (right).
Below we review the types of memorials available and explain the personalization options that can make it unique to honor your loved one (see the Headstone Design Guide below).
2. Is this a traditional burial or will there be a cremation?
If the loved one you're planning a memorial for has a traditional cemetery burial, there are many options for headstones. The stone can be simple and flat, extravagant and upright, or altogether unique. This guide is designed to help you explore all the available options.
Alternatively, for the first time in history, a majority of Americans (50.2%) opted for cremation in 2016. This trend is only expected to continue. There's a common misconception that cremation means you can't memorialize a loved one. This is simply untrue—cremation also provides endless options for memorialization.
With cremated remains, you can:
Scatter them according to state and local laws.
Display them at home in an urn or with a cremation memorial.
Bury or inter them.
Create a memory garden.
That last bullet point is what we'll focus on, as it's often overlooked. Burying or interring cremated remains creates a central place for you and future generations to come and visit. It can be done at cemetery or another meaningful place.
For every headstone included in this guide and across our website, it's likely possible to store ashes recessed in the headstone or memorial. In short, cremation does not limit memorialization options.
In fact, if memorializing outside of a cemetery, cremated remains don't have to be present to create a space of remembrance.
3. Where will the memorial be placed?
For many families and individuals, this is the first and most important question. The final resting place creates a central spot for surviving family to visit, and for future generations to come and remember those who came before.
We typically assume this to be a cemetery, but memorialization can also take place at other locations, like your loved one's favorite park, coffee shop, golf course or garden.
When it comes to a cemetery memorial, most cemeteries have regulations on the types of grave markers allowed on their grounds. These rules are designed to help with upkeep, consistency and longevity, but some regulations can feel restrictive and inhibit your creative expression.
There are two common regulations, these involve the minimum and maximum size of the stone and the material.
The best way to learn what's permitted is to work with a local provider who has experience designing memorials for and placing them in your preferred cemetery. They can help design something incredible and also vouch for you if a cemetery is not willing to accommodate your design idea.
We have compiled the known rules and regulations for a few dozen cemeteries in Northeast Ohio. To see the list, including an interactive map, click here.
4. What type of design are you interested in?
As a lasting symbol of a lost loved one, a memorial can embody the personality and ideals of the person. Because cemeteries have varying restrictions on headstones, you could consider the design first, then work with a provider to find a cemetery that will accommodate the design.
Or, once you understand your cemetery's regulations, use this as a guide to help determine the design that is right for you.
The key attributes to consider in the design, explained below, include:
Material.

Size and shape.

Personalization.
Within the three categories, there are numerous combinations that can make a memorial traditional and classic or unique and modern. Design features are discussed in detail below in the Headstone Selection Guide section.
5. What is your budget?
An experienced memorial provider works personally with you to help you best memorialize your loved one, while also considering your budget.
We wrote the guide on memorial costs, and you can access it here if cost is a key factor in your decision.
To receive the best value, consider the following factors when choosing a memorial provider:
Craftsmanship.
Compassion.
Provider quality and reputation.
Knowledge of the cemetery and area.
Online providers have popped up across the internet, and many offer expedited shipping and inexpensive options. Unfortunately, an online retailer may not use materials or designs permitted in your local cemetery. For example, if the stone is not the correct size, it likely won't be permitted. The ease of an online, discount retailer rarely offsets the short- and long-term frustrations that can be associated with the purchase.
Regardless of the provider, extensive knowledge of the design options and cemetery regulations will go a long way to give you a positive experience, and will pay off in a quality, longer lasting headstone.
Headstone Design Details
As futile as it can seem in the moment, as you grieve the loss of a loved one, a grave marker does more than just designate where someone is buried. It acts as a lasting symbol of their memory. Each aspect should be designed with them in mind.
It can be daunting to worry about what your lost loved one would have wanted on their gravestone, but considering you and your family's perspective of their life, personality, and what matters to them most can make it easier to choose.
Below is a detailed overview of headstone design details and all that you can consider when creating it with a memorial provider.
Material
There are two common memorial materials available from most providers and allowed in most cemeteries—granite and bronze.
Granite
Granite is the most common material choice and is allowed in nearly all cemeteries. Though naturally occurring, this rock that can be found in an infinite number of colors and varieties.
It does not naturally deteriorate even 1/1000th of an inch over 1000 years. However, that same quality is not equal for all pieces of granite. High grade granite has greater durability, density, structural integrity and consistency, and is more suitable for cutting, crafting and finishing. Low commercial grade granite is prone to chipping, degradation and discoloration.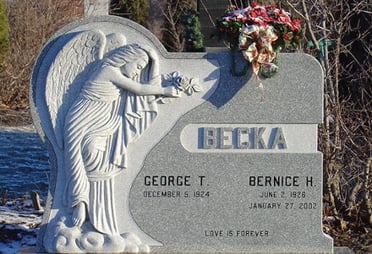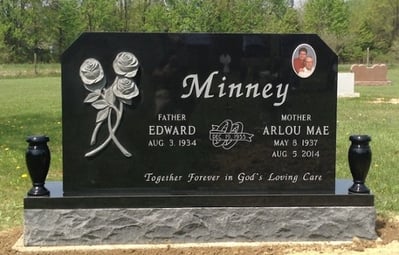 Ask your memorial provider about their granite grade or quality, or ask if they have a warranty. Providers that offer a warranty on their memorials back up their words with a commitment to you and confidence in their granite.
Bronze
The other common material option is bronze. If selected, bronze is typically mounted on a granite or cement base in accordance with cemetery rules and regulations. Bronze, like granite, can last thousands of years with almost no degradation. Though not susceptible to rust, regular upkeep is recommended to prevent corrosion from altering its color.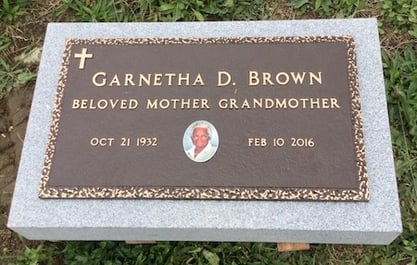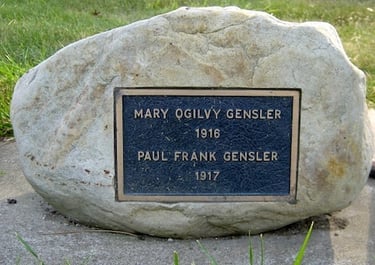 Alternative Materials
While the vast majority of modern gravestones are made from granite and bronze, you may hear about other materials. Because few readily available materials on earth can withstand age and degradation in the same way as granite or bronze, most cemeteries will not allow other materials outdoors, such as:
Marble. Marble comes in a variety of colors, often with a unique swirling pattern or natural shading. Though susceptible to degradation when exposed to the elements, you will most often see it used inside a crypt or mausoleum, where it will last for a very long time. Because it is not as hard a stone, light engravings are not effective and are only available for granite.
Limestone. Classic English headstones commonly used limestone, but are rarely used today. Limestone becomes easily worn from rain and other elements, discoloring the stone and making inscriptions illegible over time.
There's a reason granite is the most widely available headstone material, as it looks great, lasts for centuries, and comes in many colors and varieties.
Granite Colors and Varieties
Granite is a combination of various minerals and rocks, which explains the different, naturally occurring colors, textures and patterns. The types vary by region and may be sourced from North America, Asia and Europe.
Traditional grays are most common in cemeteries, and the most readily available in supply. Nearly any style you can imagine is available, it just depends on a memorial provider's inventory, your timeline and, of course, your budget.
Examples of Available Granite Colors and Varieties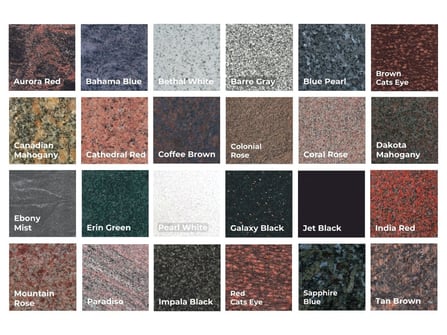 Size and Shape
Allowable sizes and shapes are regulated by the cemetery, so keep that in mind. When choosing, this is the most distinct part of the memorial in many ways. Some can be seen from a distance, while others are only visible from right above.
Below are the most common types of memorials:
Lawn-level memorial: Considered a "basic stone," lawn-level memorials sit flush with the ground and are typically a rectangular or square shape.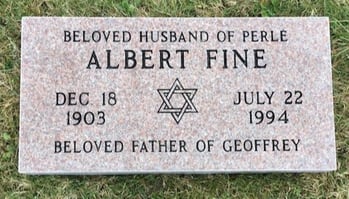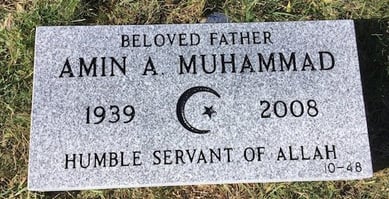 Bevel memorial: Affectionately called a "pillow," bevel memorials rise a few inches above the ground and have a slight sloping shape.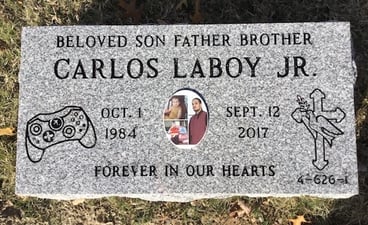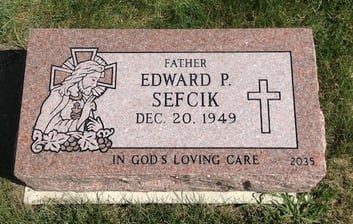 Slant memorial: Cut at an angle, cemetery visitors can see slant memorials from a distance.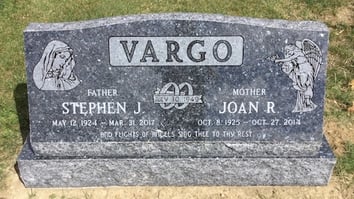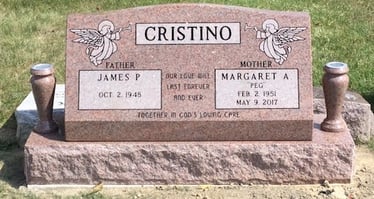 Upright monument: These large memorials are built to be admired from afar. Most commonly seen as rectangles or with rounded edges, upright memorials may also be unique shapes or accompanied by a statue.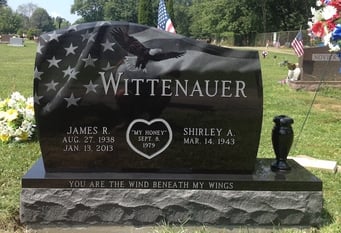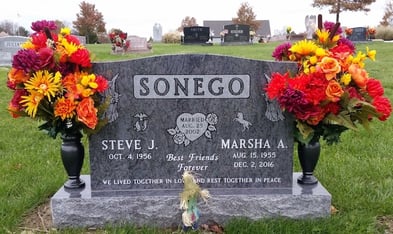 Custom monuments: In addition to the standard shapes and sizes listed above, which are almost universally accepted by cemeteries, you may want something entirely unique.
Natural Granite Rocks and Boulders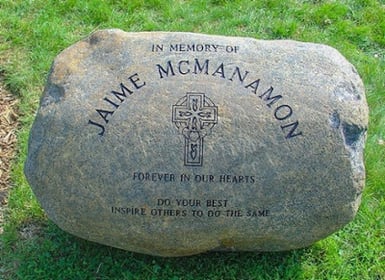 Memorial Benches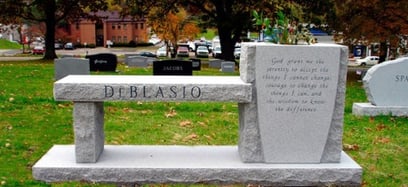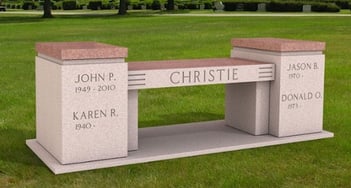 Specially Shaped Upright Monuments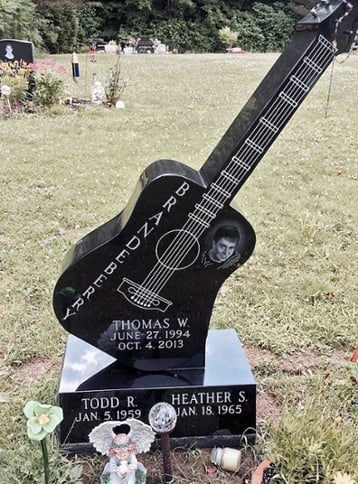 Personalization
In some ways, the most personal part of designing a memorial for yourself or a loved one is deciding on the unique words, symbols and other details that will occupy space around the name and date.
Inscriptions
Inscriptions are phrases, dates or words that accompany the memorial, and can be unique and special to the individual or family, including:
Traditional sayings, such as:

"Forever in our hearts."
"We miss you and love you always."
"Goodbye is not forever. Goodbye is not the end. It simply means I'll miss you until we meet again."

Famous or personal quotes, such as:

"The best and most beautiful things in the world cannot be seen or even touched, they must be felt with the heart." - Helen Keller
"How lucky I am to have something that makes saying goodbye so hard." - Winnie The Pooh
"There are no goodbyes for us. Wherever you are, you will always be in my heart." - Mahatma Gandhi

Bible verses.

Here is a list of 22 verses we often see used

, including:

Blessed are the pure in heart, for they shall see God. (Matthew 5:8)
Do not grieve, for the joy of the Lord is your strength. (Nehemiah 8:10)
Well done good and faithful servant. (Matthew 25:21)

Click here to view a list of 97 Memorial Quotes to use for Inspiration.
Symbols or Images
We also often see symbols placed as a sign on a memorial. These include:
Religious symbols, such as the Star of David, a cross, wedding rings, a dove, an angel, the Muslim star and crescent, the blessed mother, the Sacred Heart of Jesus, praying hands, or the Bible.
Symbols of life and love, such as a heart, butterfly, book, flower or anchor.
Animals, such as a dog, cat or horse.
Signs for personal passions, such as a guitar, cooking equipment, or bowling pins and a ball.

It is also common for a gravestone to have a laser- or hand-etched image of the individual or a scene on his or her memorial.
Laser etching replicates a picture exactly as it appears on the stone.
Hand etching is a unique and highly specialized skill that adds incredible character and customization to a memorial. Talented hand etchers can take a scenic picture or multiple images of a person and create a one-of-a-kind portrait.
Ceramic or Porcelain Photos
Ceramic or porcelain photos are typically used as an alternative to hand or laser etching to put an individual or family portrait on a memorial. They come in many sizes and are permanently attached directly to the memorial.
Sculptures or Carvings
Something truly unique that stands out more than any individual word or symbol is a sculpture or carving. These can be set directly into the stone or joined to the side or top of a placed stone.
Vases
A vase is a complement to a specialized memorial. By adding one or multiple vases to a headstone, fresh and colorful flowers can be placed for special occasions.
Start Designing, Today
Milano Monuments' experienced, caring team is ready to help you explore the options and walk you through the process of designing a memorial for you, your loved one, or your family.