Our lives are shaped by not only the people that pass through them, but also our passions, hobbies and interests. A sister may be known for her adventurous spirit and dedication to hiking, while a grandmother may be known for her love of cooking.
These interests are what make us unique—and they can be represented through memorialization even after a loved one is lost.
Through personalization elements like memorial quotes, symbols, unique headstone shapes and more, families can design a headstone that best portrays their lost loved one's greatest passions in life.
Continue reading to learn more about headstone personalization options and to view examples of hobby-inspired memorial designs.
5 Headstone Design and Personalization Questions
Before diving deep into the available headstone design and personalization options, we recommend first asking yourself five questions:
Who is the memorial for?
Is this a traditional burial or will there be a cremation?
Where will the memorial be placed?
What type of design are you interested in?
What is your budget?
Once you've answered all five questions, consider adding personalization elements like lettering, symbols, and unique shapes to honor your loved one's hobbies and interests.
Headstone Personalization Options for Hobbies and Interests
Below are several headstone personalization options that you can add to your loved one's memorial to represent their favorite hobbies and interests.
Headstone Lettering and Memorial Quotes
There are seven headstone lettering styles you can choose from depending on your desired memorial look and feel. To achieve different lettering appearances on headstones, a variety of engraving and etching methods can be used.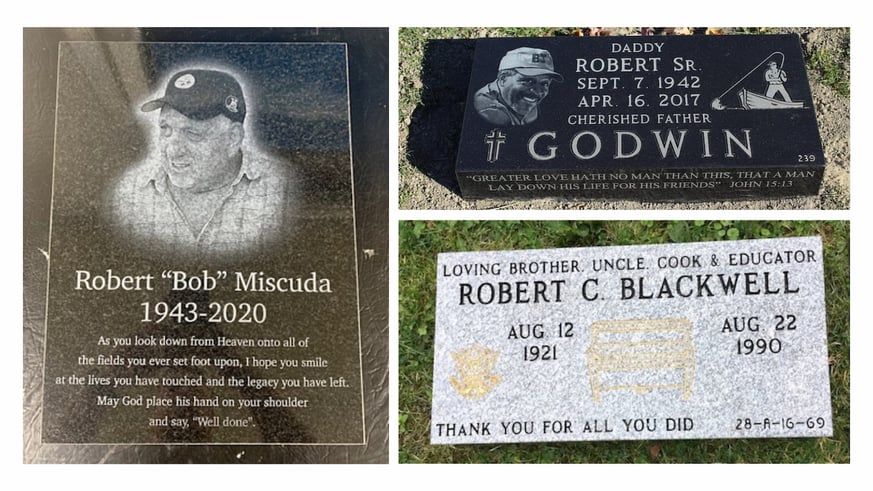 Families can add not only names and dates to their loved one's headstone, but also memorial quotes that reflect their hobbies and interests. Did your loved one enjoy music? Consider these memorial quotes for music lovers. Was your loved one an athlete, coach or sports enthusiast? Perhaps one of these sports-related memorial quotes would make sense for their headstone.
Custom Memorial Photos
Porcelain and ceramic photos are often selected for headstones, grave markers, cemetery monuments and mausoleums. Photos can also be replicated on headstones through hand and laser etching.
When choosing a favorite photo of your loved one, consider a picture that best represents their life and passions. Did your loved one enjoy riding motorcycles? Consider placing a photo of them riding their bike on the memorial, like this example.
Unique Headstone Shapes
Unlike purchases from big-box stores, headstones aren't mass-produced. Each memorial is unique and customized for the individual and their family. For example, if your loved one was a guitar player, you can choose to have the shape of their headstone be a guitar. The options are endless


Symbols for Memorials
A common personalization option for memorials are symbols. Symbols often represent an important aspect of your loved one's life. If your loved one enjoyed the outdoors, perhaps you'll have a flower engraved on their headstone. If your loved one had pets, you have the opportunity to add an animal symbol to their final resting place. Some commons headstone symbols include:
Symbols of life and love. Heart, butterfly, book, flower or anchor.
Animals. Dog, cat or horse.
Hobbies and interests.

Guitar, cooking equipment, or bowling pins and a ball.
Start Your Loved One's Memorial Design
There are several other aspects that go into the design of a headstone. Personalization like quotes, symbols and unique shapes can all be used to honor the life of your loved one. For a more detailed overview of memorial customization options, download our Headstone Design Guide.