For 51 years, Milano Monuments has supported families as they endure one of the toughest moments in their life—losing a loved one. Our commitment to those families continues today, even as the world around us looks very different than it did even just a few months ago.
Through extra cleanliness precautions, modern technology and the excellence of our team, our ability to serve families in need endures.
Per Governor Dewine's mandate, we currently require our staff and visitors to wear masks at our Cleveland, Bedford and Youngstown locations. If you need a mask, we have them available for you at the door. Please review the page below for additional Covid-19 updates, or to schedule a video appointment with memorial specialist.
Please let us know how we can help you during this time.
The purpose of this page is to answer timely questions and connect you with relevant resources. We'll continue to update it as circumstances change. Or, visit our Facebook page for real-time updates.
If you can't find the answer you're looking for here, call (216) 362-1199 and let us know how we can help.
>> Read: Northeast Ohio monument business tackles supply chain woes to serve grieving families
In-Person and Virtual Appointments

Meeting with families face to face has always been important to us.
Memorializing a loved one is unlike any other decision in your life, and having a helpful, friendly face to walk you through it matters.
If you want an in-person appointment...
Our Cleveland, Bedford and Youngstown locations are operating during normal hours (see details on our locations and hours below). A memorial specialist would be happy to meet with you, show you around the facility, and take extra health and safety precautions in the process.
In line with Governor Dewine's mask mandate, we are requiring that our staff and visitors wear a mask. We have them available for you at the door.
Please schedule an appointment or call (216) 362-1199 to set up a time.
If you prefer to stay home or are out of the area...
We're continuing to make appointments possible through video. To schedule a video appointment, all you need is a smartphone or computer.
A memorial specialist will talk you through the options, share pictures of different memorial styles and even start to design your memorial on the computer with you.
Click here to find everything you need to know about video appointments.
Our experience with Milano Monuments was personal and special. During this time of social distancing, our family was able to meet with Dave in a virtual visit on Zoom. We were all able to view his screen and I found Dave to be patient and caring with us. He took the time to explain the charges and made sure we stayed within our budget.

Thank you Dave and Milano Monuments,
The Hambrick Family
FEMA Assistance
Due to the COVID-19 pandemic, many of us have experienced loss in one way or another—but the loss of a loved one in the past year has been unlike any other.

Here at Milano Monuments, we want to ensure you are receiving all the help you need during this difficult time. Beginning April 12, 2021, the Federal Emergency Management Agency (FEMA) is offering COVID-19 Funeral Assistance which will help those who qualify with expenses for funeral services and interment or cremation.
You may qualify if...
You are a U.S.citizen, non-citizen national or qualified alien who paid for funeral expenses after January 20, 2020.
The funeral expenses were for an individual whose death in the U.S., territories or the District of Columbia, may have been caused by or was likely the result of COVID-19.
What funeral expenses are covered?
COVID-19 Funeral Assistance will help with expenses for funeral services, and interment or cremation. Expenses for these services typically include, but are not limited to:
Transportation for up to two individuals to identify the lost loved one.
Transfer of remains.
Casket or urn.
Burial plot or cremation niche.
Marker or headstone.
Clergy or officiant services.
Arrangement of the funeral ceremony.
Use of funeral home equipment or staff.
Cremation or interment costs.
Costs associated with producing and certifying multiple death certificates.
Additional expenses mandated by any applicable local or state government laws or ordinances.

So, how can you apply? You will be able to call this dedicated toll-free phone number (844-684-6333) to get an application completed with help from FEMA's representatives.
Inventory Specials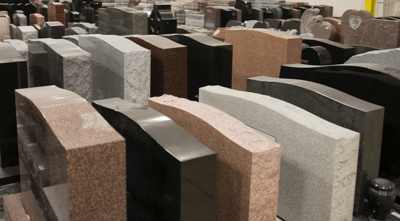 We've always kept a large inventory of memorial options to give customers a huge selection of sizes and styles to choose from.
During this difficult time, we're making that inventory available to you at the best possible price. These courtesy adjustments apply to our current inventory, including all sizes and styles—even in-stock custom monuments.
To contact us about this special, please schedule an appointment with a memorial specialist. Setup an in-person appointment, schedule a video call or call (216) 362-1199.
*Courtesy adjustments can be made for current inventory only. Schedule an appointment soon to ensure the widest selection.
Locations and Hours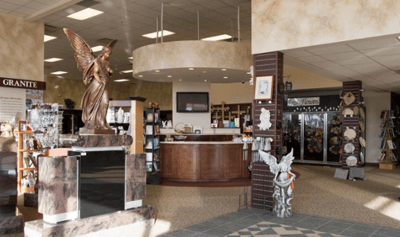 We understand that for many of us, grief does not subside while news focuses on this significant virus.
To best serve you, our Cleveland, Bedford and Youngstown locations are operating during normal hours. We're the only memorial provider in Northeast Ohio continuing to offer standard in-person services.
We have increased the frequency of disinfecting door handles, surfaces and high-use areas. Our team has been instructed to wash their hands frequently and to stay home if they feel sick.
To ensure we can quickly and personally serve you, we encourage you to call ahead and let our team know when you're coming.
Main Showroom (Cleveland)
14600 Brookpark Rd, Cleveland, OH 44135
Open Monday - Saturday: 9:00 AM - 5:00 PM
Sunday: Closed
Milano Monuments Bedford Showroom
320 Broadway Ave., Bedford, OH 44146
Monday - Friday: 9:00 AM – 5:00 PM
Saturday: 9:00 AM - 4:00 PM
Sunday: Closed
Youngstown Memorials
4790 Market St., Youngstown, Ohio 44512
Monday - Friday: 9:00 am - 5:00 PM
Saturday: 9:00 AM - 1:00 PM
Evenings and Sundays by appointment


We're Here for You
If you have other questions, or are in need of support in other ways, please give us a call at (216) 362-1199 or contact us online and we will try to help the best we can.
Our passion for serving families throughout this pandemic, and beyond, is of the utmost importance.