In this blog series, we share meaningful memorial inscriptions you can use on your loved one's headstone. From values to character, personality and interests, this series provides endless memorial quote options unique to your loved one's life. Other articles in this series include:

"...to have and to hold from this day forward."
This traditional marriage vow takes on a new meaning when loving couples are laid together in their final resting place. Whether side-by-side or in a double-depth plot, it's common for couples to be buried next to each other.
No matter if a couple is planning their memorial design together or individually after the husband or wife passes, one of the first items that need to be considered is how the headstone design will honor both of their lives. You can include common inscriptions—name, birth date, death date and marriage anniversary—but is there a memorial quote that represents the love they had for one another?
Memorial quotes can be simple and include a few descriptive words, or they can be a lengthier personal inscription that reflects the individual's values, character, personality or interests.
In this post, we offer several different memorial quote considerations for husband and wife headstones.
Memorial Quotes for Husband and Wife Headstones
"In you, I've found the love of my life."
—Anonymous


"Forever and always the hero of my heart."
—Anonymous


"A soulmate is one person whose love is powerful enough to motivate you to meet your soul, to do the emotional work of self-discovery, of awakening."
—Kenny Loggins


"Real love stories never have endings."
—Richard Bach


"True love lasts forever."
—Joseph B. Wirthlin


"Two halves of the same soul joining together in life's journey."
—Anonymous


"Part of my soul has loved you since the beginning of everything."
—Emery Allen


"You were the love that made all the others irrelevant."
—Rupi Kaur


"You will forever be my always."
—Anonymous


"A great marriage is not when the 'perfect couple' comes together. It is when an imperfect couple learns to enjoy their differences."
—Dave Meurer
Bible Verses for Husband and Wife Headstones
11.

"Love is patient, love is kind. It does not envy, it does not boast, it is not proud. It does not dishonor others, it is not self-seeking, it is not easily angered, it keeps no record of wrongs."

—1 Corinthians 13:4-5

12. "Love never fails."
—1 Corinthians 13:8

13. "Be devoted to one another in love. Honor one another above yourselves."

—Romans 12:10

14. "Two are better than one, because they have a good return for their labor. If either of them falls down, one can help the other up."
—Ecclesiastes 4:9-10

15. "Place me like a seal over your heart, like a seal on your arm; for love is as strong as death, its jealousy unyielding as the grave. It burns like blazing fire, like a mighty flame."
—Song of Songs 8:6


16. "Above all, love each other deeply, because love covers over a multitude of sins."
—1 Peter 4:8
17."No one has ever seen God; but if we love one another, God lives in us and his love is made complete in us."
—1 John 4:12
18. "And above all these put on love, which binds everything together in perfect harmony."
—Colossians 3:14
19. "Let all that you do be done in love."
—1 Corinthians 16:14
Short Memorial Quotes for Husband and Wife Headstones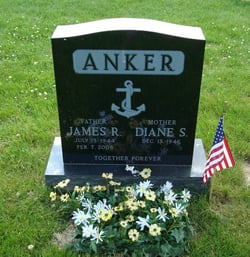 20. Forever in our hearts.
21. Together in life and death.
22. Always in our hearts.
23. Everlasting love.
24. Your love will light the way, and your memory will be forever with us.
25. Together forever with our Savior.
Find More Memorial Quotes For Companions
Engraving a memorial quote is one of several steps in the headstone design process. Uncover even more unique epitaphs to incorporate into your loved one's final resting place in our memorial quotes ebook.