Throughout history, beautiful mausoleums have been constructed to honor and celebrate those who have passed. Today, the tradition remains for families who long to keep their legacy alive for generations to come.

Similar to building a house, there are several elements to customize when it comes to mausoleum design—from its size, colors and personalizations, to the landscaping surrounding it.

Depending on size and scale, mausoleums take on average between four to six months from design to installation. Continue reading to learn about the wide range of mausoleum design elements you can customize when creating your lasting legacy.

>>To learn more information about mausoleums—definition, types, cost, advantages—click here.
1. Granite
Granite is the ideal stone for any type of grave marker or cemetery monument, especially a mausoleum, since it can last thousands of years with essentially no deterioration.

Formed by volcanic magma, granite is one of the oldest stones on earth. As the second hardest substance next to a diamond, granite is a perfect option to eternally preserve a memory.

Although granite colors for mausoleums are limited due to the need for larger slabs, there are still a variety of granite options to choose from:

Barre Gray

Mountain Rose

Mahogany

Absolute Black

Impala Black

Ebony Mist


2. Interior & Exterior
Once a decision is made on your desired color of granite, it's time to focus on specific design elements that really enhance the look of the inside and outside of the mausoleum.
The interior and exterior of a mausoleum are both of equal importance. The exterior is what you and your loved ones will initially see when visiting to pay your respects. The following are some options to consider incorporating to the exterior design:
Steps can be added to lead up to the mausoleum instead of having it sit level with the ground.
Statuary can be added from a wide selection of granite, stone, bronze and marble. You can choose to incorporate an angel statue, religious statue or any statue that fits your needs.
Benches offer additional outside seating, when the weather permits.
Vases give families a place to put a fresh bouquet of flowers when visiting the mausoleum.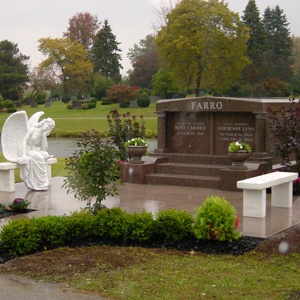 The interior is what you and your family will experience when visiting and memorializing lost loved ones. A peaceful, personalized ambiance will truly impact your time of reflection. Here are some unique elements you can incorporate into the interior design of a mausoleum:
Benches offer you and your family a place to sit while visiting and memorializing your lost loved ones.
Stained glass windows add an extra element of beauty to a mausoleum while also allowing natural light into the space.
Altars and prayer kneelers can be incorporated if you and your family are looking to add a religious element to the mausoleum.
3. Columns and Moldings
Similar to building a house, decorative accents such as columns and moldings can also be added to mausoleums.
When it comes to choosing the type of columns for a mausoleum, there are a few options: smooth, fluted with shallow grooves or decorative capitals. Your column type is completely based on personal preference and aesthetic style.
There are three types of ornate moldings you can choose from:
Crown molding is a form of cornice created out of decorative molding installed at the top of an interior wall.
Egg and dart molding is a type of molding that consists of alternating details on the face of the ovolo—typically an egg-shaped object alternating with a V-shaped element.
Dentil molding is one of a series of closely spaced, rectangular blocks that form a molding below the cornice.
4. Roofs and Doors
While molding and columns are a great addition to the overall mausoleum design, a roof and doors are essential to the functionality of walk-in mausoleums.

There are two types of roofs you can choose from: flat or peaked. Refer to the photo below to see which you prefer.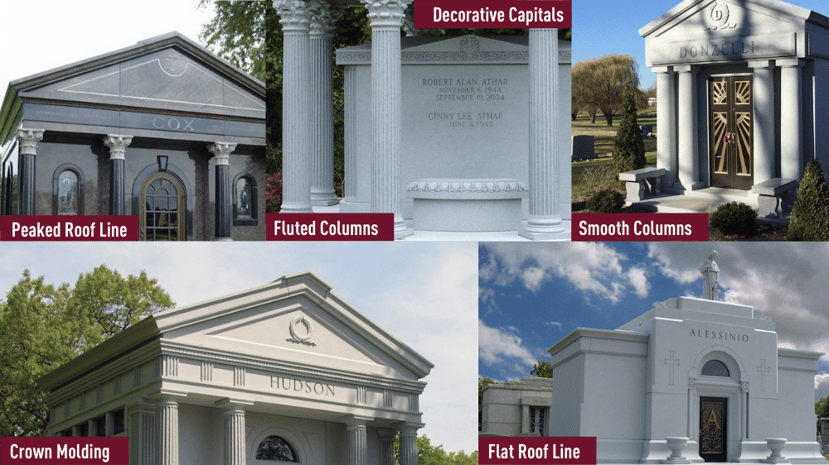 Additionally, there are a few options for the door design. You can choose to have a bronze door or bronze plates incorporated in your mausoleum. Bronze plates can be placed on any type of granite and can be used as:

A memorial in itself.

An enduring piece of art.
Each plaque can be adorned with lettering and accents such as borders, backgrounds and photographic representations.
5. Etchings & Engravings
Etchings and engravings allow families to add true personalization to the design of their mausoleum.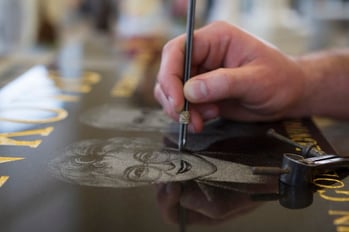 Incorporating these elements gives you the opportunity to display the family name, crest and epitaph.
Etching is a method used to transfer more detailed images onto granite. Our skilled memorial craftspeople first create a freehand drawing to scale, which is transferred to the headstone. Then, they precision etch the image by hand directly into the polished surface.
Engraving is the most common method used to create the lettering and symbols on a gravestone or cemetery monument. In addition to lettering in any style and language, we can also engrave detailed reproductions from a photograph or from our library of stock images.
Is a Mausoleum Right For You?
Milano Monuments works directly with individuals and families to construct custom mausoleums that fit their interests and needs.
Check out our comprehensive mausoleum guide to explore the possibilities of these grand structures, including mausoleum designs, artistic and architectural personalizations, and the typical costs of mausoleums.