There are many ways to honor a life well-lived. One of the ways people ensure their legacy lives on for generations is through a mausoleum.

Mausoleums are above ground structures that are created for people who don't want to be buried below ground. They provide families and future generations a place to be laid to rest in one central location.

While mausoleums were incredibly common throughout history (i.e., the Taj Mahal and the pyramids of Egypt), they aren't as widely used today. So, it's not unsurprising if you have questions about these grand structures.

Below you will find answers to some of the most frequently asked questions our team receives about mausoleums.
What are the benefits of building a mausoleum?
Individuals and families opt for mausoleums on a case-by-case basis, each seeking unique benefits. Below you will find the top five benefits of choosing to design and build one of these grand structures.
1.
Mausoleums can be designed and built to your exact specifications.
From size, colors and customizations to the surrounding landscaping, you are able to choose just how much sophistication you would like your mausoleum to have.

2.
Multiple members of a family can lay in rest together in a mausoleum.
It isn't always easy to find burial plots close by family members. A mausoleum allows your entire family, including generations to come, to share a special memorial space.

3.
Mausoleums serve as a permanent reminder of your family's impact and legacy.
A mausoleum serves as a unique tribute to the person you were and a way to remember your legacy for generations to come.

4.
Mausoleums are a place for future generations to gather and remember.
It provides a private and sacred space for surviving family members and future generations to visit and memorialize.

5.
Mausoleums allow you to save money on estate taxes when planned prior to death.
Since they are excluded from estate taxes, mausoleums provide a substantial financial benefit to families who are currently involved in the estate planning process.
>> Click here to learn more about the benefits of mausoleums.
What mausoleum design options are available?
There are several elements to customize when it comes to mausoleum design—from its size, colors and personalizations, to the landscaping surrounding it. The following are all the customization options you have to choose from when designing your mausoleum:

Granite Colors.

Granite is ideal for any type of grave marker or cemetery monument, especially a mausoleum, since it can last thousands of years with essentially no deterioration.

Interior & Exterior Elements.

You can choose to incorporate anything on the interior and exterior of your mausoleum including steps, statues, benches, vases, stained glass windows and altars/prayer kneelers.

Columns & Moldings

. The column and molding types are completely based on personal preference and aesthetic style. You can choose from crown, egg and dart, or dentil molding.

Roofs & Doors. When it comes to roofs and doors, you have a few options: a flat or peaked roof, and the opportunity to incorporate bronze plates.
Etching & Engravings. Etchings and engravings allow families to add true personalization to the design of their mausoleum.

How much do mausoleums cost to build?
The cost of mausoleums is determined by its materials, size, level of architectural detail and location. In general, you can expect to pay:
$25,000 to $100,000 for a simple, one or two crypt above-ground unit.
$300,000 to $800,000 for an average walk-in mausoleum for eight people.
$1 million or more for larger, more elaborate structures and embellishments.
It's important to note you must also purchase or own the land where you plan to construct the mausoleum.
Can a mausoleum hold urns or just caskets?
It depends on the type of mausoleum you choose. For example, not only do garden mausoleums offer chambers for caskets, but they can also display urns and other remembrances like statues and works of art.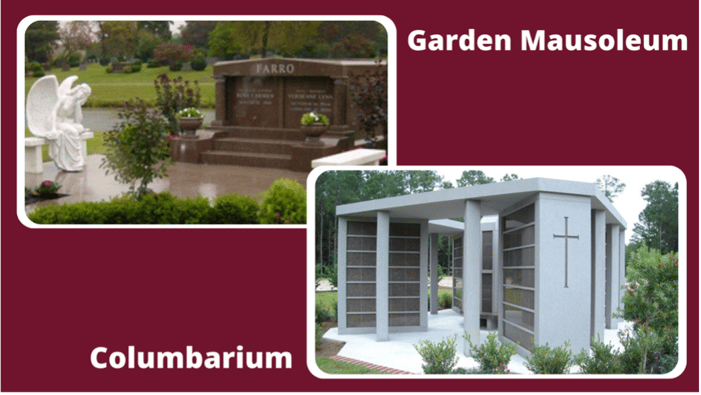 In contrast, a columbarium only houses cremated remains. It is composed of small niches that hold a single urn. Similar to a memorial, these niches can be customized to fit your interests

Does Milano Monuments work on mausoleums?
Yes! Milano Monuments builds and designs the most beautiful mausoleums for families. Our family-owned business works directly with individuals and families to construct custom mausoleums that fit their interests and needs.

Milano Monuments prioritizes building relationships with its customers, providing transparent pricing, sourcing quality materials and carefully guiding you throughout the planning, design, implementation and maintenance phases of mausoleums. Contact us to discuss your unique mausoleum needs.
Does Milano Monuments help with the cemetery plot selection?
Yes! Milano Monuments works with local and out-of-state customers to help find and select an appropriate cemetery location. You will be able to gain valuable insight about cemetery options in your area from our experienced team.
Milano Monuments will also go with you to help you find a location that will enhance how the mausoleum design will appear once constructed.
Can you show me some examples of Milano Monuments' mausoleums?
Below you will find a collage of mausoleums we have had the honor of designing and building. Each has its own unique touch from the different granite colors to the incorporation of columns, steps, benches and engravings.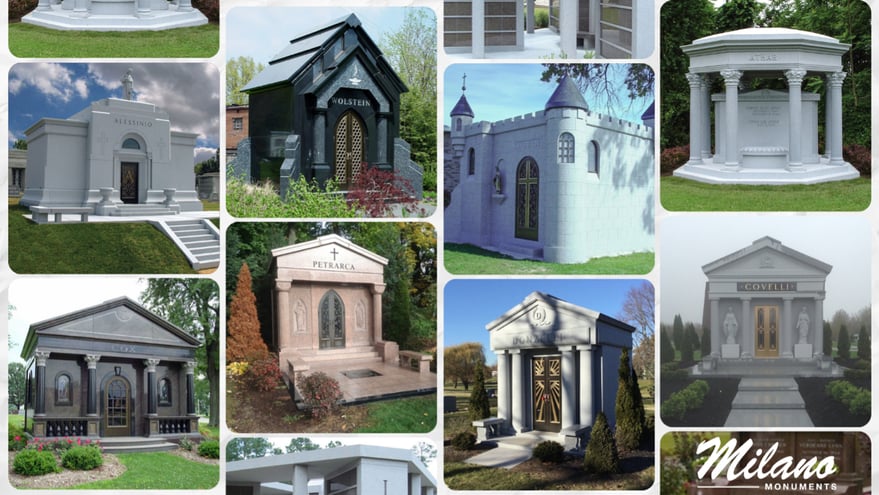 Are you ready to learn more about mausoleums?
Milano Monuments works directly with individuals and families to construct custom mausoleums that fit their interests and needs.

Download our comprehensive mausoleum guide to explore the possibilities of these grand structures, including mausoleum designs, artistic and architectural personalizations, and the typical costs of mausoleums.