A cemetery serves as a physical place for families to visit a lost loved one. They provide us with a relaxed environment to feel whatever emotion we need—grief, celebration, relief, peace. Regardless of how long ago we said goodbye, a cemetery gives us a chance to reconnect with a lost loved one and our own emotions.
While we often associate cemeteries with a traditional burial, they also serve as a final resting place for those who chose cremation. And as cremation rates continue to rise in the U.S. and beyond, it's important for families to know their options for final resting places.
Continue reading below to uncover the significance of burying a cremation urn in a cemetery and to explore your options.
Why Is There a

Place For Urns at a Cemetery?
Cremation provides us with many different options for final resting places. Some scatter their loved one's remains in a special place, while others prefer to keep the memory close with a decorative cremation urn in their home.
However, burying an urn or vaulted urn to place in a cemetery is also an option. By burying or finding a place for your loved one's urn in a cemetery, current and future generations have a physical place to remember them by.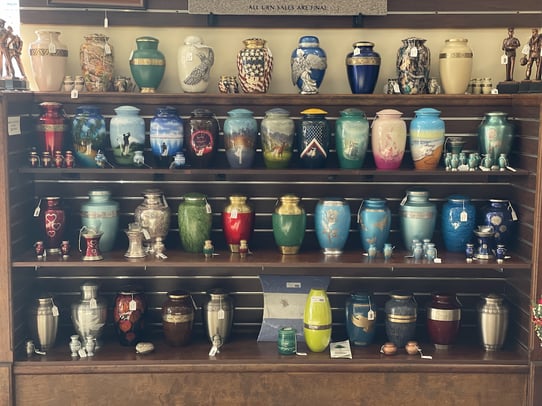 A piece in The New York Times states the importance of cemeteries perfectly:
"We need cemeteries… They urge us to think about the lives that have been lived, in all their richness and mystery, and the lives that we lead. The physical space, the tombstones and mausoleums and stele satisfies a deeper communal need to remember and honor the past and remind us that our life's moment is provisional and transient."
How

T

o Bury an

Urn in a Cemetery
There are a number of ways to bury an urn in a cemetery. Below are three main places for them.
1. Traditional Burial for Cremation Urns
Like those who choose to have a traditional burial, you can also place cremated remains in a traditional burial plot. It's important to note, many cemeteries require an urn vault for buried cremated remains. Urn vaults help support the ground and soil, as well as your loved one's remains, to ensure the plot does not collapse. Note: Some urns are vaulted urns, meaning you do not need to buy both an urn and a vault.

Many families choose to bury a cremation urn since it allows them to select a traditional cemetery memorial. Cemetery memorials come in a wide variety of shapes, sizes, colors and personalized styles. Browse our cemetery memorial galleries for inspiration.
2. Cremation Memorial
Similar to a traditional headstone, a cremation memorial serves as a physical marker of your loved one. There are a variety of memorial options, including: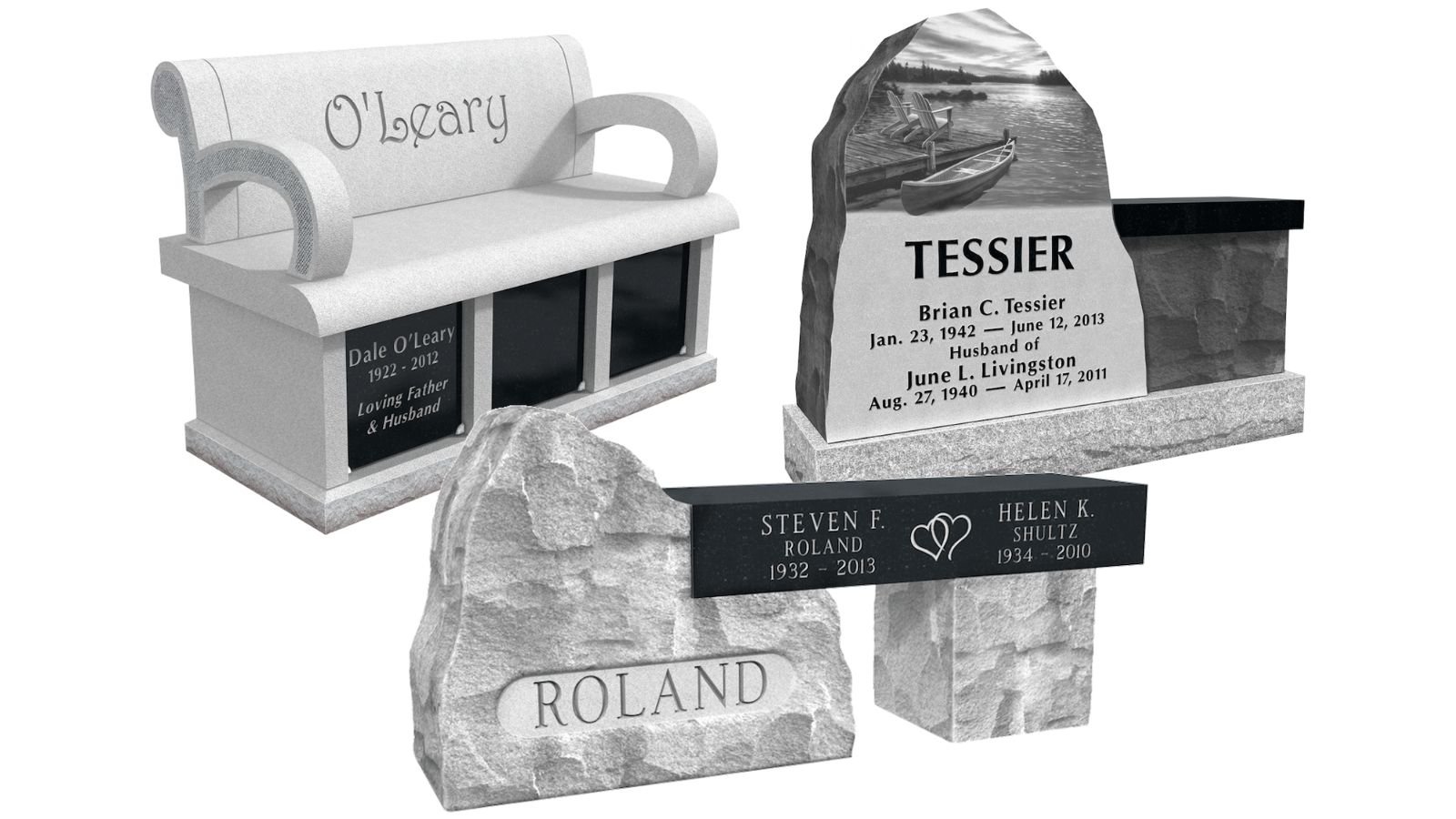 Personalized memorial rock, stone or boulder

.

A hole is cut in the stone and the cremation urn is placed inside. Personalization options include engraved lettering or artwork directly on the stone, or a placed

plaque

with lettering and other designs.

Monuments with recessed urns

.

Monuments are typically larger than other memorials (think

lawn level

or

slant

). Due to the size of cremation monuments, a hole can be cut in the granite, and a cremation urn is placed inside and sealed.

Any other memorial you choose.

Traditional headstones can still be selected and placed, with the cremated remains buried below. See personalization options in our

headstone design guide to learn more.

While a variety of cemetery memorialization options are available for cremation urns, be sure to check your local cemetery's rules and restrictions to see what memorial shapes, sizes, and materials are permitted. Our memorial specialists at Milano Monuments are also available if you need guidance in this process.
3. Mausoleums

For Cremation Urns
While we're accustomed to seeing monuments or headstones in cemeteries, many cemeteries also house mausoleums.
Mausoleums are aboveground structures, traditionally made of granite, that are created for people who don't want to be buried below ground.
A common type of mausoleum seen in cemeteries are columbariums. They are public or private structures that house cremated remains instead of caskets and are composed of small niches that hold a single cremation urn.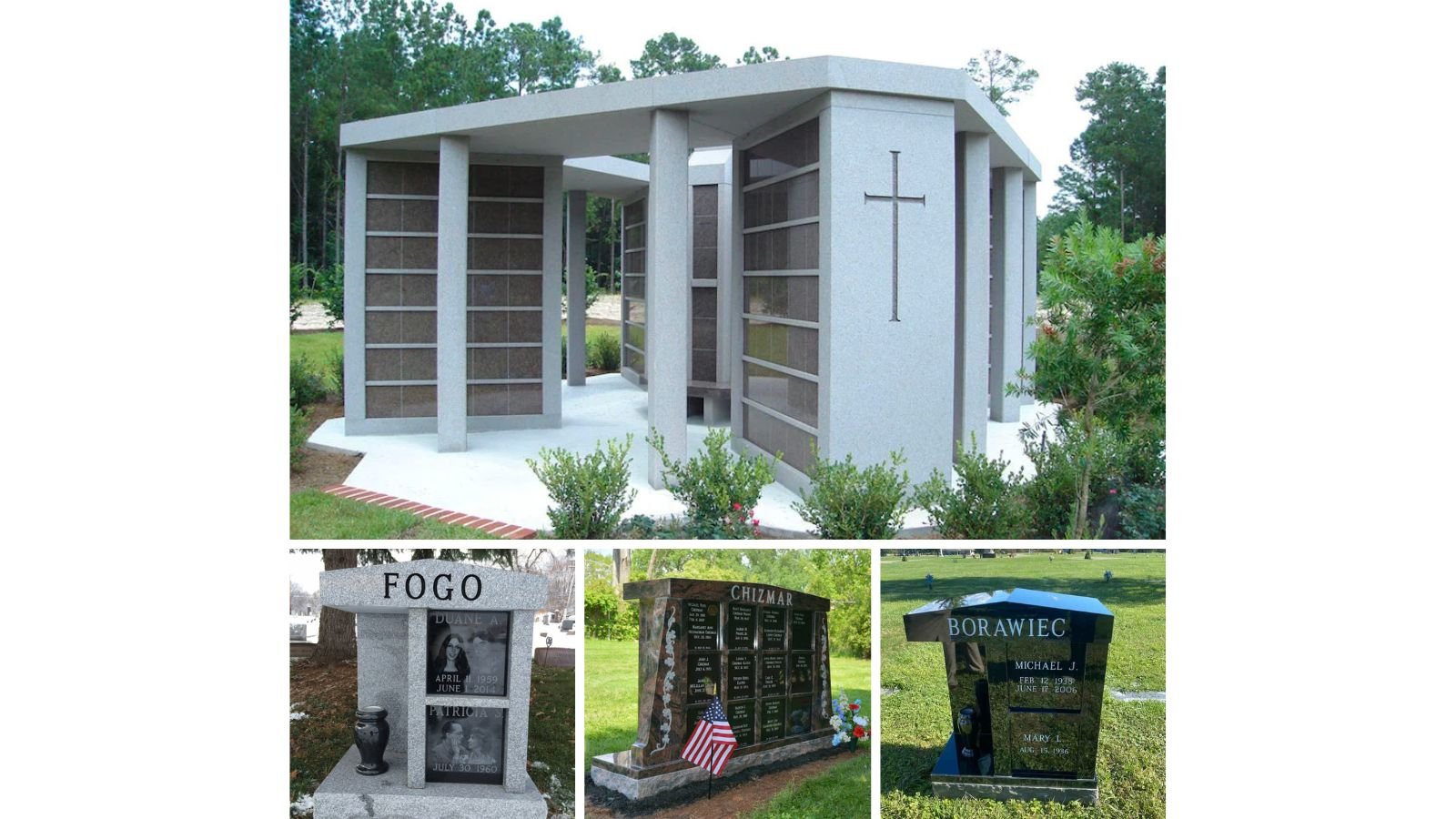 The main difference between the two is that a columbarium is only for the placement of cremated remains, whereas other mausoleum types can house both cremated remains and caskets.
In a columbarium and other types of mausoleums, the face of the niche can be personalized the same way as a headstone—with inscriptions (name, dates of significance, symbols, etc.), as well as with decorative flower vases.
>>> Related Resource: What Is a Columbarium? Your Guide to the History and Benefits of a Columbarium
Comprehensive

Memorialization Options for Cremation
The U.S. cremation rate is projected to increase to 78% by 2040. With this growing trend, we're often asked what options are available for honoring and celebrating a lost one who is cremated. Download our Comprehensive Guide to Cremation Memorialization to learn more about the extensive options you have when it comes to cremation.