There are several unique ways to honor a life well-lived. For centuries, some of the most famous and beautiful legacies have been stone memorials and cemetery mausoleums.

Although modern-day mausoleums are much smaller in size, they remain beautiful works of architecture designed to honor those who have passed on, offering a peaceful and private setting for loved ones to pay their respects.

Individuals and families choose to build mausoleums on a case-by-case basis, but the following five reasons are why many prefer these grand structures.
To download and read this information as a PDF, click here.
1. Mausoleums can be designed and built to your exact specifications.
From size, colors and customizations to the surrounding landscaping, you are able to choose just how much sophistication you would like your mausoleum to have.

Once you've worked with a memorial specialist on your mausoleum design, materials will be sourced and prepared by expert craftsmen. There are a variety of granite colors for mausoleums you can choose from:

Barre Gray

Mountain Rose

Mahogany

Absolute Black

Impala Black

Ebony Mist


That's just the starting point. With mausoleums, families also have the opportunity to choose additional architectural features, including types of molding, columns, etches and engravings.

>> Learn about all of the other customizable options we offer for mausoleums.
2. Multiple members of a family can lay in rest together.
It isn't always easy to find burial plots close to family members. However, with mausoleums, your entire family, including generations to come, can share a special memorial space.

There are several different types of mausoleums, all of which are designed to house the remains of multiple people. For example, a family mausoleum can serve as a large-scale structure that can hold 20 or more people.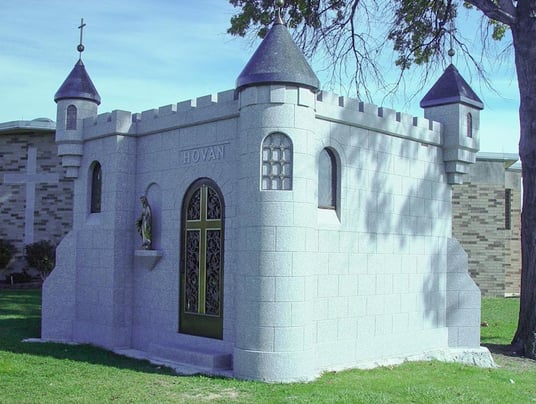 You can select one of these private sanctuaries for your family and have it designed and customized down to the last detail. This makes the planning of future memorial services much easier. It also allows surviving loved ones to honor more than one family member at a time.
3. Mausoleums serve as a permanent reminder of your family's impact and legacy.
Ancient mausoleums were designed to be grand in scale to represent the wealth, power and stature of the people laid to rest in them. Although not as large, today's mausoleums can still be grand in their own way.

A mausoleum serves as a unique tribute to the person you were and a legacy for generations to come. As you grow older, you may start thinking more about what you will leave behind for generations to come:
How will I be remembered?
What have I created that will live on after me?
How do I leave an eternal legacy?
What can I leave behind as a lasting reminder of my contributions to the world?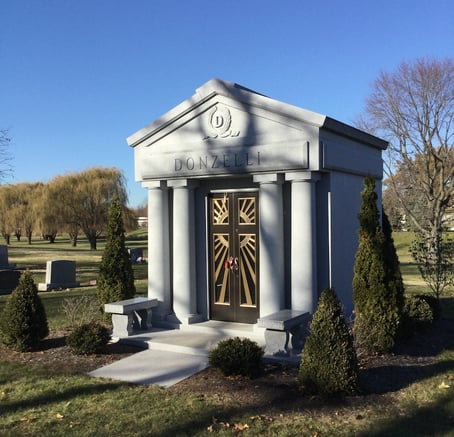 No matter what your legacy may be, you can feel comforted in knowing that your achievements have helped you make a difference in the world.
4. A place for future generations to gather and remember.
Not only does a private mausoleum provide beauty and shelter for those who have passed on, it provides a private and sacred space for surviving family members and future generations to visit and memorialize.

Additionally, indoor mausoleums offer a comfortable, peaceful place to visit because they provide protection from heat, cold and rain. This allows family members to visit in comfort year-round.

5. Save money on estate taxes when planned prior to death.
In certain ways, choosing a mausoleum as a final resting place can save you and your family money.

Although mausoleums do cost more than an in-ground burial plot, your family will not have to pay for the services to dig the grave nor the outer container needed for an in-ground burial.

Private mausoleums are also excluded from estate taxes. This provides a substantial financial benefit to families who are currently involved in the estate planning process.
Is a Mausoleum Right For You?
Milano Monuments works directly with individuals and families to construct custom mausoleums that fit their interests and needs.

Check out our comprehensive mausoleum guide to explore the possibilities of these grand structures, including mausoleum designs, artistic and architectural personalization, and the typical costs of mausoleums.