If you recently lost a loved one and no prearranged plans were made, it's likely you and other surviving family members will be tasked with fulfilling their final wishes. From designing a headstone to planning a funeral or memorial service, final arrangements can be overwhelming if you're unprepared.
One of the first and most important decisions during this process is choosing a cemetery. Not only will it serve as your loved one's final resting place, but also as a place where family and friends can gather to remember your loved one.
So, how do you know which cemetery is the right one?
While features like location, religious affiliation and headstone guidelines are all important considerations, know that there are also a number of warning signs to pay attention to when choosing a cemetery. The following issues may indicate that the cemetery does not take proper care of its memorials, nor will have your best intentions in mind.
Cemetery Add-On Fees
Oftentimes cemeteries will give a "base" or "starting" price for cemetery plots, but it's important to know there will likely be add-on fees that could significantly increase your costs. For example, plot size, location and type of marker all influence the price.
Before choosing a cemetery, look for answers to the following questions:
What is the fee for opening and closing the grave?
Is there a fee to stake out the

foundation

?
What is the installation fee of the foundation?
How much does it

cost to install the memorial

and who does it?
Do you need a permit and is that included?
Is ongoing maintenance and care of the memorial included?

Is there a conversion fee if the gravesite changes from a

flush-only

area to a

monument

memorial area?
Tipping or Sinking Memorials
The part of a memorial you don't see is just as important as the stone you do see. Unfortunately, some cemeteries will place a poorly designed headstone foundation which leads to tipping or sinking headstones.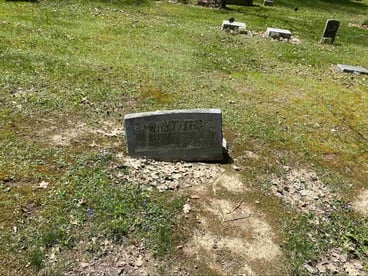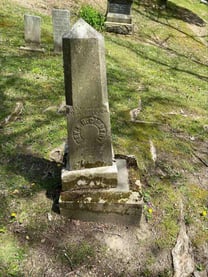 For a memorial to have a stable base, the foundation needs to be created properly from the start. If not, the continual thawing and freezing of ground over time can cause the foundation to be disrupted.
One of the best ways to ensure a cemetery is properly laying its foundations is to take a walk or drive around—if all the memorials look level, their foundations are most likely deep enough. If not, this helps you rule out certain locations when choosing a cemetery.
Dirty Headstones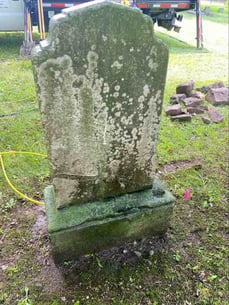 Cemeteries in Northeast Ohio are subject to weather conditions that range from moist and humid totemperatures below freezing. Thus, all memorials in the area are exposed to the elements at some point.
However, that isn't an excuse for cemeteries to leave headstones dirty.
Natural effects such as tree sap, bird droppings, grass clippings and leaves can also cause memorials to become dirty or stained. Does your intended cemetery leave headstones in this state, or clean them? When you're walking or driving around possible cemetery options, pay attention to the state of the memorials.
Your chosen cemetery should ideally keep its headstones in good shape. That's why choosing a cemetery that invests in local restoration services is important.
Overgrown Landscaping
When visiting your loved one's final resting place, you shouldn't have to spend your time pulling weeds, cutting grass or searching for their memorial that is hidden by overgrown landscaping. While this should be the responsibility of your chosen cemetery, oftentimes grounds maintenance is unfortunately not a priority for all.
Look out for uncut grass, overgrown plants and unpulled weeds. This will give you a good idea of how often the cemetery tends to the property.
Outsourced Memorial Materials
Because memorial design and creation isn't a cemetery's main service or selling point, most typically have to contract memorial manufacturers and outsource equipment and materials to form their selection of headstones for families.
When relying on third-party memorial providers, there's no guarantee your loved one's headstone will have the best quality granite with the best quality design.
Top memorial providers do all of their work in-house, which reduces costs, production times and third-party intermediaries. Furthermore, family-owned memorial companies will take the time to design a memorial that is special and unique to your loved one. Rather than focusing on the cemetery, the top priority of these educated memorial providers is creating a work of art that meets your expectations.
Ultimately, your headstone will stay with the memorial company, from initial concept to design to even cemetery setting.
Explore Your NE Ohio Cemetery Options
We recommend learning all you can about local cemeteries before making any final decisions. The more you know, the easier it will be to select a cemetery that best suits your loved one and their visitors. Download our Northeast Ohio Cemetery Memorial Guide to learn more before choosing a cemetery for your loved one.