The loss of a loved one is one of the hardest and most emotional burdens in life. It's also one of the most stressful—between dealing with your own grief and comforting those around you, most families plan an end-of-life service and memorial. The costs associated with final services often come as a surprise with an average funeral cost around $7,049 in Ohio.
We recognize that an end-of-life service and memorial can bear a burden financially for families.
Below we explain what is considered a "basic stone," the factors that impact the quality and price, and ways to get the best value for this important marker and symbol of a life lived.
1. Choosing a Cost-Effective Memorial Type
In the monument industry, a lawn-level memorial is considered a "basic stone" because it's smaller, generally a standard rectangle shape, and sits flush with the ground.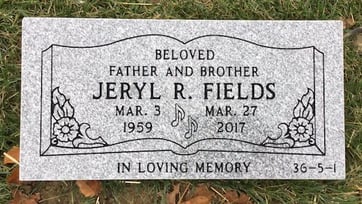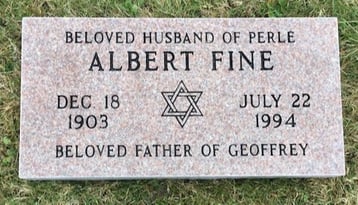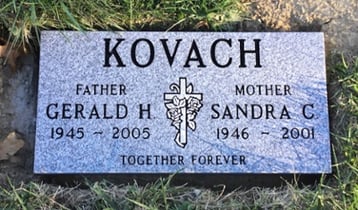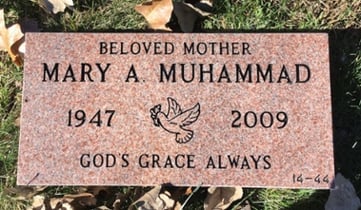 For a basic lawn-level memorial, the costs can start around $600. That assumes a durable granite, and includes basic information, such as name, dates, and delivery.
You may see advertisements or websites offering memorials for less, but that offer should be approached with skepticism. Considering the raw materials, design details, craftsmanship and machinery required for a stone, will this company be around should something go wrong?
Families may turn to online discount memorial retailers because of the low cost, but this decision can often cause added stress and greater costs later on.
For instance, each cemetery has its own rules and regulations regarding memorials and has a system of paperwork and approvals that must be completed before production and installation by the monument company. If a memorial does not meet the standards of the cemetery, it's likely to be denied, leaving families to repurchase a completely new memorial on their own.
In some cases, cemeteries will not accept memorials from online providers. They can even require proof of liability insurance from a local memorial provider to place a memorial on the grave.
If you work with a seasoned memorial provider familiar with cemetery rules, they help guide you through the process to meet approvals and adjust the design when necessary.
2. Characteristics that Influence Cost
Assuming you choose a basic, flat stone, there are additional factors that can raise the cost. For example, color is one element. Gray is standard and often available for less than alternative colors and varieties.
In terms of design details, sandblasted lettering for the name and dates should be included in the base price. Simple designs, such as a cross or roses, can also be included. If you choose to purchase premium features, like hand etching or laser etching, there are additional associated costs.
3. Delivery Fees
Except for special cases, delivery is typically included with the memorial cost. What is not included are the cemetery fees. Depending on the cemetery, the size and shape of the stone, and the size of the grave, setting fees can range from $50 to $700.
Milano Monuments handles all communication with the cemetery throughout the process to ensure your experience is as positive and simple as possible.
4. Inventory Special Pricing
At Milano Monuments' Cleveland location, customers can visit our 50,000-square foot facility and view current inventory of granite available at an adjusted cost. If this is something you are interested in learning more about, contact us.
Schedule an Appointment to Speak with an Experienced Memorial Specialist
Our experts can guide you through the entire design process with your budget in mind. Northeast Ohio families have trusted us for 50 years and we have built lasting relationships with many cemeteries to ensure our customers are educated and comfortable with their options.
If you are interested in learning more about our services, call us at 216-362-1199 or set up an appointment online, today.