The loss of a loved one is one of the most difficult emotional burdens we experience in life. It's also one of the most stressful—between dealing with your own grief and comforting those around you, you still have to plan final arrangements and design their memorial.
The headstone selection process can be hard because you want every detail to be perfect—understandably so. However, it's important to know common memorial cost factors before making any final decisions.
Factors like the size of memorial, placement and unique designs impact final price—sometimes significantly. And as end-of-life planning costs continue to rise, families must keep a budget in mind when personalizing a memorial.
Continue reading for answers to the five most commonly asked questions regarding headstone cost.

1. How Much Do Headstones Cost?
In 2021, the National Funeral Directors Association (NFDA) found the median funeral cost, including viewing and burial, to be $7,848. However, what's often overlooked is the added cost of a personalized memorial.
So, how much do headstones cost?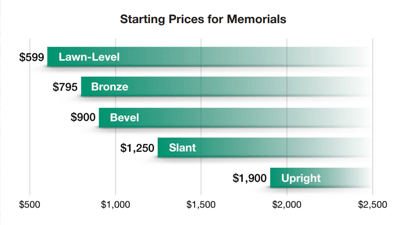 The cost of a headstone can vary based on the overall design, etching/engraving and material used. Small details like the granite color and finish of a headstone can also raise or lower the cost significantly.
In the graphic to the right you will see the standard prices for each type of memorial—starting from the lowest at $599 and going up in price from there.
Keep in mind, these are estimates for individual memorials and do not include companion memorials, which can cause the price to rise.
>>Download our Memorial Cost Guide for a more detailed look at headstone pricing.
Note: Online discount memorial retailers may sound appealing because of their low cost, but this decision can often cause added stress and greater costs in the long run.
2. What Is a Basic Headstone?
In the monument industry, a lawn-level memorial is considered a "basic stone" because it's smaller, generally a standard rectangle shape and sits flush with the ground.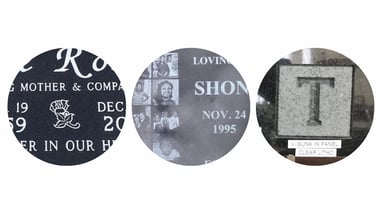 For a basic lawn-level memorial, the costs can start around $600.
That assumes a durable granite, and includes basic information, such as name, dates and delivery.
There are several headstone lettering styles to choose from when designing a headstone. The most popular headstone lettering styles for basic headstones are laser etched, skin-traced and V-sunk.
Families often choose one of these three styles because they are less costly compared to other options and work best for flat, lawn-level memorials.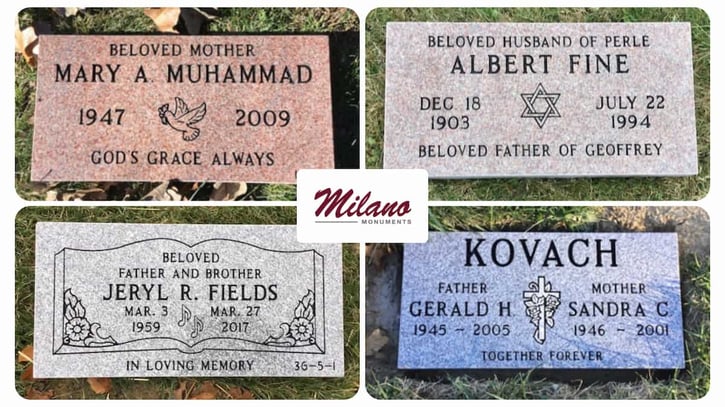 3. What Characteristics Influence Headstone Cost?
There are several factors that can impact the cost of a headstone.
Shape and size. The cost is generally related to how much granite is used and the intricacy of the headstone shape (i.e. guitar-shaped memorial).
Material. Granite is the most commonly used material for headstones and comes in a variety of colors. The type of granite you choose will determine the final cost.
Design elements. Though it does not impact the price as much as the stone size, shape and type, different design options, like headstone lettering and photos, have varying costs.
Memorial provider. Working with an experienced memorial provider familiar with cemetery rules is often less stressful and more cost effective, as they will help you design a memorial that best fits your needs and budget.
>>Download our Headstone Design Guide to create and purchase a memorial that is as unique as the person it's made to honor.
4. Are There Headstone Delivery Fees?
With the exception of special cases, delivery is typically included in a flat memorial cost. What is not included are the cemetery fees. Depending on the cemetery, the size and shape of the stone, and the size of the grave, setting fees can range from $0 to $3,500.
Milano Monuments handles all communication with the cemetery throughout the process to ensure your experience is as positive and simple as possible.
5. Do Headstones Ever Go On Sale?
At Milano Monuments' Cleveland location, customers can visit our 50,000-square foot facility and view our current inventory of granite specials available at an adjusted cost. If this is something you are interested in learning more about, contact us.
Design a Memorial Fit For Your Budget
There are several factors that can significantly impact the final cost of your loved one's memorial. To find a memorial that best suits your budget and your loved one's final wishes, download our Memorial Cost Guide.