Headstones and memorials are intended to serve as a lasting tribute to our lost loved ones. That is why granite, one of the most durable materials in the world, is most frequently used for headstones, grave markers and monuments in cemeteries today.
Granite is a naturally occurring combination of rocks and minerals and can last for centuries with little degradation. It comes in a variety of colors, textures and patterns depending on the location it was sourced, and the random mineral and rock distribution.
A variety of factors, including the granite's color, impact the cost of this material. Continue reading to learn why certain colors of granite cost more than others, along with other traits to consider when choosing the type of granite for your memorial.
Comparing Costs of Granite
Granite colors that are readily available, like traditional grays, cost less because they aren't as hard to come by. Darker colors, which offer excellent contrast for etching and engraving the stone, cost a little more. The rarest granite colors are the most expensive because they are in limited supply. Below are some of the most popular granite colors, all available from Milano Monuments: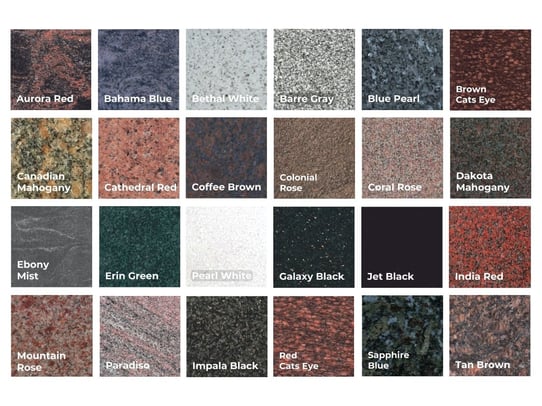 In general, there are three cost categories of granite:
Standard colors like Barre Gray and Mountain Rose are on the lower end of the granite cost range because they are the easiest to source.
Relatively unique varieties are more expensive than standard varieties, but less than some of the rarest options. These include Absolute Black, Coral Rose, Mahogany, Impala Black and Erin Green.
Exquisite and rare varieties stand out. They cost more than alternatives, and include Premium Red, Blue Pearl, Ebony Mist, Aurora Red and Coffee Brown.
Why is the Granite's Grade Important?
Pricing fluctuates based on a color's availability, but the grade of the granite also plays a factor. The granite's grade reflects its durability, density and structural integrity. Higher grades can better withstand outdoor elements and extreme temperature variations. It's also better suited for cutting, crafting and finishing. Great consistency in high-grade granite translates to a better look—both today and for decades to come.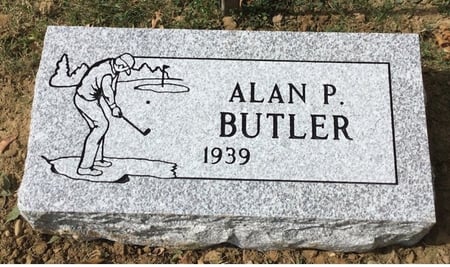 Lower grade granite is prone to chipping, degrading and discoloration over time. For engraved or etched granite, lower grades also have density inconsistencies or flaws. This diminishes a stone's sharpness and appearance when it's cut or polished.
Unlike color, a granite's grade may not be as obvious, so be sure to ask your memorial provider to explain the differences.
Other Factors That Influence Cost of Granite Headstones
Reputable memorial providers can design almost anything your family desires, but the ability to get a certain granite variety depends on four key factors:
1. Available Inventory
While some colors are immediately available in your provider's inventory, others need to be ordered from regional wholesalers or imported from abroad. Milano Monuments partners with Rock of Ages, a company founded in 1855 that owns and manages quarries in several states and countries. Their quarries produce the highest combined volume of dimensional granite in North America.
2. Your Timeline
Are you pre-planning a memorial or do you need it immediately? Color selections may be limited depending on how quickly you need the headstone. Special orders, especially from overseas, will take more time.
3. Your Budget
How much of your total end-of-life budget are you setting aside for your loved one's memorial? The rarer the color, the more costly it will be. Consider your budget and consult with your memorial provider to find a color that fits best.
Ultimately, the color of the headstone is just one of the factors that influences the final price. Other factors to consider in your budget are the size and shape of the headstone, the granite's grade and customizations like etchings and engravings.
4. Your Selected Memorial Provider
Milano Monuments uses only the finest domestic and international granite. The quarries we work with are selected for the durability, as well as the rich color of their stone. Granite's crystal structure produces its unique luster and strength. As the second hardest substance next to a diamond, granite is the perfect material to preserve a memory for generations to come.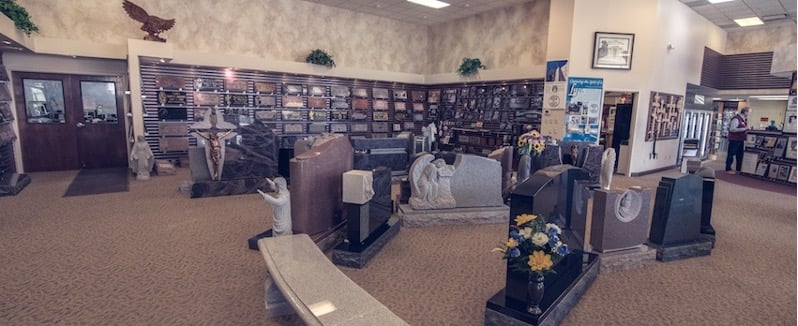 Visit our Granite Showcase located at our 50,000-square-foot Brookpark Road facility in Cleveland to see the region's largest collection of granite for headstones and cemetery memorials.
Learn More About the Cost of Headstones
To learn more about memorial designs and costs based on your preferences, try out our Interactive Memorial Cost Guide. This interactive resource guides you through various memorial costs, allowing you to decide which memorial type best suits you and your budget.