Each element of the headstone design process has its own set of steps and its own associated costs. From the initial design to the added personalization elements and even the headstone installation, it's important to be aware of the overall price you will be paying for your loved one's memorial.

At Milano Monuments, we never want a family to feel blindsided by unexpected costs—like headstone installation prices—after they have completed a headstone design that perfectly reflects their lost loved one's life.

Continue reading for answers to five common questions about headstone installation.
1. What Is a Memorial Setting Fee?
When planning a memorial for a loved one, you may see headstone installation prices referred to as a placement or setting fee. This fee typically covers the memorial's foundation and other services in the cemetery (e.g. placement of the memorial after delivery, maintenance of the cemetery grounds and perpetual care).

Keep in mind, the cost to install a headstone can differ significantly from one cemetery to another—even in the same city or county.
2. How Much Does It Cost to Install a Headstone?
There are several elements that go into headstone installation prices including the pouring of the foundation, ensuring it is level and laying the memorial in its final resting position.

The average for headstone installation prices in northeast Ohio can range from $100 to $1,200. The final cost will depend on the amount of work required and the size of the monument.
3. Do Headstone Installation Prices Differ With Individual or Companion Memorials?
While some Northeast Ohio cemeteries only allow single memorials, most also allow double or companion memorials. A companion memorial is for two people who were very close—typically for spouses or siblings. It's normally a headstone that goes over two side-by-side graves.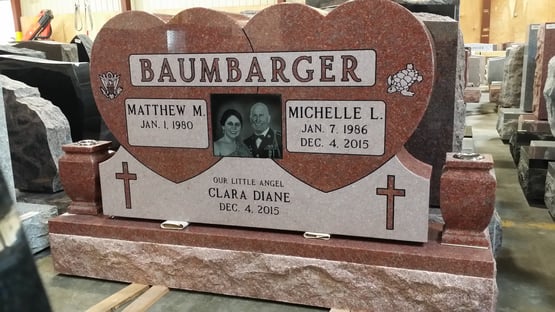 Cemeteries typically charge more to install a companion memorial compared to a single, as it takes up more real estate and requires a larger foundation. For instance, a single memorial typically has a 24-inch. by 12-inch. base, whereas a companion memorial's base starts at 48-inch. by 12-inch. These memorials come in all sizes and shapes.

While fees can vary greatly from one location to the next, some headstone installation prices for a companion memorial will be approximately double that of an individual memorial. At other locations, the difference will be minimal. This is another reason to consult with a memorial provider if you are considering different cemeteries.
4. How Will the Memorial Shape or Size Affect the Headstone Installation Price?
Some cemeteries allow for a wide range of memorial shapes, sizes and types—ranging from lawn-level and bevel to slant and upright memorials.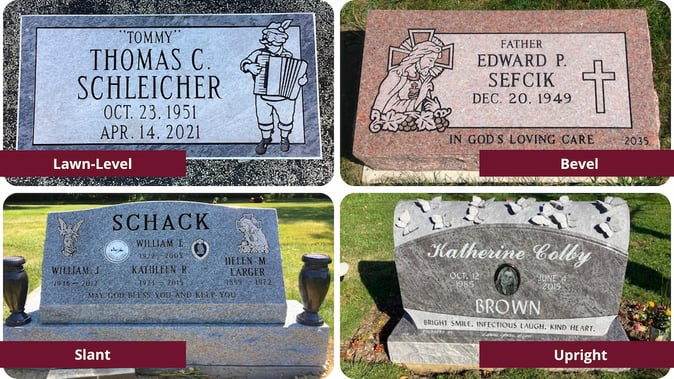 While setting fees can sometimes differ depending on the size of the stone, the cost is normally related to the bottom of the headstone. Some cemeteries may charge an installation fee based on memorial height. Regardless, it's best to check with your chosen cemetery or your memorial provider for guidance.
5. Will Including a Vase Change the Headstone Installation Price?
A memorial vase provides your family with a place to decorate the memorial with flowers or flags, especially on special dates of significance like a birthday, anniversary or holiday.

When choosing a memorial vase, you'll want to know if there is a vase installation fee at your cemetery. Typically, families do not pay an installation fee for vases that are placed on the monument. Cemeteries may charge a setting fee, however, for vases that are placed in the ground, next to the memorial.

Uncover More On Cemetery Fees and Regulations
We created the Northeast Ohio Cemetery Memorial Guide to help you navigate common cemetery fees and regulations. Download it today to view an interactive map and a list of memorial regulations and fees for 40+ cemeteries across the Cleveland and Youngstown area.