Memorializing the life of a loved one through a headstone is a difficult process. Since the headstone you choose serves as a lasting tribute, determining the memorial's design can feel overwhelming.
However, the process can also be a gratifying and heartwarming experience as the headstone represents the life lived.
To help alleviate the strain and pressure of designing a memorial during an already emotional time, read on as we explain common headstone color options.
Granite Color and Variety
Granite is the most commonly used material for headstones. It is some of the oldest stone on earth and is the second hardest substance next to diamond, making it long lasting. Formed from volcanic magma as a conglomerate of minerals and rocks, granite comes in all types of colors and textures.
Below are some of our most popular granite headstone color options:
While granite is a naturally occurring material, each headstone is entirely unique. Due to random mineral and rock distribution, exact colors, textures, shades and patterns vary from one granite slab to the next.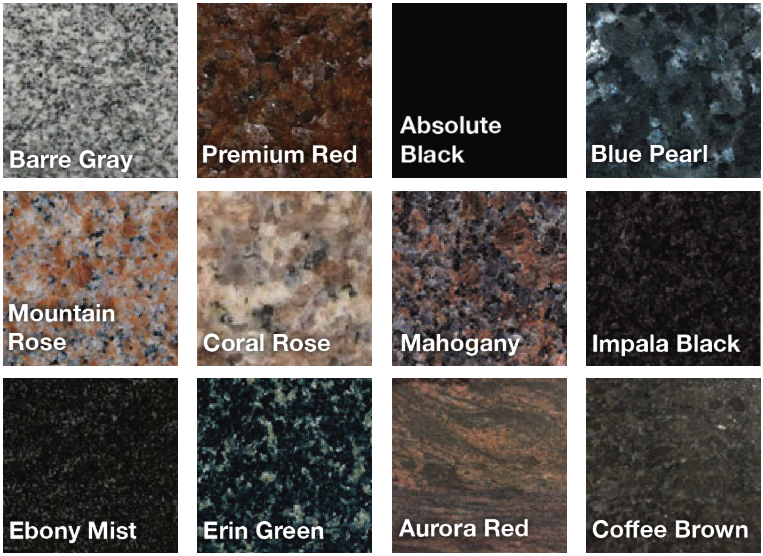 Color Pricing For Headstones
Granite types vary by region and may be sourced from North America, South America, Asia, Europe and around the world. Pricing fluctuates based on a color's availability, among other factors.
Traditional grays seen in most cemeteries are likely priced lower because they are more common and readily available. On the contrary, premium blue and reds are more exquisite and rare granites priced higher due to a more limited supply.
Almost any style you can imagine is available, but the ability to get a certain variety depends on three key factors:
The memorial provider's inventory: Some colors are immediately available in your provider's current inventory, while others must be ordered from regional wholesalers or imported from abroad.
Your timeline: Are you pre-planning a memorial or do you need it soon? Color selections may be limited depending on the immediacy of the headstone.
Your budget: How much can you allocate to the headstone? As mentioned earlier, rarer colors likely cost more than common colors. Consider your budget and consult with your memorial provider to find the color that fits.
Which Color Should I Choose?
Aside from available inventory options, your timeline and your budget, you should always consider the person's personality when deciding on a headstone color. Were they easy going and calm? If so, a barre gray or blue pearl colored headstone may be appropriate as opposed to premium red or mahogany.
Whichever the case may be, choose a color that you and your family love as the lasting symbol of his or her final resting place.
For more information on headstone design and material selection, check out our Memorial Cost Guide today.