For decades, the Milano Monuments and Milano Stone & Restoration teams have developed a deep understanding of the materials and machines needed to successfully complete projects.
The Milano Monuments team has created beautiful cemetery memorials and mausoleums, while the Milano Stone & Restoration team has relocated major monuments and restored historical cemeteries for communities.
Each of these projects require deep knowledge, expertise and the right professional equipment. Read on to get a behind-the scenes look at the equipment we use for our memorial and commercial projects.
Granite Bridge Saw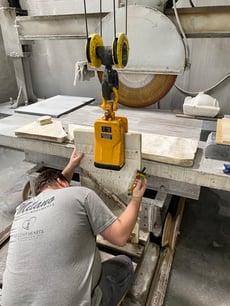 A bridge saw is a very large saw that runs on a beam or bridge. Designed for secondary cutting, this piece of equipment guarantees professional quality cuts for stone.
This type of saw is used to cut granite, ceramics, marble, stones, and slabs in every direction. At Milano Monuments, we own one of the area's largest bridge saws to cut out unique designs for headstones and all stone in general.
For example, if stone needs to be modified in size, cut down, or trimmed for a precise cut during repair, our team of stoneworking experts uses the bridge saw to make the appropriate cuts that will give you your desired look.
Memorial Laser Machine
A memorial laser machine enables memorial artists to produce accurate and detailed recreations of original designs and photographs in stone. We have the most advanced computer-controlled equipment that will laser etch or engrave anything onto a memorial. Watch the video below to see one of our laser machines in action.
Sandblasting Stone
Sandblasting is done through an air compressor that shoots small particles of sand through a hose to erode the granite surface. This technique is considered one of the most effective methods for engraving granite headstones and monuments, and is best suited for headstone and plaque lettering.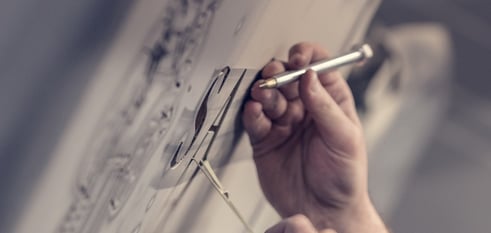 Crane Trucks
At our sister company, Milano Stone & Restoration, we use both mobile and fixed crane trucks for all of our heavy lifting jobs. These pieces of equipment use chains, cables, ropes, and a winder to move heavy materials—like slabs of granite or completed memorials.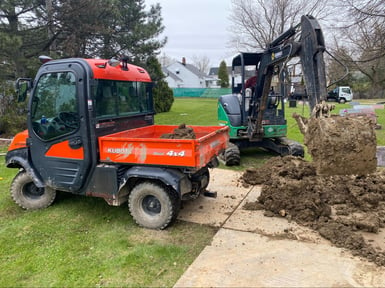 We house a few fixed cranes in our 50,000-square-foot manufacturing facility to help move and store large stone pieces, and we own several mobile cranes to take on our cemetery restoration and community memorial projects.
Granite Paint Sprayer
Our granite paint sprayers deliver the greatest combination of speed and high-quality finish. We use sprayers that are filled with paint made specifically for granite to highlight unique features on a memorial like meaningful inscriptions or important dates. Watch the video below to see exactly how we complete the painted elements of a headstone.
Benefits of a Stone Provider That Owns Its Own Equipment
There are many benefits to working directly with a professional memorial provider like Milano Monuments, or stoneworking company like Milano Stone & Restoration, that owns the right equipment. With professional tools on hand:
Any memorial or monument job can be done.
All projects are completed efficiently and effectively.
There are no additional costs for renting equipment passed on to you.
Looking For More Memorial Content?
Our professional memorial equipment allows us to create the best memorials, monuments, and displays possible for families and communities alike. To learn more about what goes into creating a memorial, subscribe to our blog.