Cemeteries are one of the most valuable historic resources communities have today. Not only do they serve as a place for families to honor and remember loved ones, but they're also a historical archive of past generations—their lifestyles, their religions and their genealogy.

Unlike today's memorials made of durable granite, many older cemeteries have headstones made from materials like sandstone, marble and limestone. Because of their porosity, these materials unfortunately do not withstand the effects of weather over time. Wind, rain and sunshine can make engraved lettering difficult to read, and can lead to the entire headstone cracking or crumbling if not maintained.

To protect and preserve the memories that these older memorials represent, cemeteries can get them professionally restored by companies like our sister brand Milano Stone & Restoration. Continue reading to learn more about the cemetery restoration process and why cemeteries should invest in it.
What does cemetery restoration involve?
The goal of any cemetery restoration project is to restore the integrity of memorials and monuments so that the memory it represents is preserved and respected. At Milano Stone & Restoration, these projects may include any of the following:
Cleaning granite, marble and sandstone memorials using trusted techniques and processes.
Adding a fresh coat of paint to memorials whose paint has started to fade or chip.
Resetting leaning marble headstones.
Pinning memorials back together that have fallen apart.
Realigning all memorials into their original rows.
Fixing or supporting upright monuments to prevent them from falling on visiting families.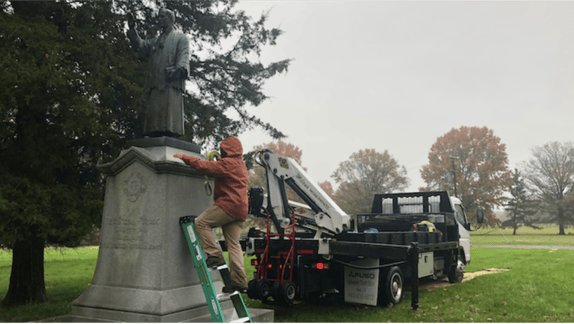 Cemetery restoration projects can take anywhere from one day to 12 months—the duration greatly depends on what type of work is involved. The time it takes to clean a monument or reset a headstone varies greatly depending on the level of work that needs completed for that particular restoration project. For an accurate estimate, it's best to contact the Milano Stone & Restoration team.
The Cost of Cemetery Restoration
Cemetery restoration projects can vary greatly in cost, depending on the size of the cemetery, the number of memorials in the cemetery and the amount of work that the headstones need. Full cemetery restoration projects may cost anywhere between $5,000 to $250,000 and are typically paid for over the course of several years. If an older monument or memorial poses a serious risk of injury to visitors, however, then most cemeteries will pay for restoration immediately.

Note: Families can work directly with Milano Stone & Restoration to restore their family monuments and/or memorials at a significantly more affordable cost. The cost of cleaning services for a single memorial depends on its size, but typically starts around $350 for families. Contact the Milano Stone & Restoration team to learn more.
Cemetery Restoration Grants
Cemeteries aren't necessarily expected to raise the money themselves to restore the memorials within their grounds. Instead, they may be able to pull money from city street and road budgets, or from surrounding universities if their grounds are used for historical education purposes.

There are also a variety of grants available to aid in these types of projects. Here are a few grants available to cemeteries located in Ohio:
Ready to Invest in Cemetery Restoration?
At Milano Stone and Restoration, we have years of experience restoring prominent historical memorials and monuments to nearly new condition. Click below to learn more about our cemetery restoration services.