A memorial serves as a lasting physical mark of a lost loved one, making the selection process difficult
. You want every detail to be perfect, and
understandably
so.
Your loved one's memorial should be a representation of their life—something that needs to stand the test of time for future generations
.
Factors like the type of memorial, placement and unique designs impact final price—sometimes
greatly
.
And as end-of-life planning costs continue to rise, families must keep a budget in mind when personalizing a memorial
.
1. Type of Granite
Although it may not seem obvious to the naked eye, all granite is not created equal. Granite is available in different varieties, colors and grades. The unique processes that form granite in around the country and world result in unique granite characteristics. Common principals of supply and demand apply when considering granite prices.
In terms of color and variety, those that are more readily available to a region, often gray, are less costly. Blue pearl or aurora red are examples of exquisite colors that are unique and, thus, reflected in the price.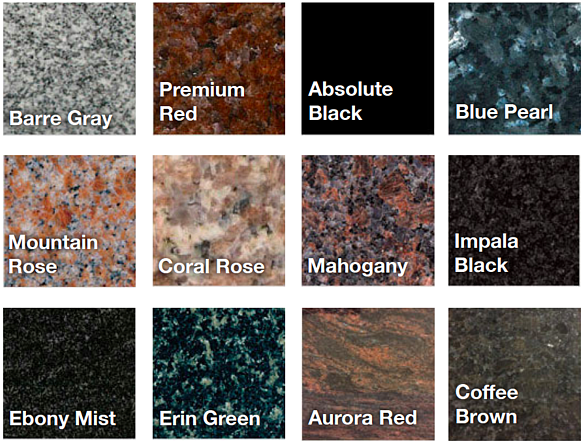 For those who want a lasting stone that will resist wear above anything else, you're concerned with the grade of the granite.
Grade reflects the material's general durability, density and structural integrity. Not only will higher grades withstand the elements, their suitability for cutting, crafting and finishing will be higher. Great consistency in high-grade granite also translates to a better look—both today and for decades to come.
Lower grade granite is prone to chipping, degrading and discoloration over time. For engraved or etched granite, keep in mind that lower grades also have density inconsistencies or flaws. This diminishes sharpness and appearance when cut or polished.
Unlike color, granite grade may not be as obvious, so be sure to ask your memorial provider about it.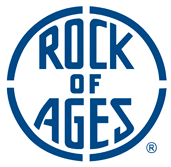 Reputable memorial providers will stand behind the products they deliver. For example, if there is a defect in the granite, Milano Monuments will replace the memorial. Not only does an offer like this give you piece of mind, but it also expresses the confidence a provider has in its granite and craft.
One brand worth noting is Rock of Ages, which is a type of granite only available through a select number of Rock of Ages Authorized Cemetery Monument Retailers. All Rock of Ages granite comes with a Perpetual Warranty. In the event of a granite defect, this warranty passes on through generations.
2. Memorial Type and Size
As expected, the memorial type and size can dramatically change its cost. Ranges can span from a few hundred dollars to thousands, based on the size and intricacy of the overall stone.
The basic order for different memorials from least expensive to most is shown below. Each type is typically available for a single person or as a companion or family memorial, which unsurprisingly increases the cost.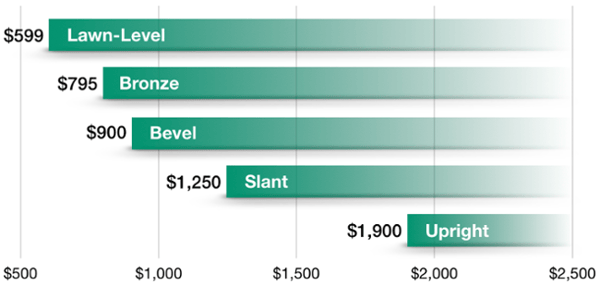 Note: Prices are estimates based on Milano Monuments, which vary based on the other memorial factors mentioned in this post.
Lawn-level: Often referred to as the "basic stone," lawn-level memorials sit flush with the ground.
Individual: $599 and Up
Companion: $1,199 and Up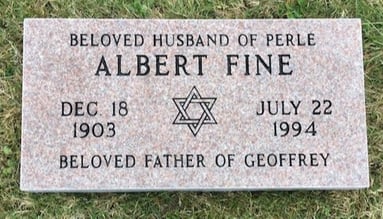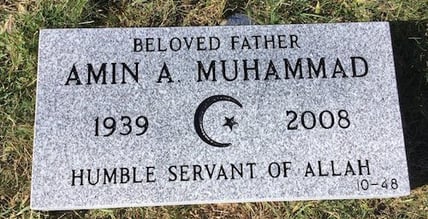 Bevel: Eloquently called a "pillow," bevel memorials rise a few inches off the ground with a sloping shape.
Individual: $900 and Up
Companion: $1,700 and Up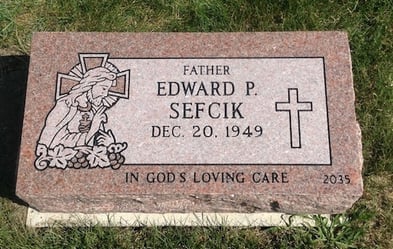 Slant: A step up from the previous types, slant memorials are cut at a steep angle to allow inscriptions to be seen from a distance.
Individual: $1,250 and Up
Companion: $1,800 and Up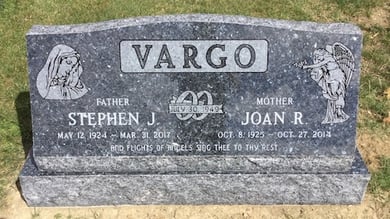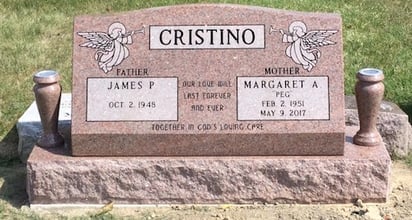 Bronze: Often mounted on a granite base, bronze memorials sit flush with or are slightly raised off the ground.
Individual: $875 and up
Companion: $2,490 and up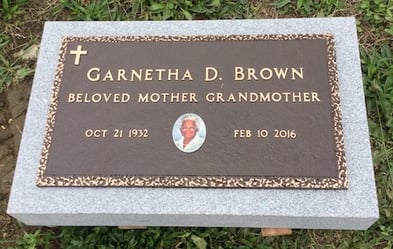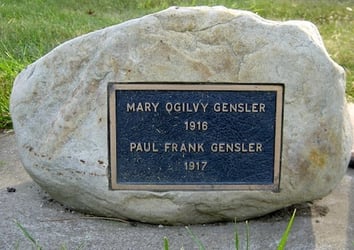 Upright Monument: The largest of these options, upright monuments are an impressive site in any cemetery and can be shaped and molded to the customer's desire.
Single Monuments: $1,900 and Up
Companion Monuments: $2,500 and Up
Family Monuments: $3,995 and Up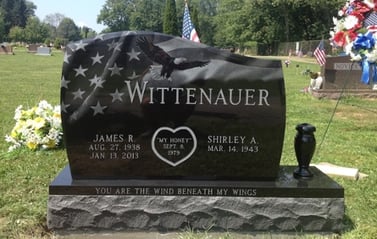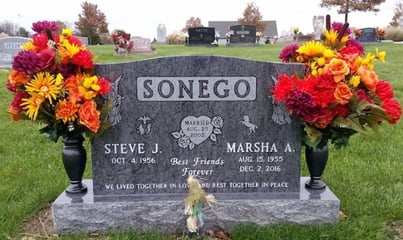 3. Design Details and Personalization
The quality of the granite, as well as the type and size of the memorial chosen are important in memorial selection. However, what makes a stone truly unique are the size and details of the words, designs, craftsmanship and other unique details that cover the stone. These customized markers often depict important aspects of the life celebrated.
>>>Want to design a memorial as unique as your loved one's life?

Designs can be very basic and understated, with just a few words and without art or design elements. Some families may feel simple represents respect and dignity. Others may choose elaborate and intricate details to honor the unique individual or family it memorializes.
Fortunately, the range of design options available for the grave marker of a loved one's final resting place is as vast as your imagination. Subject to the chosen cemetery's limitations and rules, almost any artistic design can be carved or crafted into granite or bronze.
A few options for personalizing are below, with greater amounts and intricacy translating to higher costs.
Ornamental Lettering: The words on a monument can feature any inscription you desire—including long or short epitaphs, quotes and scriptural verses—and are stylized using your choice of different fonts and carving techniques.
Ornamental Carving and Etching: Hundreds of images and themes are available to choose from—including religious symbols, flowers, birds, sports iconography, frames and more. These, and any drawing or image you provide, can be carved or etched into your memorial by hand, with a laser machine or with sand-blasters. These various methods each offer a distinct appearance.
Higher priced monuments usually include more words and artwork, as well as more complex designs. Additionally, the quality of craftsmanship, whether by world-class craftsman, designers and technicians, impacts the price.
4. Funeral Service Charge (If Purchased Through a Funeral Home)
As with any product, the more businesses or people involved in the processes from manufacturing to purchase, the more cost the customer incurs. But this is one cost you can avoid.
Many funeral homes can help coordinate the purchase of the cemetery space and the headstone. Out of convenience, many families may choose to take this offer.
However, going directly to a memorial provider removes an additional step in the process. It also opens up the available monument options to all of the offerings of the monument provider, not just what the funeral home can offer. Direct communication with a memorial provider and its designers also helps ensure all of your design and inscription wishes come to fruition.
While prices may be comparable when working with a funeral home or a memorial provider, professional memorialists can offer their expertise and broader capabilities as you consider memorial options.
Learn More About How Much a Memorial Costs
Want to better understand how much your memorial or headstone might cost? Use our Interactive Cost Guide to explore the various memorial costs, allowing you to learn more about the personalization options that matter to you.
Editor's note: This blog post was originally published in 2019. We updated it in 2020 to be more comprehensive and current.