Designing a headstone for yourself or a loved one is an intentional and emotional process.
When managing an already expensive list of final arrangements and faced with a number of headstone design elements, many families ask us, "Do you have any basic, affordable headstone options?"
The short answer? Of course.
Continue reading to learn more about the most affordable options available for headstone size, material, color and lettering.
Headstone Size and Shape
Typically, the smaller the headstone, the more affordable the price. A lawn-level memorial is often considered a basic stone because it's smaller, rectangular in shape and sits flush with the ground.

The cost of a lawn-level memorial with durable granite and basic information, such as name and dates, can start around $700. A double or companion memorial can start around $1,400.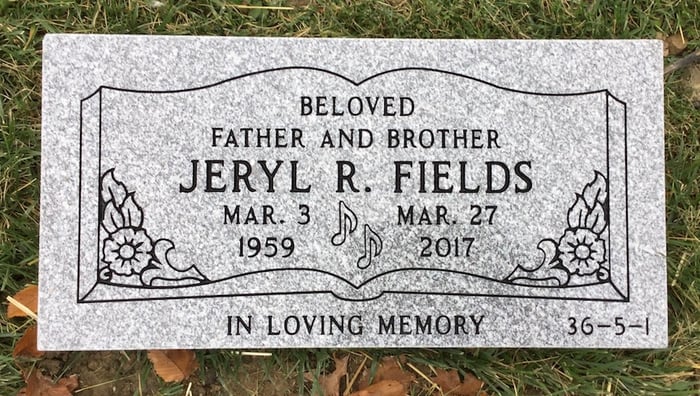 Ultimately, the amount of granite used and intricacy of the design and craftsmanship will impact the headstone's overall cost.
Headstone Material
While monuments and memorials were once made from marble, limestone and slate, granite and bronze are the preferred materials for manufacturing headstones today. The cost of each material varies based on a number of factors.
Cost of Granite Headstones
Granite is a naturally occurring combination of rocks and minerals that can last for centuries without deteriorating even 1/1000th of an inch. The cost of granite ranges based on grade, color and variety.
Grade.

While commercial grade granite is often less expensive, it is more prone to cracking, chipping and discoloration over time. To ensure your headstone lasts for generations to come, Milano Monuments only uses the

highest-grade granite

for headstones.

Color and variety. When designing a basic headstone, most families choose a standard color, like Barre Gray or Mountain Rose. More unique varieties, like Absolute Black and Blue Pearl, are more expensive.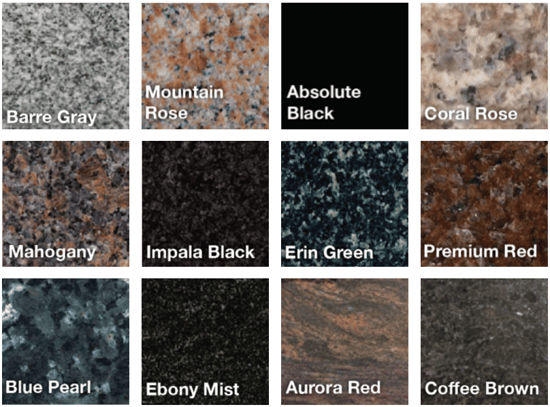 Cost of Bronze Memorials and Plaques
Like granite, bronze cemetery monuments will last thousands of years with almost no degradation. However, if bronze is not maintained, it will patina. Patina naturally occurs when bronze turns green due to oxidation. Because of this, bronze should be cleaned and waxed at least once per year.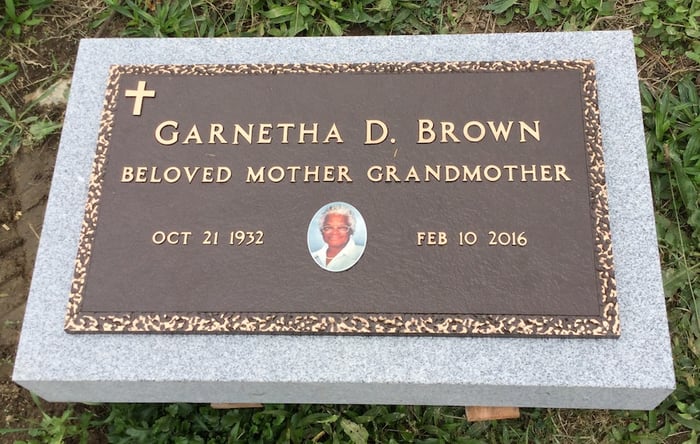 Because bronze is an eternal metal, its price fluctuates with supply and demand. And since an expensive mold is required to create a custom bronze monument, most families opt for a more affordable stock style or bronze plaque instead. Your memorial provider can give you an accurate price estimate when you're ready.
Basic Headstone Lettering
The cost of headstone lettering will vary based on the technique used to inscribe the memorial and the amount of text added to the stone.
When designing an affordable headstone, we generally recommend families choose sandblasted lettering over hand-tooled. Since it is the method used by most reputable memorial providers, the following standard lettering and designs are often included in the cost of a headstone:
First and last name, relationship and dates in available fonts.

Traditional designs, such as a cross, rings, hearts, anchors, flowers, etc.

A short

inscription

, like "in loving memory."

Paint

for the lettering and designs if the color is commonly used or already in stock.
Additional Headstone Design Elements

When designing a headstone, there are a number of additional elements that can be selected to further personalize your memorial:

But with basic stones, the design is often much simpler.
Because each of these personalized elements add to the cost of a headstone, and require sizable space, they are often not included in the design of a basic memorial. However, if space allows, families can always request that additions be made to their loved one's headstone at a later date.
The Headstone Provider
Naturally, your headstone provider's pricing and experience play a pivotal role in designing a simple, quality memorial that respects your price point. Choosing to work directly with a memorial provider can help eliminate the costs of working with a third-party vendor while offering a variety of additional services and options.
When working with a memorial provider, families can also ask about the different payment options available. At Milano Monuments, we understand that designing a memorial can be overwhelming emotionally and financially, and are happy to coordinate a timeline and payment option that works best for you.
Plus, working with a provider that has a strong reputation for high-quality headstones and customer service can help reduce stress and ensure your headstone is a perfect tribute to your loved one.
Calculate the Cost of Your Memorial
We understand that planning final arrangements for a loved one can be a tremendous financial investment—and we want to help make your decisions easier. Click through our Interactive Memorial Cost Guide to better understand how much your loved one's headstone might cost.