There are situations when a family or individual may need (or want) to add information to an existing memorial or headstone after it has been placed in a cemetery.
For example, a child might need to add final dates to his or her parent's headstone, or a family may want the names of relatives to be added to the memorial. Other additions may include:
Meaningful quotes, prayers or phrases.
Personalized designs, such as religious symbols, military emblems, ceramic photos or company logos.
Wedding dates or reminders of other significant life events.
Whatever the case may be, additions can easily be made to almost any existing memorial.
To help make the addition process efficient and easy, we've outlined everything you need to know when adding information to an existing memorial.
Information You Need to Add to an Existing Memorial
There is specific information you will need in order to add to an existing memorial.
The first detail that will accelerate the process is to know who created the monument you want to add to. At Milano Monuments, we keep a file on most of the memorials we've created for our customers. If we created your monument, we can easily find the design in our database and let you know right away if there is space for your addition.
Also, we can add to any memorial, even those we did not create. However, to make additions to other headstones, you'll need to provide the following information:
Name of the cemetery.
Location of the headstone in the cemetery.
A recent picture of the memorial.
A picture and description of what you want added to the memorial.
Once you provide this information, we will visit the memorial or headstone and take a rub or tracing of the stone. If we determine there is sufficient space for your addition, one of our specialists will reach out and let you know what can be added, where it will be added and the cost of the addition. We will then use the rub of the stone, sketch the addition where we think it fits best and then send you a computerized sketch of the new information. This ensures you know exactly what's being added and how the stone will look before it's altered.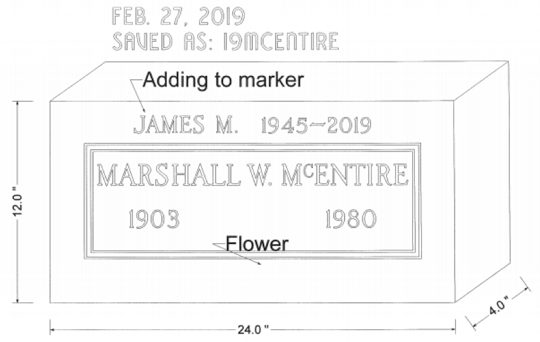 Example of a sketch showing where new information can be added
Note: Routine changes, such as adding final date in the predetermined space, are much simpler than adding new emblems or inscriptions, and can typically bypass this approval process.
How Long Does It Take?
The timeline for adding to an existing memorial depends on:
How long it takes the customer to provide payment for and information about the cemetery and the location of the memorial within that cemetery.
How long it takes the memorial company to visit the memorial and get a tracing of the stone (weather permitting).
How long it takes the memorial company to receive approvals on the addition, from both the cemetery and the family.
How long it takes the memorial company to make the addition. Note that more complex designs and lettering take more time, and that cold temperatures, rain and snow can delay the process.
The more information you can provide about the cemetery, specific plot location, what the memorial looks like, what needs to be added, and even a clear picture of its current state, the faster the inscription can get started.
Are Additions Made in the Cemetery?
Regardless of the type or size of the new lettering, additions can almost always be made onsite at the cemetery.
Our specialists can complete etchings or engravings onsite to match the quality and style of those created for new memorials at our Cleveland facility. Occasionally, if the lettering or design is complex and difficult to do, a memorial must be brought to our climate controlled production facility to be updated.
For older headstones that may have experienced some fading, additions may stand out against the rest of the stone. If you are concerned this may happen to your stone, we provide services for memorial cleaning and general touchups, including repainting.
What Approvals Are Required to Add to an Existing Memorial?
Once you approve and pay for the addition, several authorizations must be met. These include:
Signature from a responsible party. Whether it's a funeral director or family member, the addition must be approved. This includes signing off on a visual model of the change with the correct spelling, dates and designs (if applicable).
Cemetery notification and/or approval. Some cemeteries require a notification that a change is being made to an existing memorial, and a few must actually approve what exactly is being added. This typically requires a signature from the responsible party or a description of the addition.
After the order has been given to our engraver, it generally takes 60 days to complete. However, it is very weather dependent.
Additions cannot be made in the cold or if the stone is wet. The typical season to add information to an existing memorial or headstone is June through September in Northeast Ohio.
How Much Does It Cost to Make an Addition?
On the low end, a simple final year addition can cost as little as $250, but that is contingent on several factors. The price of any addition to an existing memorial depends primarily on:
Type of lettering style and finish.
Amount and size of the addition.
Complexity of the design.
To receive a quote and more information about adding to an existing memorial, fill out the form below or contact us today.