When designing a headstone as unique as your loved one, there are a number of elements and personalization options to choose from. Families have choices when it comes to features like the headstone's granite color, shape, quotes, finishes or special photos—and the headstone's lettering style.
To achieve different lettering appearances on headstones, a variety of engraving and etching methods can be used. Looking for an affordable headstone lettering style? Laser etched lettering may make the most sense for your loved one's headstone. Want your loved one's name to stand out? Square-sunk or V-tooled letters may be what you're looking for.
Continue reading to learn more about the different headstone lettering styles available to you and how to choose the one that works best for your loved one's memorial.
1. Laser Engraved

Laser engraving uses a computerized laser that burns the surface of the granite headstone to create flat, light grey lettering. It is an inexpensive alternative to hand etching and produces detailed recreations of fonts, designs and photographs. This headstone lettering method is preferred for memorials that include tiny lettering or fine details.
2. Skin-Traced

Skin-traced lettering is achieved by using a rubber stencil and a sandblaster. Memorial specialists pluck the headstone letters out of the stencil, then sandblast the headstone letters to remove the polish. The end result looks similar to a laser etched stone, but the letters are slightly deeper and brighter.
3. V-Sunk

For
V-sunk letters
, journeymen stonecutters take a rubber stencil, pluck the
headstone letters out and sandblast deep into the stone until the bottom of the letters come to a V. These letters will appear deeper and more pronounced compared to skin-traced ones.
4. Square-Sunk

To achieve square-sunk headstone letters, specialists skin-trace the letters first, then chisel the background. This headstone lettering method is often used for family names or larger letters on upright memorials and gives the letters a richer, brighter look.
5. Square-Raised

With square-raised headstone letters, the letter is left polished and shiny, and the surrounding space is sandblasted. Specialists will then use a chisel to carefully smooth the sandblasted background of the letters and the raised letters themselves. This process is similar to routing a piece of wood and results in headstone letters that are raised off the background.
6. V-Tooled

V-tooled headstone letters are created similar to skin-traced letters, but also involve hand chiseling. To create V-tooled headstone letters, a memorial specialist uses a chisel to cut edges in each letter until they are beveled at a slight angle. The resulting headstone letters appear three-dimensional, sunk into the polish.
7. Round-Raised

Round-raised headstone lettering is the most difficult headstone lettering method and the most costly. To create round-raised letters, artisans deeply recesses the space around each letter, then uses a chisel to carefully round each letter with serifs. This headstone lettering method was widely used before sandblasting was invented and popularized.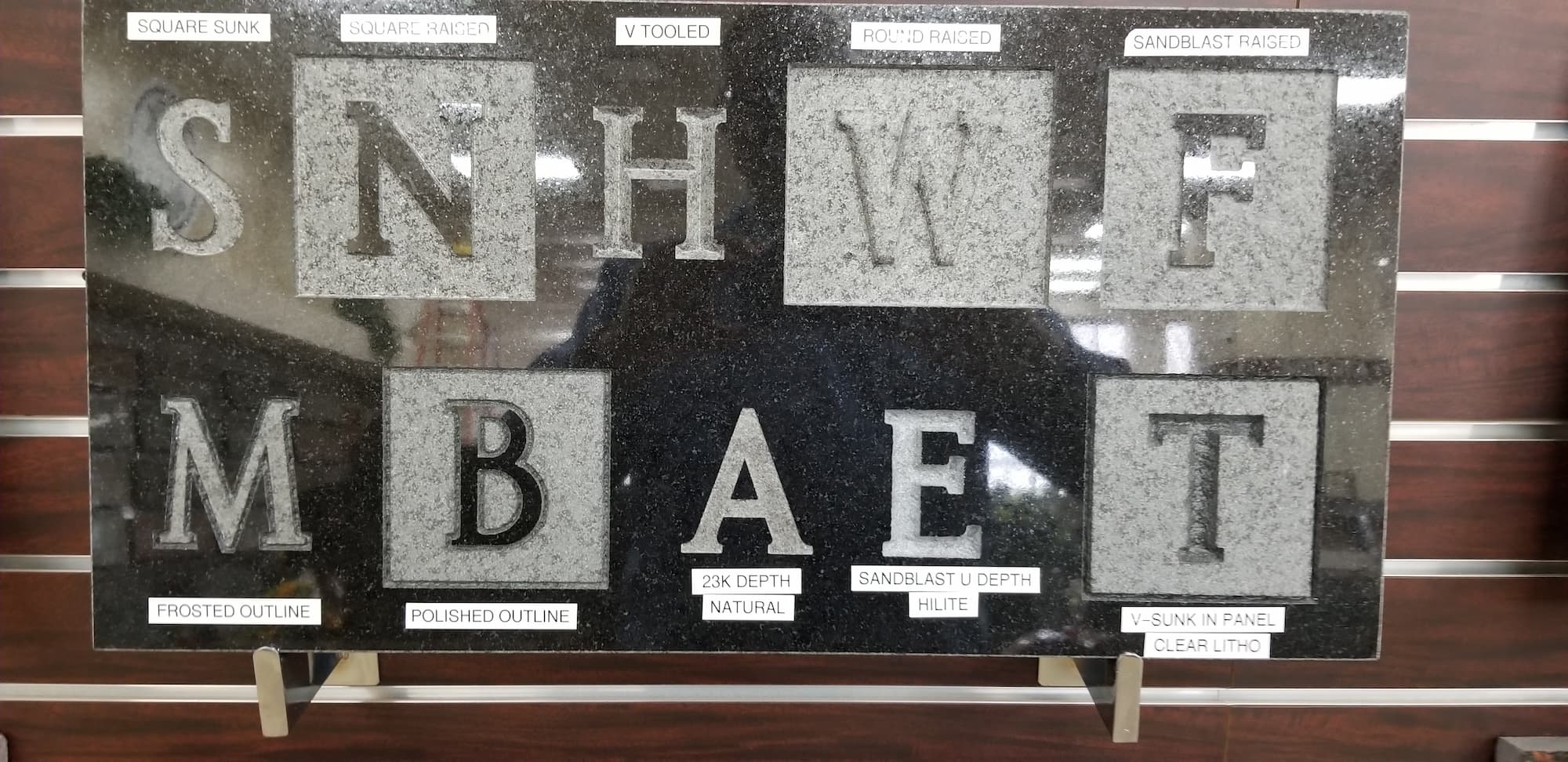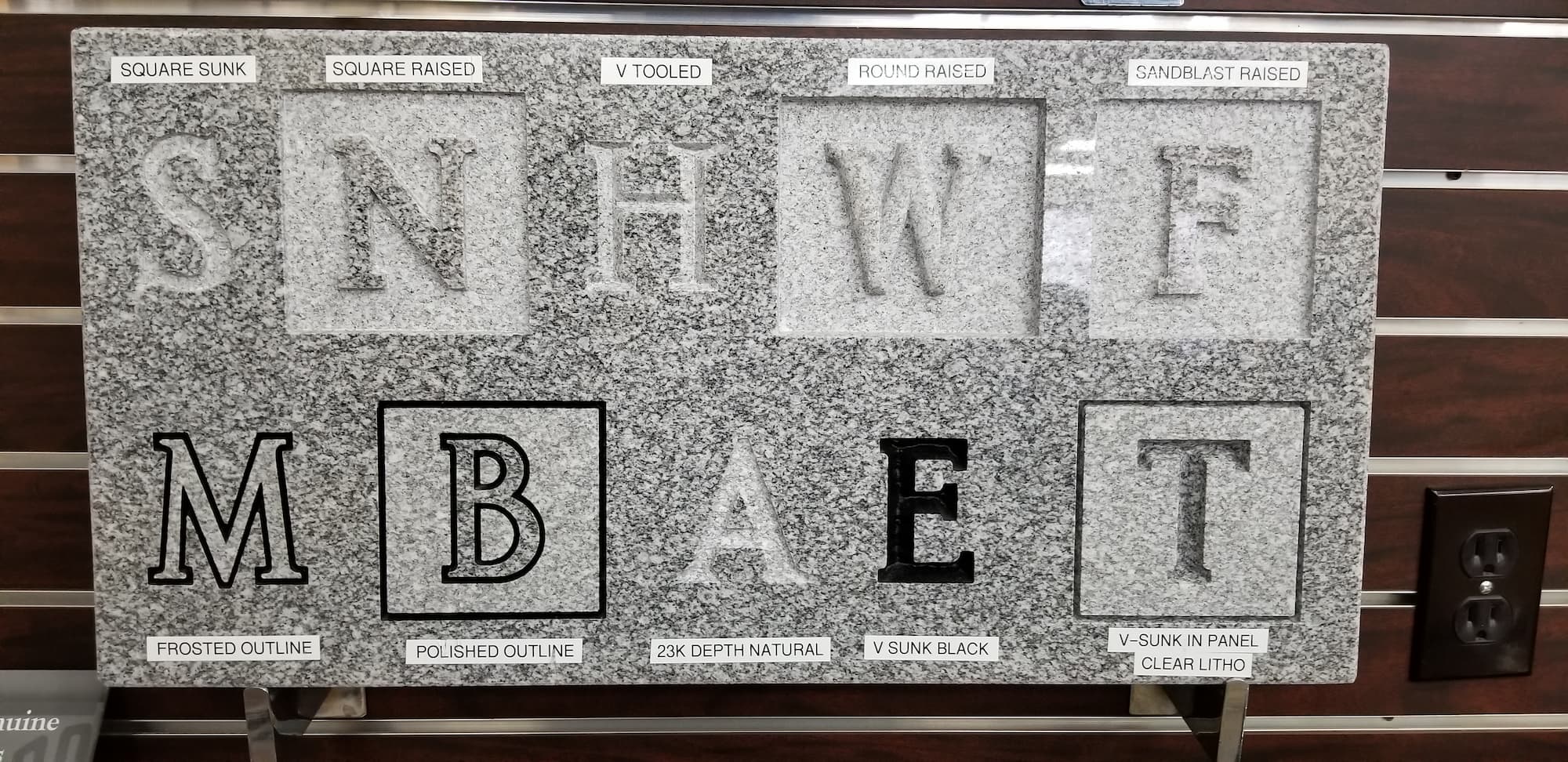 Commonly Asked Questions About Headstone Lettering Styles
Choosing a headstone lettering style for your loved one's memorial can be overwhelming without the help of a memorial specialist. Here are some of the most commonly asked questions our specialists receive when guiding families through the selection process.
What are the most popular headstone lettering styles?
The three most popular headstone lettering styles among families are laser etched, skin-traced and V-sunk letters. Families often choose one of these three styles because they are less costly compared to other options and work best for flat, lawn-level memorials.

Note: While raised headstone lettering options are beautiful, they are more susceptible to damage during cemetery lawn care if used on flat, lawn-level memorials. Therefore, we recommend only using raised lettering on upright memorials.
What are the least expensive headstone lettering styles?
The least expensive headstone lettering styles are laser etched and skin-traced letters.
What headstone lettering fonts can I choose from?
It is best to work with an experienced memorial specialist when determining a font style for your loved one's memorial. While there are many fonts to choose from, there can be some limitations to which fonts work best.

For example, laser etching can produce tiny, detailed headstone letters while sandblasting cannot. In addition, some granite colors, like coarse-grained blue pearl, cannot clearly display small letters or condensed font sizes.
How do I decide which lettering style makes the most sense for my loved one's headstone?
At Milano Monuments, an experienced memorial specialist will walk you through the different headstone lettering styles until deciding on one that you love. Families have the chance to look at lettering examples on granite in our Memorial Showroom and through digital mockups of your headstone design.
Discover More Headstone Design Elements
Choosing a headstone lettering style for your loved one's memorial is one of several steps in the headstone design process. Uncover even more about memorial design, like headstone shape and granite color options, in our Headstone Design Guide.