Losing a loved often throws us into a world where nothing feels normal. Couple that loss of normalcy with the cognitive effects of grief and loss (brain fog, disorientation, confusion) and completing even the simplest tasks can be daunting.

Imagine the stress families must feel when completing end-of-life tasks that are unfamiliar to them. Outside of the ceremonial rituals like a viewing or wake, funeral or memorial service, and the cremation and burial, you will need to decide how you want to mark the final resting place of your loved one. A memorial is one of the more significant purchases you will make during this process, and it's one that you should never feel pressured or rushed to complete.
Questions to Consider When Purchasing a Memorial
At Milano Monuments, our team of memorialization experts want to ease your burden as much as possible. We understand the significance of designing and selecting a headstone that will honor your loved one for generations and we encourage you to take as much time as you need. On average, many families wait between three to 12 months before taking the steps of creating a memorial.
While you are contemplating your options, here are some questions to think about:
Do you know the type of memorial you want? If you're unsure, your memorial provider should have a photo gallery you can look through to see what speaks to you.
Do you have a budget in mind? Knowing your budget beforehand can help the memorial provider steer you in the right direction as far as size, shape and types of memorials that fit into your price range.
Has the cemetery plot or grave location already been purchased? If not, here is a helpful resource to guide you through the selection process and costs.
Do you know the rules and regulations regarding burial at this location? The memorial company may need a marker authorization form from the owner of the plot. Some cemeteries have specific forms that spell out requirements for settings, size, concrete borders and lawn mower proof edges.
Does the company you are working with provide a warranty on the headstone? At Milano Monuments, each memorial comes with a guarantee.
Does the company build and design the memorial or subcontract out the work? Top memorial providers generally do the work themselves, which means there is no middleman and less room for errors.
Understanding the Timeline
A memorial is a big purchase. As with any significant purchase, you need time to research and plan to ensure you get exactly what you want. While some tasks associated with end of life need to be handled immediately (arrangements for the loved one, filing a death certificate, etc.), designing and purchasing a memorial can be postponed for as long as you need. Below is a general list of tasks to consider when the time is right:
Book an appointment with a memorial provider to go over all the options.
Once you have selected a headstone, put down a deposit so the provider can start on the design (your design doesn't have to be final at this time).
Finalize the design and work with the cemetery on all appropriate applications needed.
Production typically begins after you have approved the final design.
Pay the remaining balance once the memorial is complete.
The memorial will be delivered and placed.
Making the Memorial Personal
When you're ready, the process of memorialization can help you focus on happy memories and the things you loved most about the person. Customizing a headstone lets you think about the positive and unique life experiences you shared with your loved one.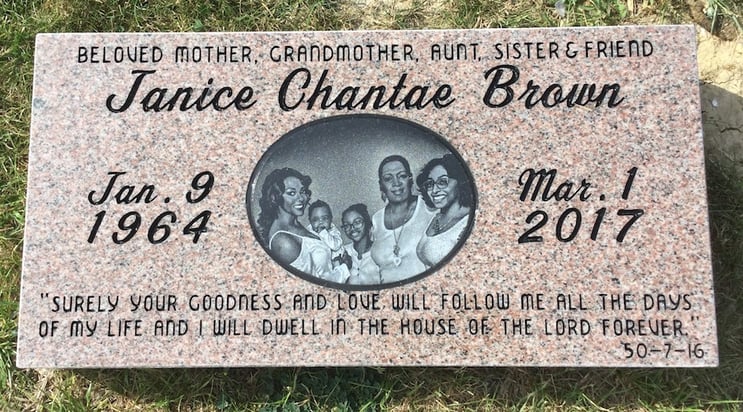 When creating the memorial, whether it's a cemetery marker, urn or monument, consider the distinctive qualities that made your loved one stand out. Was he a car enthusiast? Crazy about her dog? Did the person have a life mantra or favorite quote? Any or all of these interests can be incorporated into the memorial via photos, etchings, sculptures or inscriptions.
Need Help with Memorial Planning?
Whether you're preplanning your own memorial or are in the midst of planning a memorial for someone else, the Milano Monuments team is here to help. Contact one of our memorial specialists who will be happy to assist you through the process when the time is right for you.