The average headstone cost in the United States is $1,300. This represents the cost of a simple, lawn level, granite headstone—including installation and no intricate design.
It's important to understand that headstone costs can vary depending on a number of factors: the color of the granite, size and shape of headstone, additional design elements and where you decide to purchase a memorial from—whether it be a funeral home, cemetery, online or a professional memorial provider.
Continue reading to learn about the different types of memorial providers available to families today and how each affects headstone cost.
Funeral Homes and Cemeteries
Funeral homes and cemeteries often help coordinate the memorial and cemetery plot purchase. And, out of convenience, many families may choose to take this offer.
While funeral homes and cemeteries might seem like the simplest option, shopping around and researching area providers can introduce you to new ideas you otherwise wouldn't consider. You'll also be able to compare more headstone cost options.

"But can't they give me the best value, since they're the direct provider of the headstone?"
This is a common misconception. Though the memorial is placed in a given cemetery, that cemetery often outsources the headstone creation. Working with a reputable memorial provider actually cuts out the middleman so that you can work directly with the headstone designer and creator.
Memorial providers are uniquely equipped to design memorials that exceed your expectations, while also making the process as simple as possible for you. Their experience with various cemeteries enables them to work through the paperwork, placement fees, and other aspects of the headstone design and development process so that you don't have to.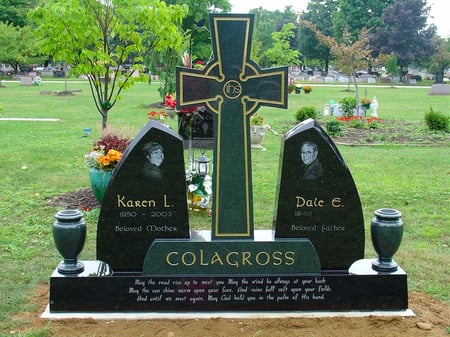 Online Companies
Purchasing memorials online is easy and fast, but if you're looking for the best deal, an online retailer will likely lead to more frustration than benefits.
With online ordering, there's no true way to know how your memorial will turn out—online memorial providers have no way of showcasing their work or products. Milano Monuments, for example, has an onsite showroom with examples and material samples, giving you peace of mind for this important purchase.
Not only that, online retailers cannot place your stone in a cemetery. Many cemeteries will not accept memorials from online providers and return it back to the sender. Without proof of insurance by a local monument retailer, cemeteries cannot place a stone.

Some online retailers offer lower prices because they use lower grades of granite, or because the stone sizes and finishes are smaller than local cemeteries may require. Be cautious when ordering online—the price may look appealing, but the quality of your memorial cannot be ensured.
Memorial Experts
A reputable memorial provider will respect your wishes and partner with you to create the most personalized, beautiful memorial possible—all within your budget.
Working directly with a professional memorial provider allows you access to all of the monument provider's offerings (including their inventory), not the limited selection a funeral home or cemetery can offer. Direct communication with a memorial provider and its designers also helps ensure all of your design and inscription wishes are brought to life.
Local memorial providers will act as a concierge to ensure all cemetery requirements are met, documents are signed and the setting is approved. By eliminating a third-party middleman, families can avoid unnecessary fees and the risk of paying extra for mistakes or quality issues.
While prices may be comparable when working with a funeral home, cemetery, or online provider, professional memorialists can offer their expertise and broader capabilities as you consider memorial options.
>>Related Resource: 7 Questions to Ask a Memorial Provider About Cost
There Are Endless Memorials to Fit Your Budget
Your chosen memorial provider can significantly impact the final headstone cost. That is why we urge you to choose a provider you can trust. To learn about more factors that impact the cost of a memorial, download our Memorial Cost Guide.