This post is part of our Views on Memorialization series, where we ask our team members to share their personal perspectives on memorialization. For more stories like this, subscribe to our blog.
Memorials are so much more than simply stone grave markers. They signify the lasting memory of your loved one and serve as a tribute for generations to come.
Families have the opportunity to take their own idea of remembering their loved one and apply it to the design of their grave marker. However, some may not always understand the premise of memorialization.
This is one of the many reasons we put together the Views on Memorialization blog series. In this series, we share the perspectives of our memorial specialists with the hopes that these personal stories help you better understand the meaning and impact of memorialization.
Continue reading to learn the personal memorialization views of Milano Monuments' lead designer and memorial specialist, Michael Feinberg, Certified Memorialist (CM).
Michael Feinberg's Personal Perspective on Memorialization

To me, memorialization is a way of showing that you existed, had worth and were loved by people on Earth. One of the best ways to memorialize a lost loved one is by designing a headstone unique to their life lived.
What Is the Purpose of a Memorial?
It's important for those taking part in the headstone design process to consider what the memorial says about their loved one—or if it's a companion memorial, what it says about the entire family. This can be done through the use of symbols and memorial quotes that had great meaning to their life.
When I meet with families, I always encourage them to share the story of their loved one. I often ask them, "What would you like people to get out of this memorial when they look at it?"
For example, when I'm walking through a cemetery looking at headstones and I see something with a longer paragraph of text, those are ones that I typically will stop and read—they paint more of a picture of what the individual or family was like. It really makes the memorial personal.
What Does Memorialization Mean to You?
When we lost my brother, I designed a monument for our family burial plot, which is six graves. I asked everyone in the family what they think would look nice on our memorial—and after four years, we all agreed upon a verse my mother came up with: "We lived together in love. We rest together in peace." It was perfect. We felt it gave insight to the family who will lay to rest there.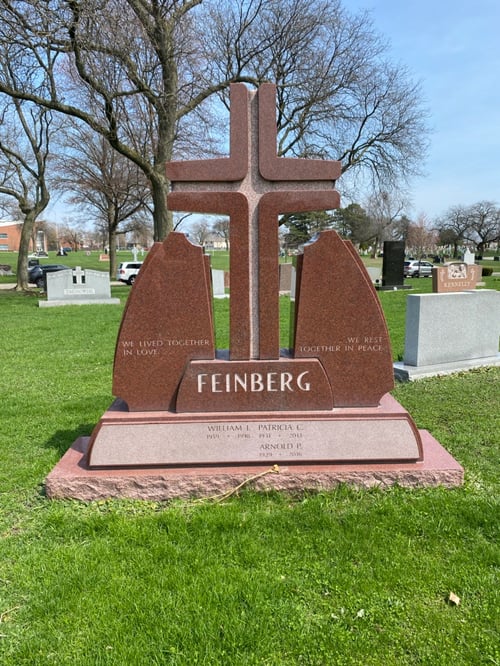 Why Is Memorialization Important to the Grieving Process?
I believe everyone deserves to be memorialized. And what most don't understand is that memorialization is more for the surviving family members than anything else. Families often come in to meet with us feeling stressed, overwhelmed and anxious—all from grieving their recent loss.
Nine times out of ten, once we help them figure out all the design elements they want to include in their loved one's memorial, you can see the weight lift off their shoulders. I always like to mention that it's not set in stone the minute you walk out the door—it does take time to get approval from the cemetery and depending on the granite chosen, our team may need to order materials. That way if they want to make a change to the original design, they can give us a call.
What Is Your Best Headstone Design Advice?
When you think of how you're going to memorialize your lost loved one, I'd encourage you to not consider what others are going to think. You and your family are the ones who will be going to visit their final resting place, so as long as you have peace of mind with the final headstone and its design elements, that's all that matters.
Get More Unique Views on Memorialization
While grieving can cause many different emotions, memorialization helps to honor a loved one's life and center your emotions, resulting in a healthier grieving experience. For additional support and information on the memorialization process, subscribe to our monthly newsletter, The Turning Stone.