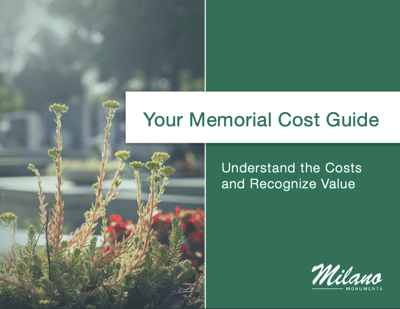 The loss of a loved one causes emotional distress and places a tremendous burden on surviving friends and family. With the cost of funeral and burial proceedings continuously rising, the entire process can become even more stressful, upsetting and difficult.
At Milano Monuments, we believe in educating families so they understand the value of a memorial. Taking the time to design a headstone that best represents your loved one is a gift that will last forever.
There are a number of factors involved in choosing a headstone, such as material, size, color and inscriptions, all of which influence the cost.
During this process, you may be asking:
What size and shape headstone should we get?
What material options are available for memorial headstones?
Can we add personalized inscriptions to the headstone?
Where do I get a memorial headstone?
How do the above factors affect memorial headstone costs?
To answer these questions, we created "Your Memorial Cost Guide: How to Understand the Costs and Recognize Value," a free, downloadable resource that overviews memorial headstone costs.
The purpose of this guide is to provide the knowledge necessary to help you:
Set realistic expectations for how much a memorial will likely cost, whether you are preplanning for yourself or a family member, or if you have recently lost a loved one.
Navigate conversations with memorial providers with a better understanding of what impacts the memorial's look, quality and cost.
Start to consider what is possible and feasible for you or your family to effectively honor a loved one's life, based on your budget.
Ready to find the right memorial headstone for your loved one? Fill out the form to download the free PDF resource.