Designing a loved one's headstone can be an emotional and overwhelming process. On top of coping with grief, you are also faced with a number of headstone design choices, like:
We understand—and we're here to help guide you through the personalizations that make your loved one's memorial unique. Continue reading to learn more about the most common elements to include on your loved one's headstone and how to make the choice that's right for them.
1. Memorial Quotes and Epitaphs
In addition to a loved one's name, birth date and death date, many families also choose to add a memorial quote to their loved one's headstone.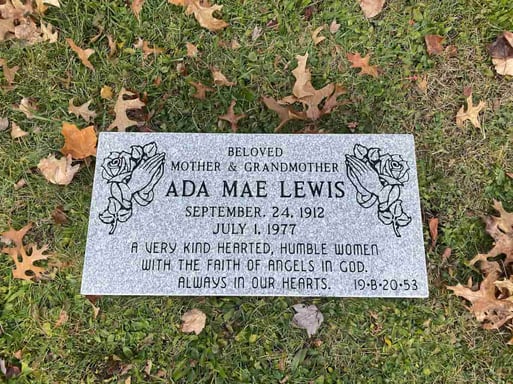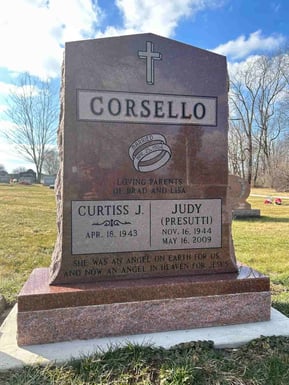 The inscription could relate to your loved one's passions in life, their career, role in the family, accomplishments, religion or their impact on their community. Bible verses or phrases that your loved one always said are also commonly used as memorial quotes.
>> Related Resource: For a list of over 300 memorial quote options, take a look at our Memorial Quotes Guide.
2. Symbols
Nearly any interest of your loved one can be turned into an engraved symbol on their headstone. Team logos or sports equipment might make sense for a sports lover, while music notes or an instrument may work for a musician. Religious icons, like crosses or praying hands, and flowers are also popular symbols for headstones.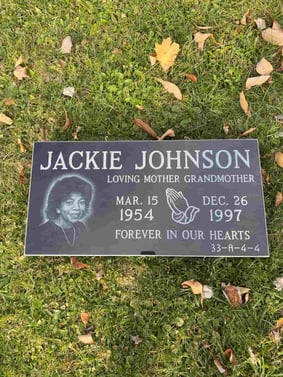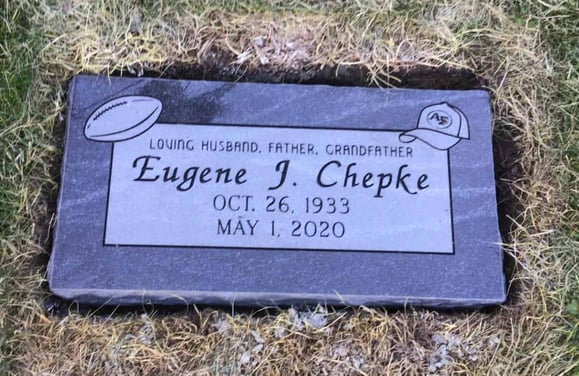 3. Laser- or Hand-Etched Image
Images of your loved one, a meaningful place, favorite possession or peaceful landscape can be laser etched or hand etched onto your loved one's headstone.
Laser etching

replicates a picture exactly as it appears on the stone.

Hand etching

is a unique and highly specialized skill where hand etchers take a scenic picture or multiple images of a person and create a one-of-a-kind portrait.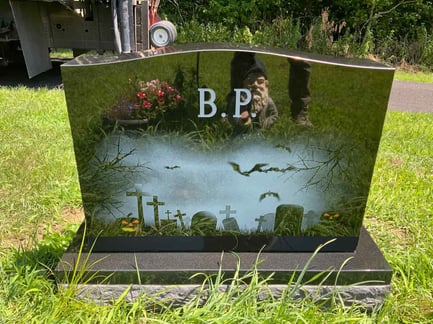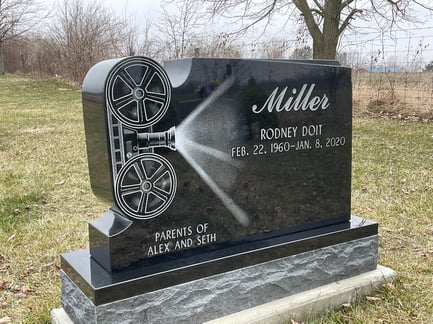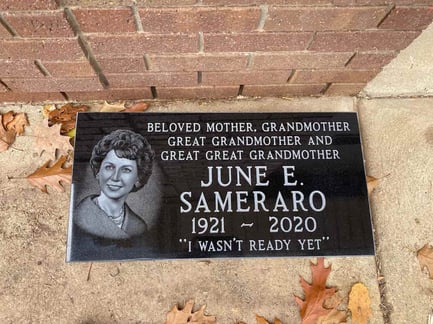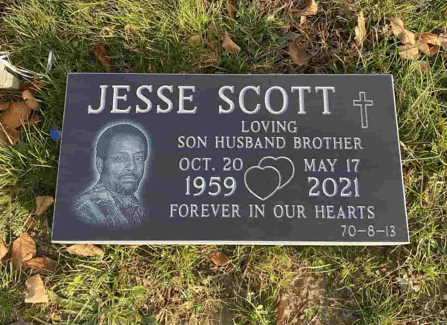 4. Ceramic or Porcelain Photo
A portrait of your loved one can also be added to their headstone as a ceramic or porcelain image. This is often a more affordable alternative to etched images, but still makes a beautiful addition to a memorial. Images can be produced in black and white or full vivid color.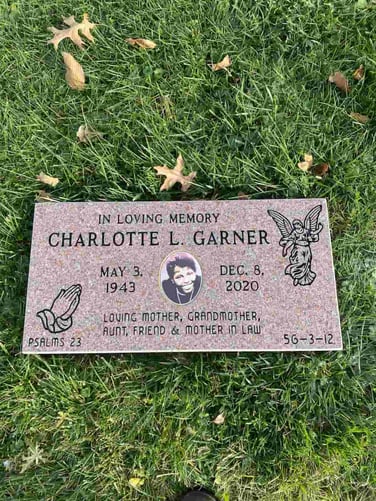 When choosing a photo for your loved one's headstone, keep these guidelines in mind:
Avoid cropped photos.

Make sure the photo is in focus, well-lit and you can see their facial details.

Pick a photo that looks natural. Steer clear of photos that are overly saturated or touched up.

Pay attention to the background. Choose a neutral backdrop for portrait images.

High resolution, digital images are preferred.
5. Sculptures or Carvings
Adding sculptures and carvings are another beautiful way to make your loved one's memorial stand out. While sculptures are created and added to your loved one's headstone, carvings are made directly into the headstone itself. Some families choose more artistic carvings like flowers or music notes, while others include relgious additions, like angels.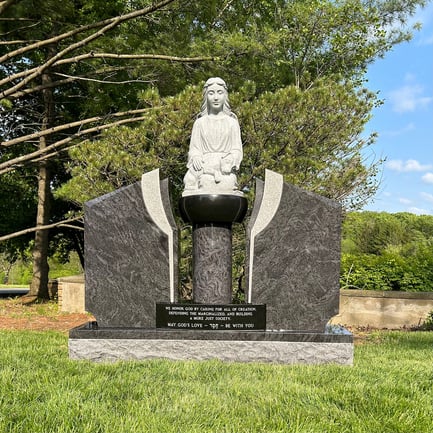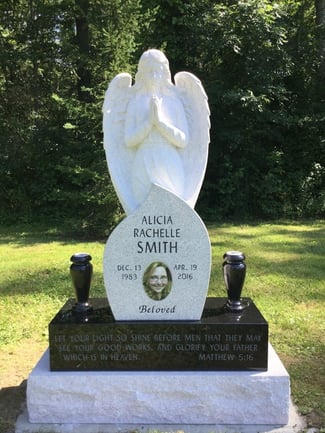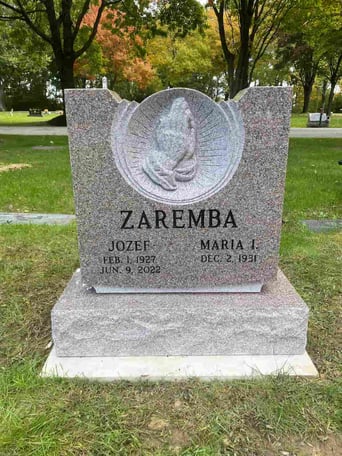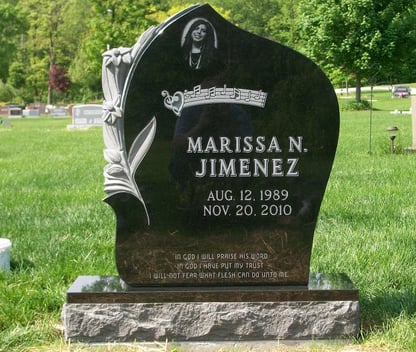 6. Special Accents
While these are less common than some of the other personalization elements mentioned, some families choose to embellish their loved one's memorial with accent materials. Headstones can include bronze accents, aluminum accents, painted lettering and stained glass.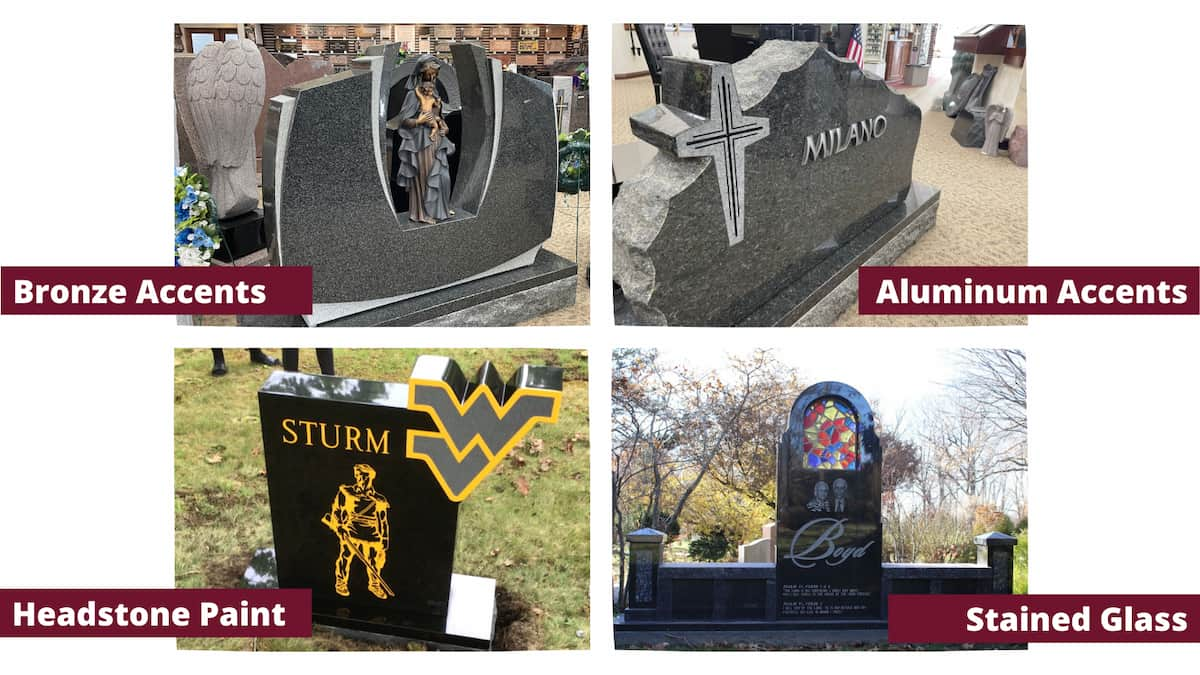 Explore Other Headstone Design Elements
Other factors like headstone size and shape and granite color also impact the final look of your loved one's memorial. To explore all of the design elements that go into a headstone, take a look at our headstone design guide.