Why do we feel so connected to angels?
During the darkest times of grief and loss, people seek comfort and peace. We see angels in churches, at religious ceremonies and in homes, often depicted as protective souls. By incorporating angels into memorials, families can feel at peace knowing that their loved ones are guided by these symbolic figures.
Angel headstones are some of the most popular features among memorials around the world. Below, we discuss the symbolism behind angels and options for incorporating them into memorials.
The Symbolism Behind Angel Statues
Angels represent the connection between heaven and earth, as well as strength, peace, faith, protection and beauty. Angels can help families feel at ease after a loss knowing that their loved ones are forever protected.
Throughout history, we recognize angels for their light, feathery wings and for their religious connection to God. Different religions view angels differently, but angels are most commonly depicted as spiritual guardians.
Incorporating an angel figure into a memorial can have a unique, personal meaning for each person, bringing peace to families and friends of a lost loved one.
If you've seen an angel monument before, you've probably noticed that there are different positions that these figures can take. These different poses can represent different messages:
Angels praying in cemeteries can signify a devotion to God.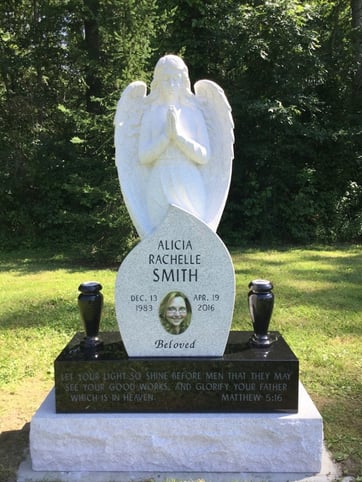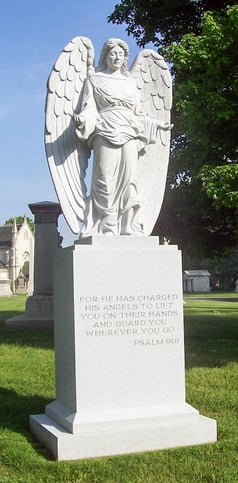 Angels pointing upwards represent guiding the soul to heaven.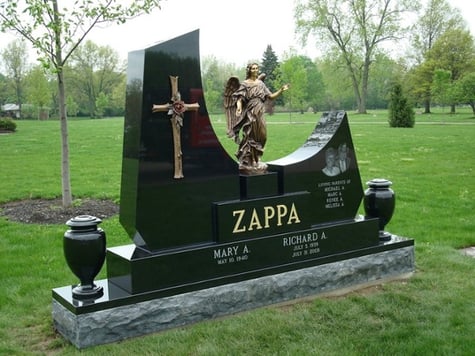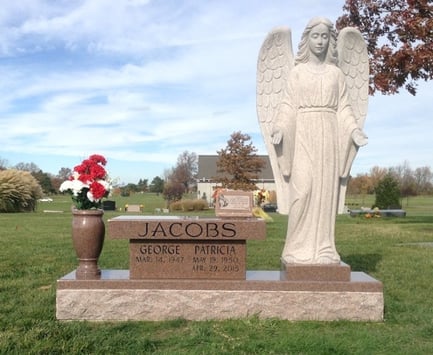 Angels with their heads bowed may symbolize grief, sometimes when mourning a sudden or unexpected death.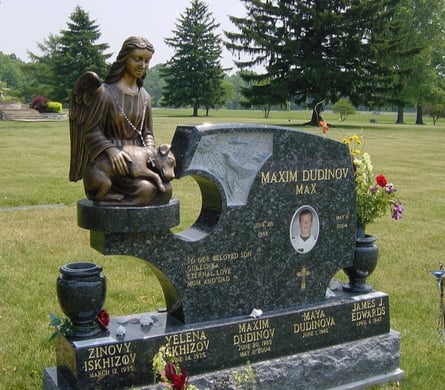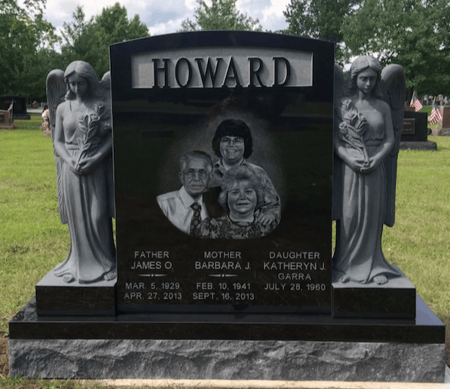 An angel weeping signifies grief over a loved one.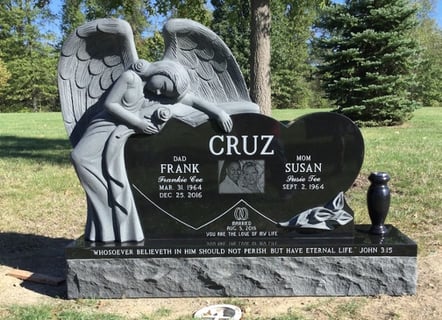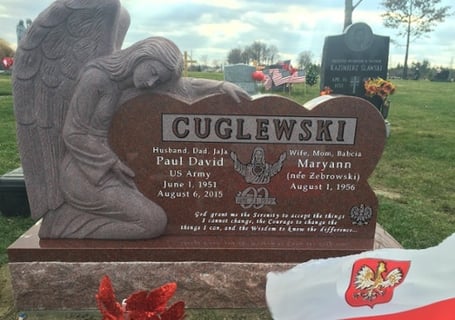 How Angel Statues Are Made and Placed
There are two commons ways angels are most often incorporated into memorials:
An angel statue is created separately from the headstone then attached to it.
An angel is carved into the headstone from the same material.
There are two common memorial materials available from most providers and allowed in most cemeteries—granite and bronze.
Granite is the most common material choice and nearly all cemeteries permit it. Though naturally occurring, this rock comes in an infinite number of colors and varieties. Below, you see how an angel statue made of granite can either be made separately and attached to (left) or carved into (right) a memorial.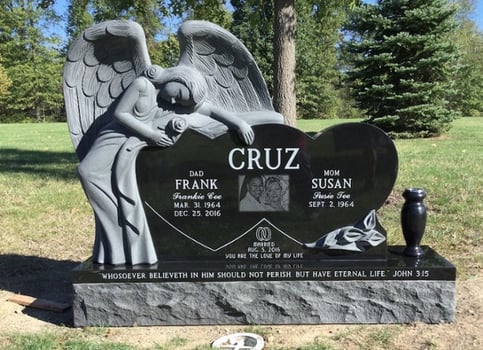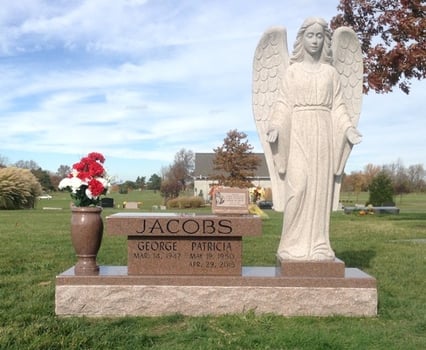 The other common material option is bronze. If selected, bronze is typically mounted on a granite or cement base in accordance with cemetery rules and regulations. In the examples below, you'll see the headstone is made of granite, with a bronze statue attached to the top.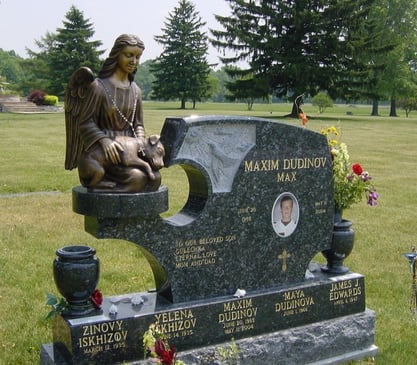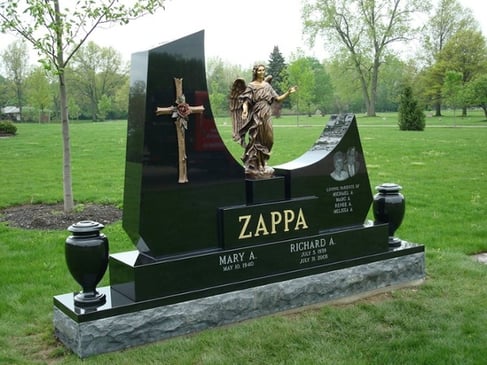 Regardless of the materials and placement of the statue, incorporating an angel statue into your memorial is a beautiful tribute that can have special meaning to you and your loved ones.
Discover What Else Is Possible for Memorials
There are an infinite number of possibilities when it comes to memorialization. Become informed about what's possible so that you can design and purchase a memorial that is as unique and memorable as the person it's made to honor.
If you're interested in incorporating an angel statue into a memorial, let us help you design an expertly crafted memorial or monument uniquely made for you. Schedule an appointment with one of our experts and a memorial specialist will reach out to confirm your appointment.
Related Resources: