All types of memorials including headstones, statues or monuments serve as lasting memories to preserve the past of the ones we love. By choosing to clean and/or restore a memorial, you can prevent grime and decay from deteriorating its original beautiful state.

Quality memorials can last thousands of years with almost no degradation of the granite. The lettering and any engravings or etchings should look the same as they do the day they are created.

However, hard irrigation water, tree sap, birds, grass clippings and other naturally occurring elements can cause the monument to appear dirty or stained. Thus, proper cleaning is necessary from time to time for the memorial to maintain its original beauty.

Below we outline five signs that mean it's time to restore your memorial or monument.
1. The paint is chipping.
Paint degradation can be troubling. Your loved one's headstone serves as a lasting celebration of the life lived and a central place where you and your family can gather. Don't allow faded or chipping paint to tarnish your experience.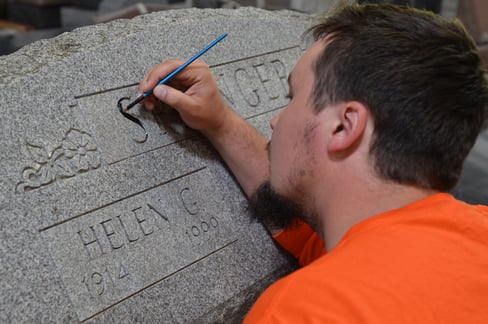 While monuments are painted with high quality paint made specifically for granite, the paint color on an outdoor memorial slowly fades and can chip over time. Some factors that cause this include:
Outdoor elements: Rain, snow and sunlight.
Type of memorial: Upright headstones (guaranteed five years) versus flat, lawn-level headstones (guaranteed three years).
Location of a memorial: Monuments placed under trees or in low areas where water collects will fade faster than memorials placed on high ground.
2. Dirt and pollutants have built up.
Outdoor elements, like grass, rain and air pollutants build up on memorials and monuments. When you start to notice an accumulation of this dirt, it's probably time to get the memorial cleaned. Note: Memorials located underneath trees typically need restored sooner than ones located in an open space.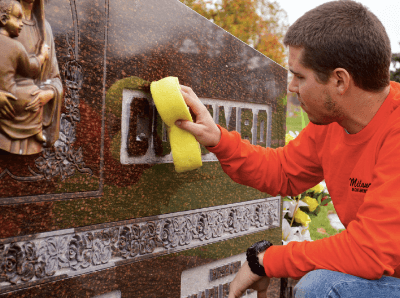 Here are a few tips if you choose to clean or restore the memorial yourself:
Use plenty of clean water. It may take as much as 20 gallons to clean an average monument.
Do not use a pressure washer or any soap.
Get the monument thoroughly wet before cleaning.
Use a fiber or nylon brush.
Start cleaning at the bottom with just water and elbow grease. Work your way up to the top.
Do not let the monument dry until you are finished rinsing.
For a professional memorial cleaning, our sister brand Milano Stone & Restoration is here to help.
3. The memorial or monument is sinking.
If a memorial's foundation is not poured deep enough and backfilled properly, frost and/or surrounding vegetation could get under the foundation. This will cause the memorial to first lift up when it freezes, then sink, tip or lean when it thaws. Surrounding graves that have recently been disturbed can also cause your loved one's foundation. If your loved one's memorial appears to be sinking or tilting, contact your memorial provider for assistance.
4. Something has damaged the memorial.
Unfortunately, natural disasters and human mistakes can occasionally damage a memorial or monument. For example, a nearby tree or its branches may fall on a monument and crack it. Or, while maintaining the surrounding landscape, a lawn mower may chip the memorial. In either event, it may be necessary to contact your memorial provider for assistance in repairing the damage.
5. It's not made of granite and has started to deteriorate.
While granite memorials are made to last (they naturally deteriorate less than 1/1000th of an inch over 1,000 years), that's not the case for headstones and monuments made from other materials. Oftentimes, older memorials constructed in the 1800s or earlier are made from less durable materials, like limestone or marble.
Because of their porosity, structures built from material like marble, limestone and sandstone are prone to something called "sugaring." This means that over time, these monuments and memorials will begin to crack, chip and erode, often rendering their inscriptions illegible.

Our sister brand, Milano Stone & Restoration, carefully restores these older memorials so that history and these individuals' legacies can be preserved.
Our Most Recent Restoration: Cleveland Clinic Marymount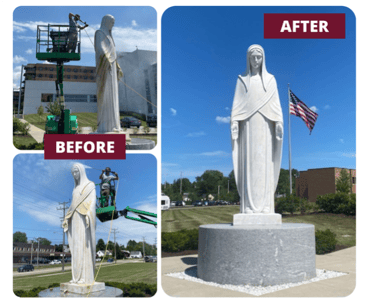 Our restoration experience extends far beyond memorial and monuments, including statues, signage, buildings and foundation work.

One of the most recent statues we restored was The Blessed Mother statue (pictured right)that stands outside of the Cleveland Clinic Marymount.

After the Cleveland Clinic contacted Milano to take on this project, our team immediately got to work. Thanks to a thorough cleaning and refinishing, this Blessed Mother statue is looking brand new and beautiful again.
Note: The Milano Stone & Restoration team does not use a traditional power washer when cleaning memorials and monuments, but rather a customized tool that properly cleans granite and marble.
Milano Stone and Restoration Can Help You Restore & More
Here at Milano Stone and Restoration, we can make any existing statue, sign, memorial or monument—much like the Cleveland Clinic Marymount—look brand new again with a thorough cleaning and/or refinishing. Click below to learn more about our cemetery restoration services.
Related Resource: