On the surface, it may seem like cemeteries are very similar to one another. And while they all serve as a comforting place to visit our lost loved ones, each cemetery does differ with its own rules and regulations.
While some cemeteries in Northeast Ohio are dedicated to specific religions, others have regulations around the size and shape of permitted memorials. Northeast Ohio cemeteries also have restrictions around the type of material that can be used: Most cemeteries allow granite memorials, but many do not allow bronze ones.
Below we define what a bronze memorial is, explain why some cemeteries have headstone material restrictions and categorize Northeast Ohio cemeteries by bronze regulations.
What Is a Bronze Memorial?
Similar to granite headstones, bronze memorials are incredibly durable and can last for thousands of years without significant degradation. However, if bronze is not maintained, it will patina. Patina naturally occurs when bronze turns green due to oxidation. Because of this, bronze memorials need to be cleaned and waxed at least once per year.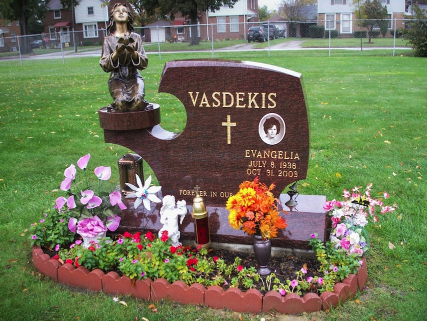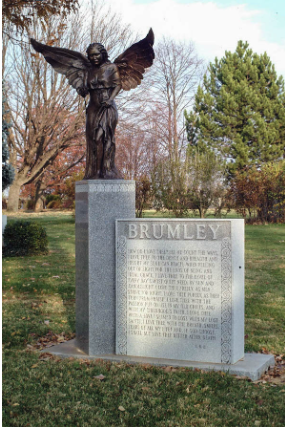 >>> Related Resource: 3 Little-Known Facts About Bronze Memorials [+ Helpful Cleaning Tips]
Created using an expensive mold, bronze memorials can be customized with personal information about your lost loved one, such as their name, dates of birth and death, and a brief inscription. Many families opt to use a stock style mold or a bronze plaque with basic personalization elements like a symbol that represents their loved one's life.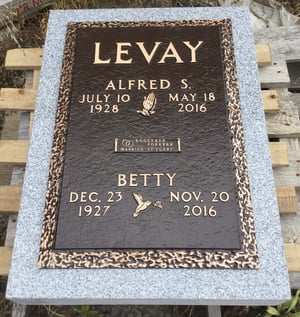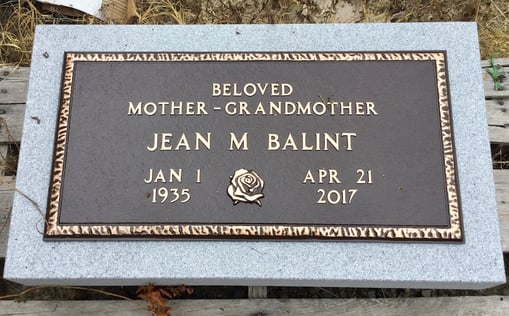 Bronze memorials are commonly used in cemeteries as grave markers with a granite base, but can also be used as part of a larger monument or memorial. You can view our bronze memorial gallery here.
Why Do Some Cemeteries Not Allow Bronze Memorials?
The rules and regulations surrounding headstone materials in cemeteries are typically designed to ensure that the cemetery remains a respectful, safe and well-maintained space. Some cemeteries do not allow bronze memorials for the following reasons:
Aesthetics

: Cemeteries may want to maintain a certain uniformity or appearance throughout the grounds. The preference of certain materials for headstones ensures that the overall look and feel of the cemetery is consistent and respectful.

Maintenance

: Bronze statues and memorials typically require more regular maintenance than granite ones. As we mentioned, when not properly maintained, bronze memorials will patina.

Culture or religion

: Some cemeteries may have regulations regarding headstone materials that are specific to certain cultural or religious traditions. For example, some Jewish cemeteries require that headstones be made of plain, unpolished stone as a symbol of humility and equality.
>>> Related Resource: 7 Common Cleveland Cemetery Rules and Regulations
Northeast Ohio Cemeteries That Do Not Allow Bronze Memorials
If you're thinking about designing a bronze memorial for your loved one, make sure your preferred cemetery allows bronze memorials. The following list of Northeast Ohio cemeteries do not allow bronze memorials.
To view a comprehensive list of Northeast Ohio cemetery rules and regulations, click here.
Northeast Ohio Cemeteries That Allow Bronze Memorials
There are many cemeteries in Northeast Ohio that do allow bronze memorials. Keep in mind, individual regulations will depend on the location and section of the cemetery.
Northeast Ohio Cemeteries That Allow Only Bronze Memorials
Sunset Memorial Park Cemetery
Sunset Memorial Park Cemetery is located at 6265 Columbia Road, North Olmsted, Ohio 44070 and has been serving families since 1929. This bronze memorial-only cemetery allows a variety of above ground headstones including lawn-level, bevel, slant, and upright monuments.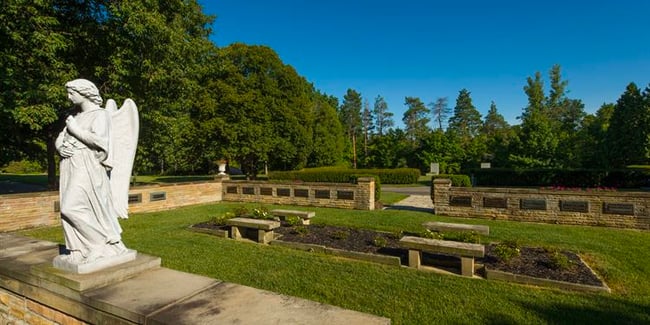 Photo from Cemetery.com
Even more, Sunset Memorial Park offers funeral services and is the home to the famous Abbey Mausoleum.
Hillcrest Cemetery
Hillcrest Cemetery is located at 26200 Aurora Road, Bedford Heights, Ohio 44146 and has been serving families since 1928. This bronze memorial-only cemetery is a park where all in-ground burials are marked with a flat bronze grave marker and placed flush with the ground. Families also have the option of an indoor mausoleum or cremation urn niche for their loved one.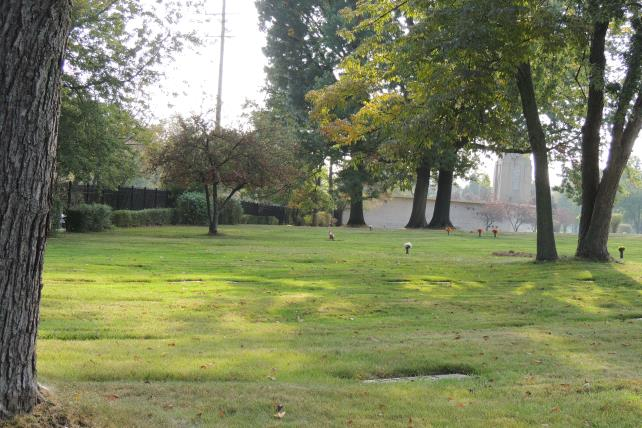 Photo from Hillcrest-Cemetery.com
Hillcrest Cemetery's requirements create a peaceful setting where surviving family members can stroll the beautiful landscaping, and reflect on the memories of their lost loved ones.
Crown Hill Cemetery
Crown Hill Cemetery is located at 8592 Darrow Rd, Twinsburg, OH 44087 and has been serving families since 1912. This bronze memorial-only cemetery offers traditional in-ground burial, an urn garden for cremation, and indoor and outdoor mausoleums.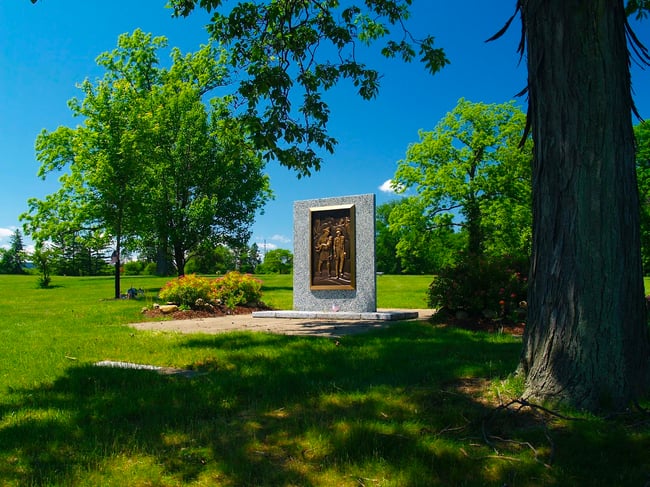 Photo from MemorialPlanning.com
Developed on 256 acres, Crown Hill Cemetery is home to unique walls and entrance buildings constructed of a special cinder brick brought in from Oklahoma.
Learn More About Northeast Ohio Cemetery Regulations
As you search for the right cemetery, take a look at our interactive map and list, complete with memorial design rules and regulations for dozens of the most visited cemeteries in Northeast Ohio. Our team is also more than happy to guide you through this important decision. If you have any questions, please do not hesitate to reach out.