This post is part of our Views on Memorialization series, where we ask our team members to share their personal perspectives on memorialization. For more stories like this, subscribe to our blog.
Memorialization is an essential part of honoring the memory of loved ones who have passed away. For many families, it is the final step in the grieving process and serves as a way to find closure.
David Focht, a seasoned memorial specialist with over 30 years of experience at Milano Monuments, understands the importance of helping families during this challenging time. In this edition of our Views on Memorialization series, we spoke with David to gain his perspective on memorialization and the valuable guidance he provides to families who have lost loved ones.
Join us as we delve into his experience and expertise, and explore the meaning and purpose of creating a lasting tribute to those we have lost.
David Focht's Personal Perspective on Memorialization
For me, memorialization is all about helping families. It's about listening to their thoughts and ideas, and then finding a way to honor their loved one in a way that feels meaningful and special to them. Whether it's designing a monument for the cemetery or creating a plaque with a loved one's actual shoes, there's no one right way to do it.

What Is the Purpose of a Memorial?
Memorials serve a variety of purposes, but in my experience, the most important one is to honor and remember loved ones who have passed away.
When I work with families, I listen to their stories, memories and hopes for how their loved one will be remembered. Together, we come up with a design that reflects their unique personality and legacy.
I think the best compliment I ever received from a family after designing their son's memorial was, "We just want you to know you'll always be a part of our family." Money can't buy that—and that's what creating memorials is all about.
What Does Memorialization Mean to You?
To me, memorialization means creating a lasting tribute of someone who has passed away. It's not just about creating a physical memorial like a statue or a plaque, it's about:
Keeping their memory alive through stories and traditions.

Creating a sense of connection between the past and the present.

Ensuring that future generations remember and respect those who came before them.
When I see a family come together to celebrate the life of someone they've lost, and I see the impact that has on them, it reminds me of the importance of memorialization.
Why Is Memorialization Important to the Grieving Process?
I have witnessed countless instances where memorialization has played a crucial role in the grieving process. One example that comes to mind is the story of a family who lost their son. They were devastated by the loss, and it was a difficult time for them.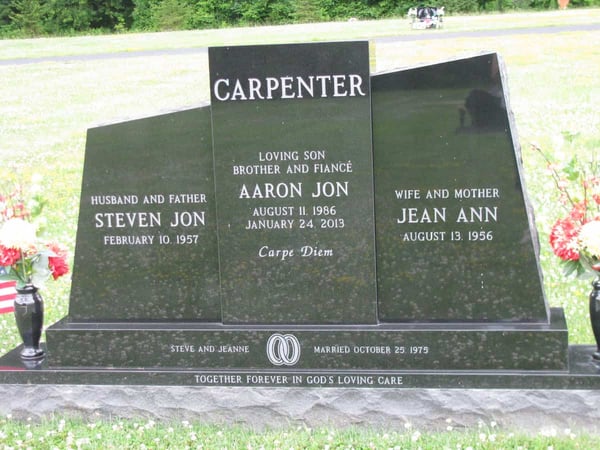 However, through the process of memorialization, they were able to find some solace. We worked together to create a beautiful memorial for their son, which they could visit and cherish for years to come. They found comfort in knowing that their son's memory would be preserved and that he would always have a place in their hearts.
What Is Your Favorite Part

of Working in the Memorialization Industry?
Oftentimes when we're done creating a plan for a headstone design, families will tell me, "You made this emotional time not so bad." Hearing that always gives me goosebumps and, in my opinion, helping families during one of life's most difficult experiences is more important than designing a monument for the cemetery.
I'll never forget a woman who came to us about 10 years ago seeking help in creating a memorial for her late husband. During our conversation, she shared that she already knew the exact quote she wanted on his headstone: 'May you rest in peace, until we meet again,' because she said he won't have time to rest anymore once she reunites with him in Heaven.
This exchange reminded me that even amid grief, there can be moments of joy and levity. Memorialization can be a way to celebrate the unique personalities and relationships we have with our loved ones.
Get More Unique Views on Memorialization
Memorializing a loved one can be a challenging and emotional process, but it's also an important part of the grieving journey. If you're looking for additional support and guidance on the memorialization process, subscribe to our monthly newsletter, The Turning Stone.