Planning your loved one's final arrangements can feel like a whirlwind of choices, questions and emotions. And since most people design no more than one headstone in their lifetime, it's normal to not know the questions you should be asking your memorial provider and cemetery throughout the process.
One necessary step of memorialization is purchasing your loved one's burial plot. As the place where your loved one's remains are laid to rest, it's important that you choose the burial plot type and location that best suits your needs.
Continue reading for several questions you should ask your cemetery before buying a burial plot.
1. What Are My Burial Plot Options?
Prior to buying a burial plot, it's important to know the options available for your loved one. There are several types of burial plots for individuals, couples and families.
Single-depth.

Meant for one person and marked with a

lawn-level

,

bevel

,

slanted

or

upright

headstone.

Double-depth. Intended for two people, typically siblings or couples.


Family. Used for multiple people and enable you to choose the number of loved ones depending on your needs and the cemetery's availability.
Mausoleums. Above ground granite building that houses enclosed crypts that can hold traditional caskets and/or niches for cremated remains.

Columbariums. Public or private structures composed of niches that hold cremated remains.
Estate monuments. Gated or hedged areas in a cemetery for in-ground casket or urn burial design for a family and generations down the line.

>>> Related Resource: What You Need to Know Before Choosing a Burial Plot
2. Where Are Available Burial Plots Located?
Cemetery regulations usually dictate the size and type of memorial that can be placed throughout the cemetery. Sometimes, these rules apply to the entire property, while others have designated sections for certain memorial types.
Before choosing your cemetery, seek help from your trusted memorial provider, to determine the different style options available and then they can help you pick locations for your preferred type of memorial for the cemetery that will allow your design. Not only will this impact your loved one's headstone design, but it will also be the place where generations gather for years to come.
>>> Related Resource: Why Location Matters When Choosing a Memorial or Headstone
3. Will I Get This Exact Burial Plot?
Sometimes, cemeteries will show families the best examples of each type of burial plot, but they aren't always the actual plot your loved one will be granted. Be sure to ask your cemetery if you're looking at the exact burial plot that you will be purchasing, and if not, ask to see the final location first.
4. How Much Do Available Burial Plots Cost?
Burial plots vary in cost depending on the following factors:
Cemetery location.

Just like other costs of goods, burial plot prices vary based on the cemetery's organization and city and state.

Plot size.

The cost will change depending on the size and type of burial plot you choose.

Plot location considerations.

Different sections even in the same cemetery can have specific rules and vary in price.
In general, the average single-depth burial plot in Ohio costs around $1,200.
>>> Related Resource: How Much Does a Burial Plot Cost?
5. What Are All Charges Required When I Purchase a Grave and Make a Burial?
Depending on the cemetery, there may be other costs associated with purchasing your loved one's burial plot. These costs can include:
Opening and closing the grave.

The cost of digging and filling the grave is typically separate from your burial plot purchase. While these fees vary by cemetery and location,

one resource

found

opening and closing costs range from $1,500 to $2,300

.

Grave liner or burial vault.

Some cemeteries may require a grave liner or burial vault to ensure the soil above and around the casket will not collapse. These are typically around

between $500 and $2,500

.

Temporary grave marker. Immediately after your loved one is buried, a temporary wooden grave marker can be placed until the headstone is ready to be installed. These usually start at $140, but can cost more if they are more intricate or personalized.


Maintenance fees. Some cemeteries handle general groundskeeping, while others leave this up to the individual families. Be sure to ask if the cemetery takes care of this, and if there are any fees associated with this.
6. Do I Need a Permit To Purchase and Open a Burial Plot?
Some areas require families to purchase permits and paperwork to buy and open burial plots. If a permit is required, ask your cemetery or memorial provider what you can expect to pay, whether this cost is included when you purchase your loved one's burial plot and who handles the necessary paperwork.
7. Do I Have To Buy the Burial Vault From the Cemetery?
Like we mentioned, some cemeteries require a grave liner or burial vault to support the soil surrounding your loved one's casket. They lessen the amount of upkeep required and help keep the cemetery in good shape.
You can purchase a burial vault from your funeral home, cemetery or memorial provider. You may also find them elsewhere, but we recommend choosing a provider you trust.
>>> Related Resource: What You Need To Know About Burial Vaults
8. Are There Any Headstone Rules or Restrictions for Your Graves?
To maintain a consistent look and feel throughout their grounds, some cemeteries may only allow single- or double-depth plots. Family burial plots and mausoleums may not be accepted, or may only be allowed in certain sections of the cemetery.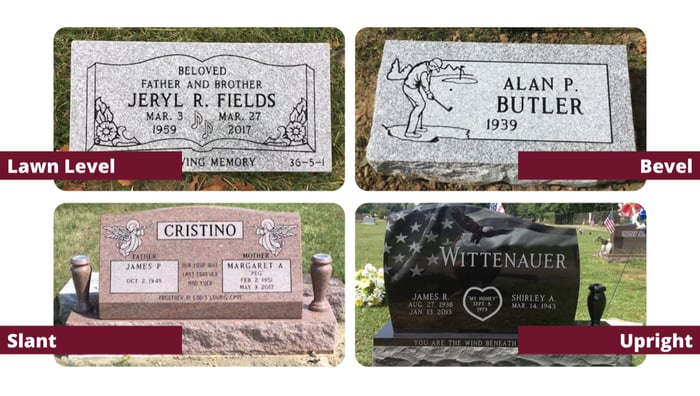 There are also usually cemetery regulations in place for your loved one's memorial material, size and shape. Before designing your loved one's headstone, ask your memorial provider about the types of memorials permitted at your cemetery.
>>> Related Resource: 7 Common Cleveland Cemetery Rules and Regulations
Uncover More About Northeast Ohio Cemeteries
Be sure you fully understand all the rules and regulations at your preferred cemetery before choosing a burial plot. Download our Northeast Ohio Cemetery Memorial Guide for a more detailed list of regulations at cemeteries near you.