When preparing funeral and memorial arrangements, whether in a time of need or when preplanning, cemetery costs are often overlooked. When purchasing a memorial, the headstone or grave marker is the obvious direct cost. But finalizing the purchase for a burial involves several other expenses.

To help prepare you for the cost of a cemetery plot, and the other miscellaneous expenses involved, we detail what you should expect below.
1. Grave Space or Plot
For loved ones being buried in a casket or burying cremated remains, this is known as the "right of interment" or the "internment rights." A few factors determine the cost.
Size of the plot: Single, companion and family burial plots each will be priced differently due to the size requirements of the space. Depending on your preference or the requirements of the cemetery, cremated remains can be buried underground or placed in a separate section of the cemetery.
Location of the plot: As with other types of land, different places come at different prices. For one, the average changes based on the city and state of the cemetery. Then, within the cemetery each area may be available at a different price.
Time of the purchase: Preplanning funeral, memorial and cemetery expenses is almost always a good idea. Purchasing the plot ahead of time will lock in today's prices and prevent an additional unexpected cost when a death occurs.
According to BurialPlanning.com, the average Ohio burial plot is around $1,200. View the chart below for averages of many different states.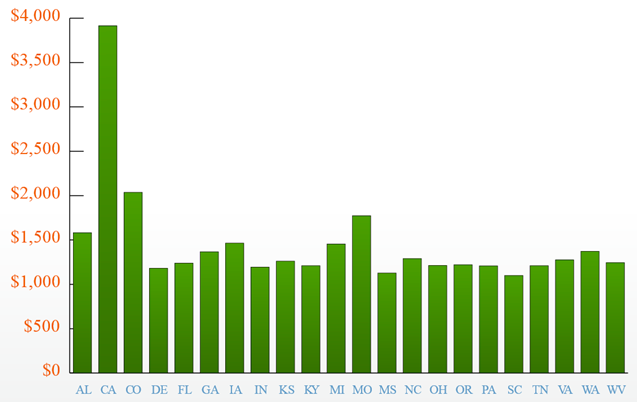 Though prices are high, the space is owned forever. Also included in this fee is a perpetual care or endowment care. Many states require that cemeteries have this fund available to continue upkeep in the event that plots are not continually purchased or the cemetery fills up.
2. Open and Close the Grave
Often separate from internment rights is the cost of digging and filling the grave. Though pretty straightforward on what this entails, costs can change depending on the time of year, whether the cemetery is public or private, and whether you live in the county limits.
One organization found opening and closing costs ranging from $300 to $1,000.
3. Grave Liner or Burial Vault
Some cemeteries may require a grave liner or burial vault, which are built to support the soil around the casket to ensure the soil above and around the casket will not collapse. Cemeteries will often require this to ease upkeep and help the cemetery remain in excellent shape.
Burial vaults or grave liners are typically around $1,000 and separate from the burial plot cost.
>>> To learn about common rules and regulations for the memorials
permitted in different cemeteries, take a look at this article.
4. Temporary Grave Markers
Immediately following the burial of a loved one, a temporary grave marker—such as a wooden cross—can be used until the memorial is ready to be installed.
Families may choose a temporary grave marker by choice. Following a loss, they may feel overwhelmed with funeral arrangements and overcome with grief. Selecting a memorial type, inscription and design details may seem too intimidating at first.
For others, specifically families living in regions with harsh winters, placing a memorial during the winter months may not be possible. A temporary grave marker can be the burial marker until the full memorial can be placed. Keep in mind that memorials take months to craft and design, so working with a memorial designer during those winter months may enable the memorial to be placed as soon as the weather cooperates.
Whether you would prefer to wait until time has passed before deciding on a memorial, or you are just waiting for the stone to be completed, temporary grave markers are a great option to memorialize a lost loved one.
These can cost as low as $45, but will cost more if they are more intricate or personalized. To avoid this cost and have the headstone ready and quickly installed following the burial, preplan your memorial.
Learn More About How Much a Memorial Costs
To prepare those who have recently lost a loved one, or for those preplanning a memorial, we developed the Memorial Cost Guide. With the heartache and turmoil determining memorial details can already bring, we hope this guide will make the cost more clear before you place an order.