Among the millions of monuments sold annually, many are purchased by first time buyers. And since most families only plan one or two memorials in their lifetime, it's not uncommon to be unfamiliar with all the elements that impact a memorial's final price. Not only does a stone's size, shape, type and material impact the price, but the words, images and add-ons you choose may also have associated costs.
To better understand how much your memorial might cost, download our Interactive Memorial Cost Guide.
Lettering and Symbols
There are a variety of options to fit everyone's taste and budget when it comes to customizing a memorial.

Sandblasting is the traditional method used for lettering and designs. Standard lettering is generally included in the cost, as is paint for the lettering and designs if the color is commonly used or already in stock. Standard lettering and designs include:
First and last name, birth and death date, and a short inscription ("in loving memory") in available fonts.
Traditional design images like a cross, rings, hearts, anchors or flowers.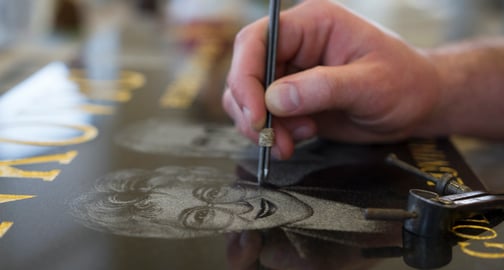 After sandblasting is complete, etching can be used to add personalized designs to the memorial (some memorials have the option to be entirely etched). There are two different options when it comes to etching.
Hand Etching is a unique and precise skill that adds character and creativity to a memorial. Talented hand etchers can take a scenic picture or multiple images of a person and create a one-of-a-kind image.
Laser Etching is especially effective at replicating images "as is" onto stone. While it doesn't offer the artistic flair of hand etching, it's a cost-effective option and can be used in place of sandblasting to inscribe the entire memorial at one time (although it doesn't provide the same depth and contrast for the lettering and designs that sandblasting does).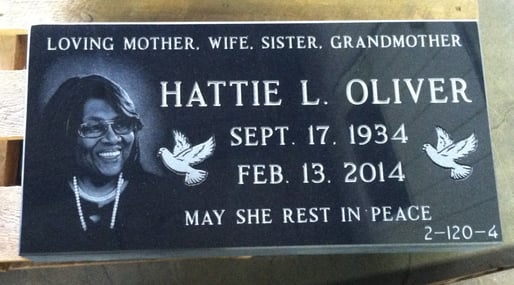 Pricing and quality will vary depending on the size, details and complexity of the etching. For an accurate estimate, it's best to contact Milano Monuments directly.
Sculptures and Carving
A memorial sculpture or carving is a great way to make a memorial stand out. Flat or shaped carvings can be personalized to highlight something that was special to your loved one. Another option is to have a bronze or granite sculpture created to place on or near the memorial.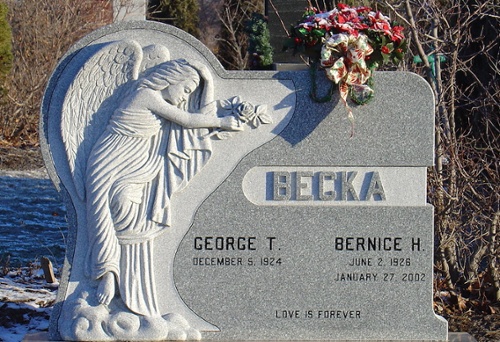 Pricing will vary depending on the material, size and design details.
Photos
Ceramic or porcelain photos are an affordable alternative to hand or laser etching to place an individual or family portrait on a memorial.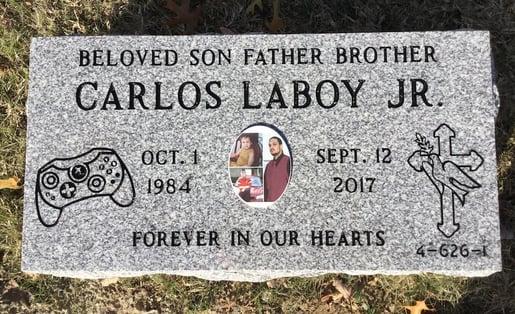 Here's what you need to know:
They come in standard sizes from 2.25 to 10 inches but can be larger if desired.
Typical shapes include oval, square, rectangle or heart.
Black and white photos are least expensive, but colored photos are available.
Cost starts at $265 and goes up depending on size and finish.
Vases
When families visit a loved one's gravesite, they often bring fresh cut flowers—provided there is a spot to put them. Most cemeteries don't allow flowers to be placed on the ground. By adding a vase to a headstone, fresh and colorful flowers can be placed for special occasions.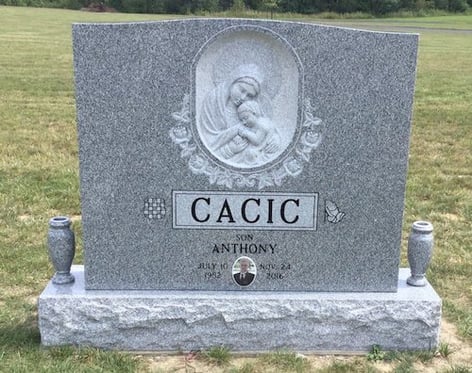 In certain cemeteries, vases can be installed in the ground or attached to the memorial's base or top. They come in standard shapes, sizes and weather resistant materials or they can be custom made to fit your unique vision. The base price for a vase is about $65, but it can go up depending on the material, details and customizations.
Learn More About the Cost of Memorials
At Milano Monuments, we want you to understand the value of what you are purchasing. A memorial does more than just designate where someone is buried—it acts as a lasting symbol of their memory so each aspect should be designed with them in mind. Our free, downloadable Memorial Cost Guide goes into more detail about the fees associated with buying and personalizing a headstone.