How would you answer the question: "Who am I?"
Some of us might focus on our personalities (giving, friendly, cheerful), with others thinking of our family attributes (mother, grandfather, aunt, brother). Or perhaps our minds go immediately to our achievements or hobbies, or what brings us joy in life.
Your answer to this question is extremely personal. And these characteristics are what will continue to keep your memory and legacy alive after you pass. The same goes for the ones you love—the way you remember a lost loved one can vary greatly.
So when it comes to personalizing a headstone, we recommend keeping these personal features in mind. This is where headstone personalization comes in, or making a memorial truly embody a life lived.
Continue reading below as we explore how you can personalize a headstone to keep you or your loved one's memory alive forever.
Headstone Personalization Options
When it comes to making a headstone personal, your options are almost limitless. The following are some of the most common personalization ideas to consider. If you have other ideas, contact us to discuss your vision.
Color
One way to express yourself is through the color of the stone you choose. Granite is a widely used material for headstones and comes in many color options from grays and blacks to blues, reds and greens. Additionally, bronze is another popular material, either for the memorial itself or mounted to a granite or concrete base. Though not susceptible to rust like granite, regular bronze upkeep is recommended to prevent corrosion from altering its color.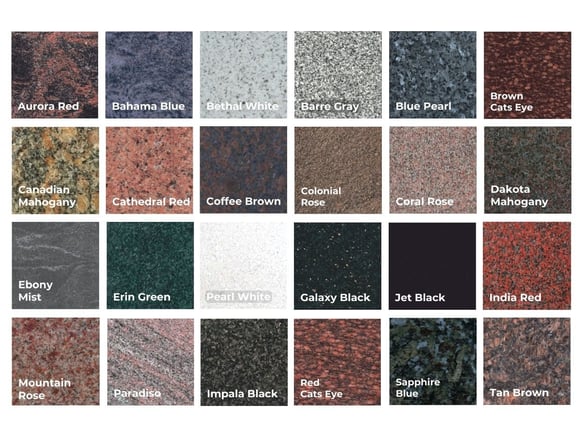 Outside of the color of the stone you chose, you may also be able to use different color paint. While natural requires the least amount of upkeep for lettering and other designs, black, white, hi-lite, gold and real gold are also paint options.
Size and Shape
Unless required by your cemetery or final resting place, headstones don't have to be a one-size-fits-all size or shape. Custom monuments come in many forms—from benches to unique shapes like natural granite rocks or boulders. Customizations can also be added to the headstone's base, an often-overlooked part of the marker.
Traditional memorial options include:
Lawn-level memorials that sit flush with the ground and are typically rectangular or square shape.
Bevel memorials, also known as a "pillow," rise a few inches above the ground and have a slight sloping shape.
Slant memorials are cut at an angle and can often be seen from a distance.
Upright monuments are most frequently seen as rectangles or with rounded edges, but also can be fabricated in unique shapes or accompanied by a sculpture or statue. They are often large in stature and can memorialize more than one person.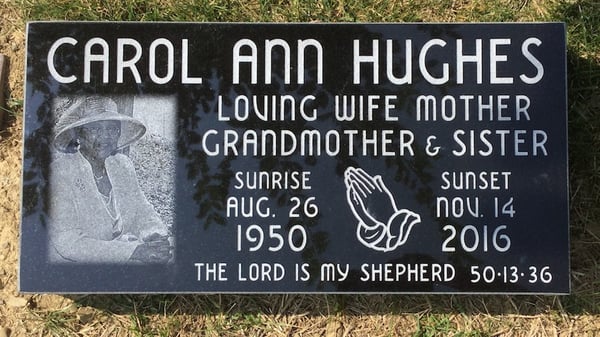 Visuals and Photos
Gravestones can feature a laser- or hand-etched image of a person or landscape. The image can be a portrait, collage of images or even a favorite nature scene.
Another option is a ceramic or porcelain photo. Ceramic and porcelain photos offer an alternative to hand or laser etching. They come in many sizes and are permanently attached to the memorial.

Epitaphs and Inscriptions
The phrases, dates and sayings etched on a headstone are an important part of honoring the legacy of a loved one. Epitaphs allow you to share a little about yourself or loved one with future generations. They can be serious, religious, family oriented or even a term of endearment.
Examples of traditional epitaphs:
"A life well lived"
"Beloved mother/daughter/sister/aunt/grandmother"
"Forever in our hearts"
Some favorite Bible verses:
Whosoever believeth in Him should not perish but have eternal life. (John 3:15)
Well done good and faithful servant. (Matthew 25:21)
Never will I leave you; never will I forsake you. (Hebrews 13:5)
For more inspiration, here's a list of 22 Bible verses often used.
Proverbs and famous quotes:
"If I could do it all again, I wouldn't change a thing."
"I am alive in your memories and dreams when you sleep."
"Parting is such sweet sorrow."
Explore this list of 100+ inspiring quotes for more ideas.
Symbols
Do you or your loved one have a well-known hobby? A pet that was always by your side? Were you or your loved one driven by faith?
Consider incorporating a symbol or image that truly encompasses what makes you or your loved one special. Symbols can be religion-themed (a cross, praying hands, an angel), a symbol of life and live (a heart, butterfly, book, flower or anchor), or even a personal passion (sports, musical instrument, animals).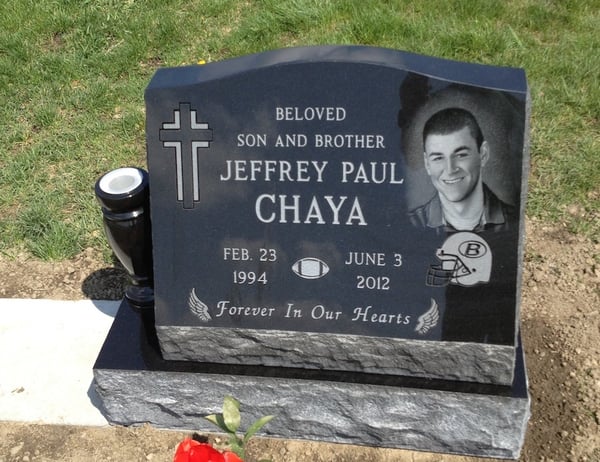 Learn Even More About Personalizing a Headstone or Memorial
The ideas list above are just the beginning of headstone personalization. Your options are endless, and we invite you to explore even more in our Headstone Design Guide. Download a copy today.