Gift-giving during the holiday season is a tradition that allows us to express our love and appreciation for the special people in our lives. Personalized holiday gifts can take this sentiment to a whole new level.
At our Milano Inspirations gift shop, located in Cleveland, Ohio, we understand how the right holiday gift can create lasting memories. Our team is equipped with cutting-edge laser technology that enables us to transform ordinary items into expressions of love.
Whether it's for friends, family or in honor of lost loved ones, we're here to help you create the perfect one-of-a-kind holiday gift.
Personalized

Holiday Gift Ideas for

Friends and Family
The holiday season is a time for celebrating with those who are near and dear to us. When it comes to selecting the perfect gift for your loved ones, Milano Inspirations offers a range of options.
1. H

omemade

Holiday Wreath
Who doesn't love homemade gifts from loving friends and family? To create a holiday wreath, you can easily gather supplies from a nearby craft store and follow step-by-step guides online. Alternatively, you can find handmade wreaths in the Milano Inspirations gift shop, carefully crafted by our team of expert floral décor specialists.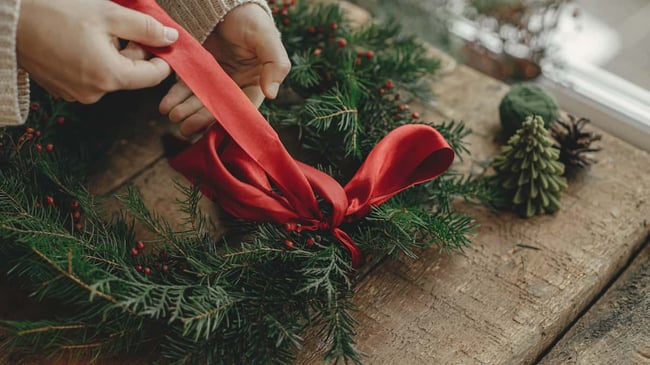 2. Handmade

Written Card
In the age of digital communication, there's something incredibly special about receiving a heartfelt, handmade card. This holiday season, consider channeling your creativity into crafting one of the following:
Photo Cards. Print cherished photos that capture unforgettable moments with your loved ones. and customize them by adding a message, stickers or even small mementos.

Hand-Drawn Designs. If you're artistically inclined, sketching out a holiday scene, a favorite memory or a simple design can add a personal, artistic touch to your greeting.

Calligraphy and Hand Lettering. Mastering the art of calligraphy or hand lettering can turn a simple card into a work of art. Write your holiday messages in elegant script to convey your sentiments with style.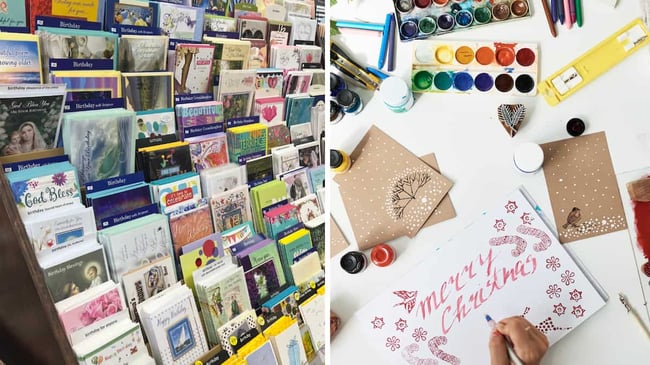 3

. Laser

Engraved

Water Bottles, Glasses and Tumblers
Add a unique touch to an item your loved one is sure to enjoy. A laser engraved cup, water bottle, glass or tumbler is a thoughtful way to add an individualized look to an everyday item. Consider adding their name, initials or even a special design based on their interests.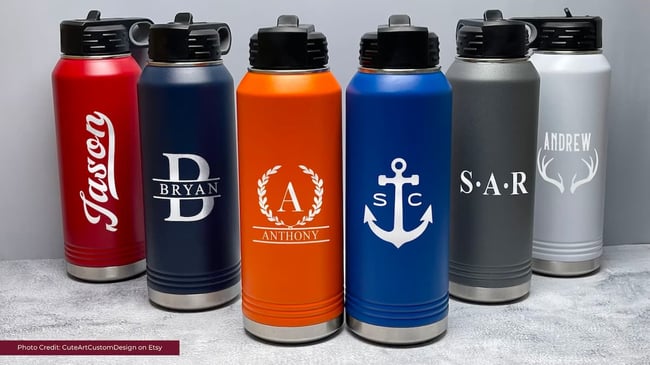 Whether they are a coffee king, tea lover or a cozy cocoa drinker, you can't go wrong with a custom cup!
4. Customized Wooden Cutting Boards
Show your loved ones how much you appreciate their cooking during the holidays with a customized wooden cutting board. This personalized holiday gift is perfect for a friend or family member who enjoys spending time in the kitchen.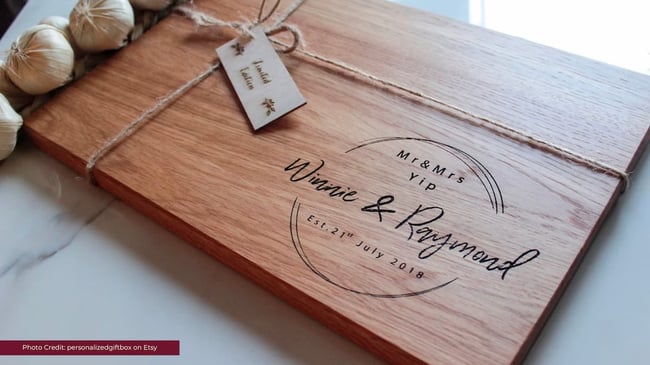 You could have their family name, their favorite recipe or even different measuring units engraved.
5. Personalized Leather Accessories
From wallets to bracelets and even dog leashes, we can add a custom embellishment to a variety of leather accessories. Leather gifts are not only stylish, but also long lasting and useful. Add a special quote to their watchband or engrave their initials into a leather item.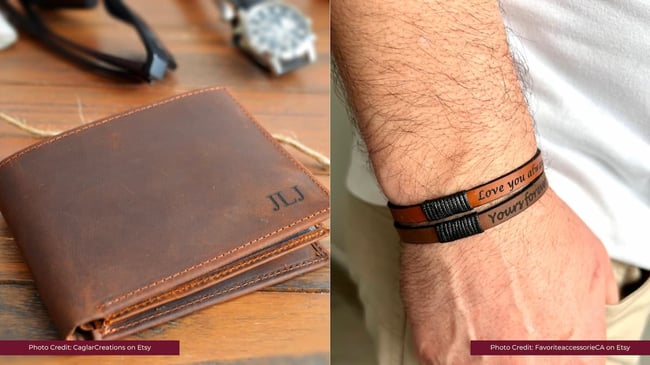 Whatever you decide, these unique leather accessories are a creative way to infuse a loving sentiment.
6. One-of-a-Kind Home D

é

cor
Give your loved one's home some extra flare with home décor items like custom wall art. We can personalize signs of all shapes and sizes, or we have several premade signs that may fit your home's aesthetic perfectly. We are happy to work with you on the vision you have to make your gift special.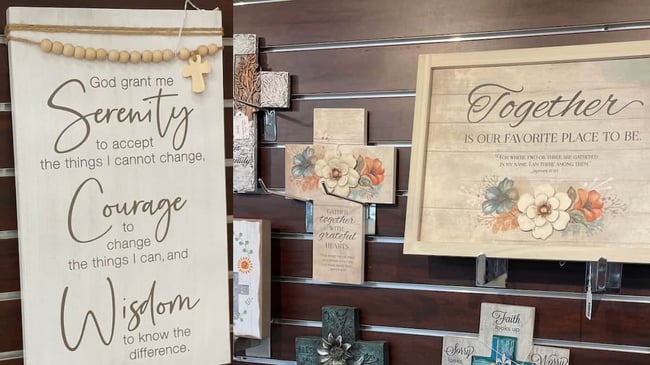 Personalized Holiday Tributes To Honor Loved Ones Who Have Passed
Losing a loved one is never easy, especially during the holiday season when their absence is deeply felt. Remembering and honoring them with a holiday tribute can provide solace and comfort during this time.
>>> Related Resource: 4 Ways to Cope with Grief Around the Holidays
7. Custom Memorial Bench
A custom memorial bench is a distinguished way to remember a loved one who has passed away. You can have their name, dates and a special message engraved on the bench. It serves as a place of reflection and a symbol of their life in a favorite park, garden or even at your own home.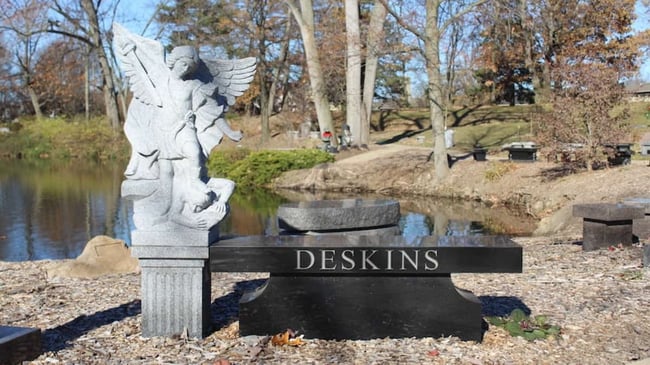 8. Painted Garden Stones
Painted garden stones are a small but personal way to create a serene memorial space in your garden or yard. These stones can be customized with your loved one's name, a special quote or a design that matches what they loved to do.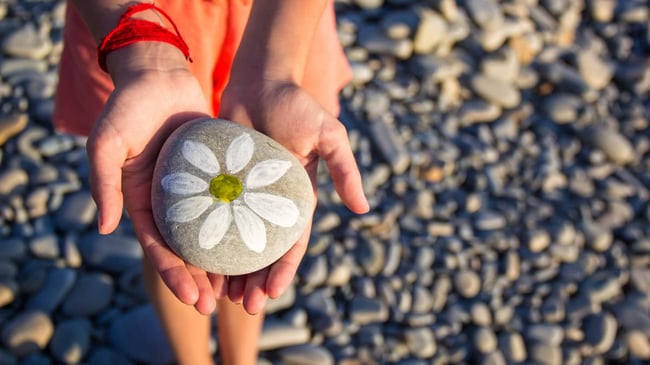 \
You can also place stones like this at your loved one's gravesite. Consider making special ones for each holiday—like a pumpkin for Halloween or a heart for Valentine's Day.
9. Custom Statues
A statue can capture the essence of your loved one and create a beautiful focal point in a garden or memorial area. Whether it's a representation of a hobby they loved or a symbol of their spirit, statues can provide a comforting presence and a sense of connection.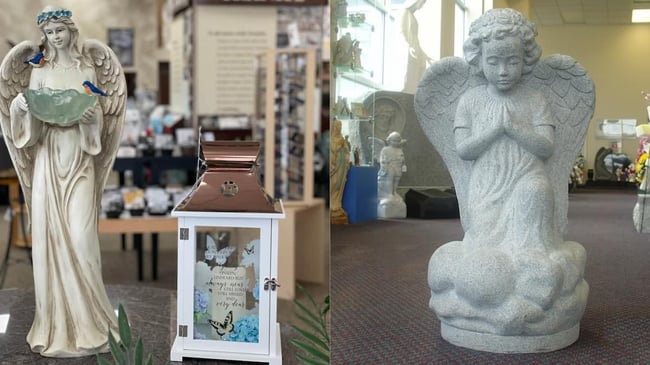 10. Memorial Flower Vase
Memorial vases can be permanently designed to hold flowers near your loved one's headstone (if your chosen cemetery allows them). There is a wide array of vase design options to choose from so you can select one that best represents your loved one's aura. Placing their favorite flowers in the vase can be another way to keep their memory alive throughout the year and during the holidays.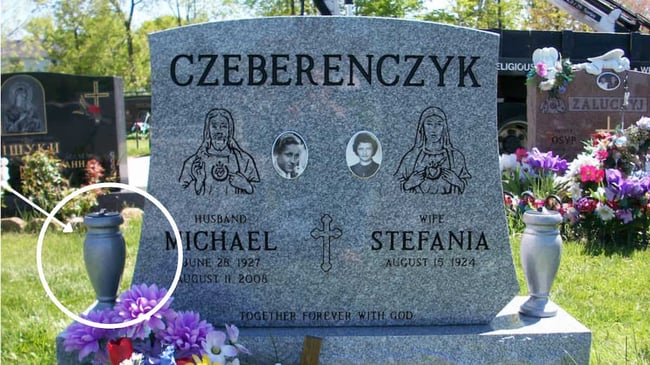 >>> Related Resource: Buying Graveside Flowers: Everything You Need to Know
Find a

One-of-a-Kind Gift This Holiday Season
At Milano Inspirations, our skilled experts can personalize something you purchase from our store or something you bring to us. If you're interested in giving your loved one a meaningful, specialized item, visit our 5,000-square-foot Cleveland-area gift center any time Monday through Saturday from 9 a.m. to 5 p.m. If you have any questions, don't hesitate to reach out.