Spending time with family and friends is a central theme of the holiday season. But for those who have suffered a loss, this time of year can be extremely difficult. Everyone copes with grief and loss differently during the holidays. Some people prefer to travel away from the place where memories flourish, while others find solace recreating holiday traditions at home. Either way, keeping someone's memory alive during the holidays can be both comforting and healing.
Here are 13 ideas to help you honor, celebrate and remember your loved one.
Make their favorite holiday recipe. Instead of focusing on the empty seat at the table, fill your stomach and hearts with the person's favorite dish.


Hang their stocking and fill it with a different letter or memory each year. Allow time for anyone who wants to read or share their memory when family is gathered.


Make a donation in the person's name to a cause or charity that was important to them. In addition to monetary donations, many charities collect food, clothing or toiletries to help those in need during the holidays.


Watch home movies. You may get emotional seeing your loved one and hearing their voice, but recounting memories creates opportunities to share stories and reminisce.


Personalize an ornament or coffee mug with your loved one's picture or their handwriting. Each time you hang the ornament or sip from the mug offers an opportunity to feel a connection.


Volunteer your time at a place that meant something to your loved one. The possibilities are limitless–a nursing or retirement home, hospice, hospital, pet shelter, food pantry, local school, etc.


Make a memory album to give as gifts to the person's closest relatives or friends.


Plan a trip. If sticking close to home is just too painful, plan a vacation to somewhere you've always wanted to go, or somewhere you used to enjoy vacationing with your loved one.


Give away your loved one's belongings as gifts. That old watch that's sitting in a drawer could find a new life on someone's wrist. Wrap items up and attach a card letting the recipient know why you chose them for a particular gift. Both the gift and the sentiment will hold special meaning for the recipient.


Light a memorial candle. Candles play an important role in both celebrations and grieving. Aromatherapy candles can also help reduce stress.


Revive an old tradition. Whether it's cutting down the Christmas tree, Christmas caroling or running in a local 5K race before Thanksgiving dinner, there's no better way to honor someone than continuing a tradition in their honor.


Turn a piece of their jewelry or clothing into a keepsake. Create a holiday themed throw pillow cover from a plaid shirt, or turn pieces of a Christmas sweater into mittens, a scarf or hat. For a jewelry idea, remove charms from a bracelet and turn them into individualized key rings.


Decorate their memorial or grave. Much like you put up a Christmas tree and adorn your home with festive lights, you can also add a special touch to a loved one's memorial or headstone with seasonal décor like fresh or artificial flowers, miniature Christmas trees, battery-powered lights, wreathes or grave blankets (an evergreen arrangement made with ribbons, ornaments, pinecones or personalized items that covers the ground surrounding a memorial).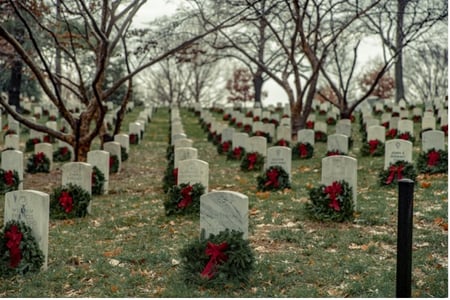 Reminder: The Milano Inspirations Gift Shop is always stocked with seasonal décor. Check with the cemetery to see if they have rules for what kinds of decorations are allowed.
Finding Your New Normal
There is no clear-cut roadmap for navigating the holidays after a death—no matter how recent or long ago it occurred. Although it will always be difficult, remember that part of your loved one lives within you through the legacy you create to their memory.
Whether you decide to share new traditions with friends and family or continue them alone, recalling the joyful times you spent together can help you through your grief. Every year your emotions may be different because there is no time limit on grief. Seek the help of a licensed professional or grief support group if you're struggling. Here are some grief support groups in Northeast Ohio.
Discover More Ways to Honor Your Loved One
Interested in more ways to celebrate your lost loved one? For inspiring memorialization resources and grief support, subscribe to our monthly email newsletter, The Turning Stone.