Each year, Americans come together on the last Monday in May to honor men and women who have passed away while serving in the U.S. military.
While some may view Decoration Day—now Memorial Day—as the unofficial start to summer, others are likely spending their Decoration Day visiting cemeteries.
Believed to be established in Waterloo, New York, Decoration Day was originally created for families to remember fallen soldiers from the Civil War. Today, many families observe Memorial Day with parades, gatherings and other celebrations to honor those we have lost serving our country.
Continue reading to learn more about the history of this holiday and for nine ways to memorialize a lost soldier.
The History of Decoration Day
Decoration Day—which occurs annually on the last Monday in May—originated in the years following the Civil War and became an official federal holiday in 1971. Many Americans observe this day by visiting cemeteries or memorials, hosting picnics and participating in local parades.
The Civil War, which ended in the spring of 1865, took more lives than any other war in U.S. history and resulted in the country's first national cemeteries. At this time, American communities began tending to the gravesites of an unprecedented number of fallen soldiers.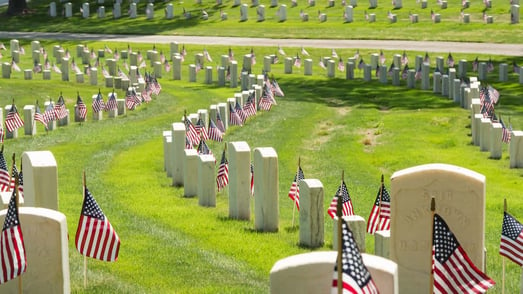 By the late 1860s, Americans from all over the country began holding tributes in the spring to honor these fallen soldiers, decorating their graves with flowers and flags.
As more and more states across the country began adapting this holiday as a ritual, "Memorial Day" started to take the place of "Decoration Day" and soon became a day to honor all fallen American troops, not just those from the Civil War.
In 1968, the U.S. government passed the Uniform Monday Holiday Act, which put major holidays, including Decoration Day, on specific Mondays to give federal employees three-day weekends.
Memorial Day Celebrations
Many of us are aware of the Memorial Day traditions that take place each year, including camping, picnics and other family gatherings. Cities across the United States also host Memorial Day parades each year, which often incorporate military personnel and members of veterans' organizations.
Here are a number of other Memorial Day traditions that may not sound as familiar:
Flowers. Families often decorate soldiers' graves with bouquets.
Cleaning up. Families clean off headstones, and polish them with cloths and rags.
Patriotism. Families decorate the graves of military personnel with American flags and other tokens of national pride.
Moment of silence. Each Decoration Day at 3 p.m., Americans are encouraged to stop what they're doing and take part in a moment of quiet remembrance.
9 Ways to Memorialize Fallen Soldiers
1. Fly the flag.
On Memorial Day, the American flag should be flown at half-staff from sunrise until noon only. Then the flag is "raised briskly" to the top of the staff until sunset.

2. Pause at 3 p.m.
The National Moment of Remembrance Act declares a moment of silence at 3 p.m. local time on Memorial Day in honor of the men and women who have died while serving our country.

3. Place coins on your loved one's headstone.
At cemeteries throughout America, it's common for veterans and current military personnel to leave monetary coins when visiting the grave of a fallen soldier.
Pennies left on the headstone simply let family, friends and other visitors know that you visited.
Nickels signify you and the fallen trained together.
Dimes show you served together.
Quarters tell the family that you were there when the veteran passed away.
4. Visit a local military memorial.
If you don't have a loved one who served in the military, you still have the opportunity to visit a local veteran memorial. Below are a few you can visit in the greater Cleveland area.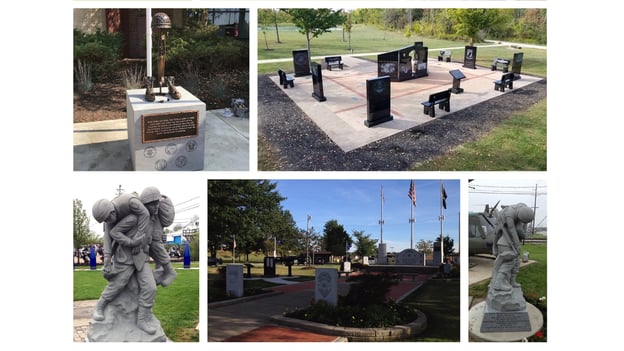 5. Take a walk through your local veterans cemetery.
There are several Ohio veterans cemeteries you can visit to honor fallen soldiers. Closest to Cleveland is the Ohio Western Reserve National Cemetery—the second national cemetery built in Ohio and the 119th in the national cemetery system.

6. Place a flag at your loved one's memorial.
At Milano Monuments, we have a wide selection of flag holders to add a personal and patriotic touch to any gravestone, memorial or mausoleum.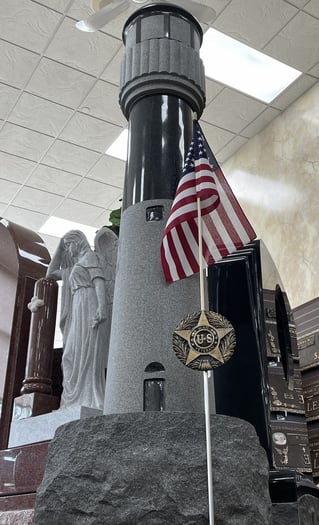 7. Participate in a Memorial Day walk or running race.
Choose which distance (1M, 5K, 10K, half or full marathon) you'd like to walk/run for this year's Memorial Day race in Cleveland. Sign up today to celebrate and honor our fallen heroes.

8. Watch the National Memorial Day Parade.
Visit the American Veterans Center website to see on which networks the National Memorial Day Parade will be airing.

9. Purchase red, white and blue flowers to place on your loved one's headstone.
Our Milano Inspirations Gift Shop offers a variety of Decoration Day headstone decor options—including red, white and blue flowers.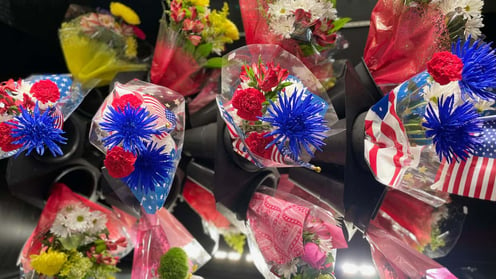 More Ways to Memorialize Your Fallen Hero
There are endless ways to memorialize a fallen soldier and it doesn't have to be on Memorial Day. Subscribe to our blog to learn more ways you can honor a lost loved one.