For more than 150 years, Americans have been pausing on the last Monday in May to honor the men and women who have passed away while serving in the U.S. military. It's believed that Memorial Day was established in Waterloo, New York as a day to remember fallen soldiers from the Civil War. During this time, locals would decorate the graves of soldiers with flowers and flags—a tradition that we still carryout to this day along with parades and summer kickoff parties.
While Memorial Day has transitioned over the years to the unofficial start of the summer season, many of us use this day to memorialize and celebrate fallen heroes in our lives. If you're grieving the loss of a loved one or simply want to support those who have, we've highlighted five ways to honor fallen soldiers this Memorial Day below.
1. Fly The Flag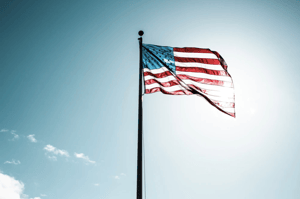 One of the most popular ways to recognize fallen soldiers is to showcase the stars and stripes of our country's flag. Many citizens fly the American flag from their homes and businesses throughout Memorial Day weekend.
Honor the flag and U.S. military members on Memorial Day by only raising the flag half-staff from dawn to noon. At noon, raise the flag to full-staff until sunset, when it should be respectively lowered completely.
Need a flag to fly? Check out your local monument gift store or order one online.
2. Pause at 3 p.m.
Signed by Bill Clinton in 2000, the National Moment of Remembrance Act declares a moment of silence in honor of the men and women who have died while serving our country. This moment of silence is to be observed at 3 p.m. local time on Memorial Day.
Set a reminder for yourself and family members to take a few moments on Memorial Day to revere the sacrifices made by members of the U.S. military service in the pursuit of freedom and peace.
3. Memorialize Fallen Soldiers
Just like Americans did more than 100 years ago, take time on Memorial Day to decorate the graves of fallen soldiers with flowers, flags and other decorations.
Pick out decorations that best commemorate your lost soldier at your local memorial gift shop and place them on their grave throughout Memorial Day weekend. You may also choose to take a few moments of silence to honor their memory.
Additionally, the U.S. Department of Veterans Affairs offers a national list of veteran cemeteries where you can memorialize those served by decorating graves.
Unable to volunteer? You can also support deployed U.S. troops with care packages and letters.
4. Visit a Local Museum
Memorial Day weekend is a great time to pay respects at an official military memorial, museum or monument. Gather your family and friends for a trip to a local museum to learn about our military's history. Not sure where to go? The National Museum of the United States Air Force, ranked one of the top ten best military museums by USA Today, is located in Dayton, Ohio.
Another way to participate in Memorial Day remembrance is to attend a local event. Many cities plan services, gatherings and parades.
5. Post A Tribute
For those who have lost brave loved ones to military conflict, sharing a personal tribute can be very therapeutic. We recommended sharing photos, videos and memories of your fallen soldier with family and friends through personal messages, on social media or with your community.
Every year, thousands of letters and emails are sent to the National Memorial Day Concert, where some are even read aloud. Email message submissions are accepted leading up to the event.
Looking for a way to honor your fallen hero? You can start with this article about how to raise money for a military monument, or contact us today and one of our specialists will work with you to create a memorial as unique as your soldier.