The current reality of this pandemic has many of us quarantined in our homes, called for businesses to take extreme safety precautions and required others to close their doors altogether.
While the news and information on COVID-19 is constant, for many of us, our grief does not simply subside during this time. That's why our goal is to serve you as best we can during this time of uncertainty and isolation.
With extra disinfecting in place, our doors are still open during normal hours. But to promote public health and safety, we are encouraging individuals to consider video appointments.
Here's a comment from one family that had a positive experience with our memorial specialist, Dave:
During this time of social distancing, our family was able to meet with Dave in a virtual visit on Zoom. We were all able to view his screen and I found Dave to be patient and caring with us. He took the time to explain the charges and made sure we stayed within our budget. Thank you Dave and Milano Monuments.

- The Hambrick Family
Because video appointments are an unfamiliar experience for many people, this article explains how they work, and answers your top questions and concerns so that you can have a positive experience like the Hambrick family had.
Video Appointments Explained in 3 Steps
The most important thing for you to know is that a video appointment is nearly identical to an in-person appointment—it just happens virtually. Modern technology makes this easier than ever.
Before the Appointment
We use a technology called Zoom to make video calls simple. After coordinating a meeting time with you, a memorial specialist will send you a link with simple directions for joining the video consultation. The process is as easy as clicking on a link.
If you have questions about how the technology and video works, we answer many of those later in the article (hint: it's free and requires very little tech-savviness).
Once your video appointment has started, here's what to expect:
Step 1: Introductions
Memorialization is our specialty, but supporting families through difficult times is our passion. It's why we've kept our doors open through this uncertain time and made virtual meetings easy.
Every video appointment starts very similarly an in-person one: After starting his or her video (you don't have to share yours if you don't want to!), a memorial specialist will introduce him or herself, and start to learn about you and your situation.
This is Dave, one of our memorial specialists.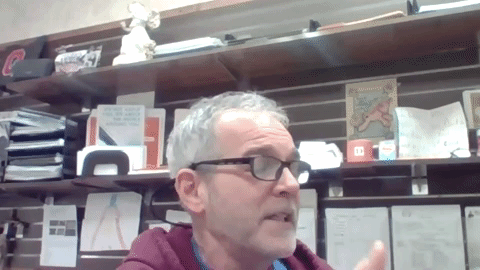 Our memorial specialists will use the information you provide to design a memorial that will uniquely honor and celebrate the life for generations to come.
Step 2: View Memorial Options and Samples
Just as you would in person, the memorial specialist will show you samples and explore photo galleries with you to identify the memorial features that match what you want.
You'll explore these options together, discussing the memorial designs that interests you most, so we can discover the perfect one for you.
Here you see Dave, one of our memorial specialists, reviewing examples during an online call.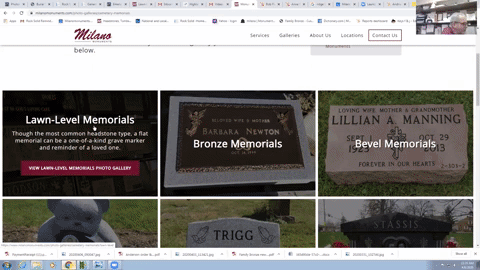 Step 3: Watch Your Headstone Be Designed in Real Time
We want to give you full confidence that your memorial will be exactly what you envisioned.
Using our own software, we'll share our screen and start designing the memorial you've helped us create right there. Again, this is the same experience you'd receive if you were to meet with a specialist in our office.
This is a clip of Dave adding a design to a memorial during a video call using our software.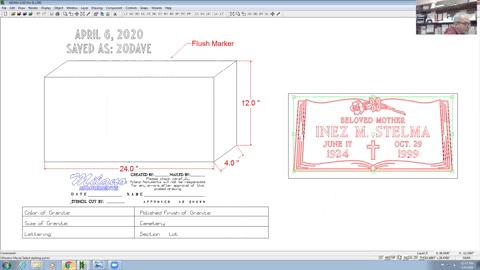 FAQs About Video Appointments
We understand video appointments are likely an unfamiliar experience, so we've compiled a list of frequently asked questions and answers.
Do I need special equipment?
The device you're reading this article on will likely work for a video appointment. A laptop, desktop computer, tablet or smartphone will do.
Do I need to share a video of myself?
While we value the face-to-face connection of an in-person meeting, you can turn off the video from your side. Our memorial specialists will happily leave their video on and show you their computer screen, even if you opt to leave your video off.
What if I'm not tech-savvy?
That's okay! Video appointments are simple to join and operate. If you have any questions when you set up an appointment, we'll be sure to have them answered to give you the best possible experience.
Do I need to download any new software or create an account?
Nope. We have a system called Zoom that enables you to join a video call by clicking a link and opening the video within your website browser.
Joining the video call is very simple, too. All you need is an email address or cell phone number and we will send you the video appointment information. All you need to do is click the provided link.
Are video appointments free?
Yes. You don't need to pay anything for the video technology, and the consultation with a memorial specialist is free.
What are the available hours for a video consultation?
Our facility is open Monday through Saturday from 9:00 AM to 5:00 PM.
But, because video appointments can happen anywhere, our team will be flexible to schedule an appointment that fits your schedule.
How many people can join our video call?
One of the advantages of video appointments is that a friend or family member can join from anywhere in the world. We can add anyone you'd like to have join your Zoom appointment. It's as simple as sending them the same link we send to you.
Also, if you come into our facility for an in-person meeting, we can add someone through Zoom to participate remotely.
What if I want to see and touch the materials?
We understand the importance of physically interacting with the granite or bronze. That's why we have a 50,000-square-foot facility full of samples and options.
Though you will not be able to touch the material during a video appointment, our memorial specialists share pictures and videos of various memorials, and will start to design your memorial while you're on the call.
After your initial video consultation, you're welcome to visit our Cleveland location at any time. Come in to see the progress of your memorial or come get a tour as soon as this pandemic has subsided.
Can I show the memorial specialist pictures of what I want?
Designing a memorial is a collaborative process, where our specialists work to create something unique, based on your preferences.
During a video appointment, not only can we share samples, but we can give you control to show us examples—either those you have saved on your computer or that you find on our website.
Schedule an Appointment with a Memorial Specialist
We know video appointments present an unfamiliar experience. But we believe that they allow us to continue serving you from the comfort of your own home. Our passion for helping families through difficult times, even virtually, is more important to us than ever.
Schedule a video appointment with a memorial specialist today, and don't hesitate to ask any questions you might have during this uncertain time.