People have used poetry for centuries to help comfort them in times of grief. Poetry serves as an outlet for expression by allowing its writer (or reader) to explore universal themes related to the human experience. Writing poetry can help you process feelings and cope with life events. Reading poetry serves as a reminder that you're not alone in what you're going through.

When coping with grief, one of the worst things a person can do is keep their feelings bottled up inside. Without an outlet to help process emotions, grief can manifest into physical symptoms like insomnia, panic attacks, nausea, headaches, lethargy and depression.

For some, poetry is their outlet. Continue reading for poetry resources that may help you cope with grief.
Why It Helps to Write Poems About Grief
When coping with grief, you may not fully understand or be aware of what you feel until you try to write it down. Journaling has been proven to help people explore and sort through their emotions with the goal of processing them over time.
For people who find journaling too big of a commitment, writing poems about grief can serve as a creative alternative. There are no set rules when it comes to writing your own poetry. Poems can be short or long and rhyming isn't required. Your poetry can be for your eyes only or shared with family and friends if you so choose.

To help you get started, check out this article in Psychology Today for inspiration on choosing a theme to organizing your thoughts. Once you get more comfortable with your prose, you may even consider sharing it with a wider audience via the internet. There are a number of websites that accept poetry submissions.
Helpful Poetry Resources
If you don't consider yourself a poet, reading poems about grief can also have therapeutic benefits. The poems you choose to read at a given time may reflect how you're feeling or where you are in the grieving process—with tones that are mournful to uplifting. Either way, poems about grief allow us the opportunity to reflect on the person we lost and sort through our emotions.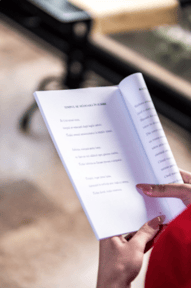 For people coping with grief, Poetryfoundation.org allows users to search for poems by topic or keyword and lists poems related to that theme. The site offers poems about grief broken down into subcategories including: the loss of a parent, loss of a child, loss of a loved one, grieving a friend, and regret and depression.
Poets Who Have Written About Grief
Since loss and grief are such universal themes, you may find comfort in the wisdom shared by some famous poets who wrote about these topics in the following poems:

Not all poems about grief need to take a somber tone. In Emily Dickinson's Hope is a thing with feathers she clings to the theme of hope using a bird as a metaphor. The poem is often interpreted to mean that hope is a helpful tool and should be relied upon during trying times.

Another example of a poem about grief with a more uplifting message is Do Not Stand at My Grave and Weep by Mary Elizabeth Frye. Written in the voice of the lost loved one, it reminds mourners that the presence of those we've lost lives on all around them in the beauty of the world—in the rain, the wind, the snow, the flowers, the birds and the sun.

Interested in More Grief Support Resources?
For advice on how to cope with grief or how to help others cope with grief after the loss of a loved one—as well as memorialization and monument resources—subscribe to our email newsletter today.