Believe it or not, an online memorial provider may not be your most reliable option when it comes to purchasing a headstone near you.
In fact, it may cause more headaches than using a local, family owned provider who can offer personal, caring assistance. Whether you're searching for a memorial for yourself or a loved one, the experience can be overwhelming—but a local headstone provider can make this process as seamless and comforting as possible.
So how can you get started in finding the right headstone provider for you? We share several steps to keep in mind.
1. Research Your Memorialization Options

If you're unsure of what you need when it comes to memorializing your loved one, that's okay! Many families aren't familiar with their options when it comes to headstones and other memorials.
And while a headstone is a popular choice for a grave marker, not everyone wants or needs one. Before you begin your research, identify which services you'll need from your memorial provider. If you or your loved one chose burial, you may want a headstone. However, if you or your loved one chose cremation, you may also want something like cremation jewelry.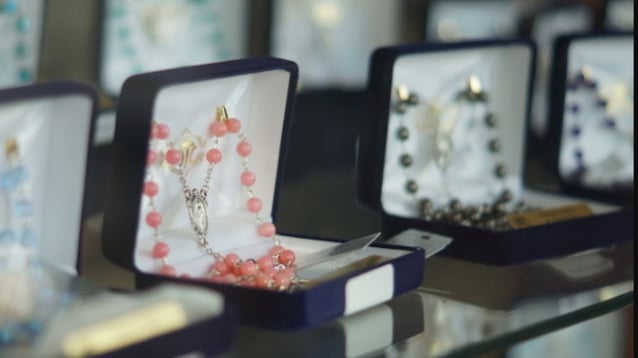 Ask yourself:
For burial: What do I want my (or my loved one's) headstone to look like, and can I view examples at a showroom?
Can I physically pick out the stone color I would like for my headstone?
For cremation: Do I want an urn and headstone?
Can I personalize my memorial or headstone? If so, what options are available?
Does the provider design and handcraft the memorials in house?
Can I get a preview of my headstone?
Not all headstone providers offer these services, so you'll need to ensure that the one you choose can meet your needs and offer helpful support during this difficult time.
2. Determine Your Headstone Budget
Not surprisingly, the cost of a headstone depends entirely on your needs. The size, material and personalization of your memorial will all affect the overall cost.
Before beginning your search, determine your price point and use it as a guide to identify the right local headstone provider for you.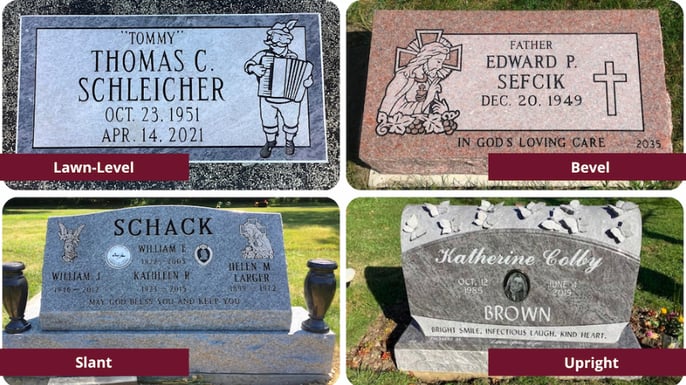 Keep in mind that a well-known, trusted memorial company with a history of satisfied customers and high-quality craftsmanship may price their headstones slightly higher than a newcomer to the industry. However, working with a local memorial provider can eliminate some of the hidden costs associated with using an online provider or cemetery that outsources production.
>> Related Resource: 7 Questions to Ask a Memorial Provider About Cost
3. Explore Reviews and Testimonials From Other Families
In today's world, reviews matter—and the memorial industry is no different. When researching headstone providers near you, take a look at each provider's website, as well as Google and Facebook, for reviews. As you browse reviews, keep an eye out for comments about quality of work, reliability, customer service and communication. These can help guide you in finding a reputable memorial provider that can create the headstone your loved one deserves.
You can even ask memorial providers themselves for references or check their website for a portfolio of their past work. If they don't have any, this may be a red flag.
Remember that it's okay to move on from a provider that doesn't seem reputable, even if you've talked to its staff members. In the long run, finding a provider that you can trust will help relieve some of your stress during this difficult time.
4. Gauge the Headstone Provider's Quality of Customer Service
You and your family deserve respect as you navigate the decision-making process, which is why finding a local memorial provider that can offer unparalleled, personal customer service is crucial.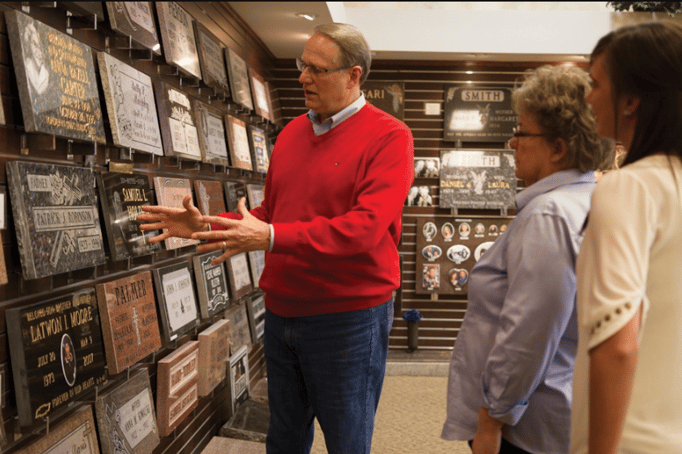 When reaching out to local headstone providers near you, ask yourself the following:
How quickly did the headstone provider respond to my questions, and did I directly speak with a member of their team?

Did the headstone provider respond to my questions with empathy and kindness?

Does the headstone provider have any office locations or an address where I can talk to the staff in person?
These questions can help determine if the headstone provider will give you the personal, reliable customer service you need. Plus, should you experience any issues, you want to confirm that the provider will be readily able to assist you.
5. Ensure the Memorial Provider Understands Cemetery Regulations
Because each cemetery has its own rules and regulations for burials and headstones, you'll also want to make sure you're working with a provider that has worked with your selected cemetery before, or understands its specifications and limitations.
Though local providers will likely have these answers quickly, make sure that they know which types of monuments are permitted at your chosen location. This is important in ensuring your memorial is not denied by your cemetery, which can result in loss of time.
>> Related Resource: Northeast Ohio Cemetery Memorial Guide
Subscribe for Memorialization Resources

Want to learn more about choosing the right headstone provider, or about designing a memorial that best suits your loved one? Subscribe to our blog for a variety of headstone information, from pricing to personalization and everything in between.