When picturing a cemetery, you might imagine fresh-cut grass across an expanse of green terrain, dotted with colorful flowers, trees, and neatly arranged rows of headstones and memorials. It's a peaceful oasis, honoring the lives of lost community members and loved ones.
Unfortunately, that's not always the case.
Harsh seasonal conditions of Northeast Ohio can oftentimes debilitate historical cemeteries, disturbing the tranquility with sunken headstones, broken memorials or uneven terrain. Visiting community members and families may find the damage to their loved one's or ancestor's final resting place unsettling and upsetting.
In these cases, it's best to consider a cemetery restoration service provider that can revitalize the cemetery and headstones within—all while respecting its legacy and preserving the memories of those laid to rest.
As you explore your options, consider these four factors to help find the right cemetery restoration provider for your needs.
1. "Beyond the Basics" Cemetery Restoration Services
While many cemetery restoration service providers offer similar services—cutting, polishing and installing stone—some also offer a comprehensive list of services that go beyond restoring headstones.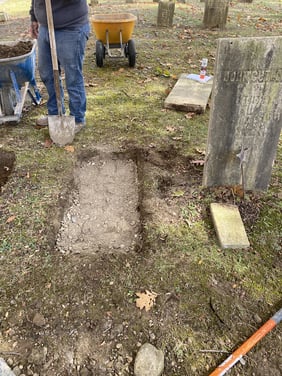 The cemetery restoration services offered by our sister company, Milano Stone & Restoration, include:
Cleaning granite, marble, and sandstone memorials

using trusted techniques and processes.
Adding a fresh

coat of paint

to memorials whose paint has started to fade or chip.
Resetting leaning marble headstones and pinning memorials back together that have fallen apart.
Realigning memorials into their original rows.
Fixing or supporting

upright monuments

to prevent them from damaging nearby headstones or injuring visiting families.
Using one vendor for all of the cemetery restoration services you need can help reduce communication across several suppliers, save restoration costs and simplify the cemetery restoration process, which can take several months.
2. Reliability
Do you know another community that's worked with a cemetery restoration services provider before? Previous customer testimonials or Google reviews can help you gauge whether the provider is the right fit for your cemetery restoration needs. You can also ask the potential provider to share a portfolio of their work to get a glimpse into the quality of their services.
Restoring a cemetery can be a significant investment, and finding a provider with a reliable track record can ensure the process goes as smoothly—and respectfully—as possible.
3. Project Scope and Equipment
Before you select a cemetery restoration services provider, find out what stage of the project they can help with, including concept, design, creation, installation or maintenance. If the cemetery restoration provider plans to outsource work to a stone provider, this could negatively impact your final cost, which is why it's ideal to find a partner that can provide services at any stage of the project.
Finding a cemetery restoration provider that owns most or all of the necessary equipment for a restoration project is also an added benefit. When restoration equipment is owned by the provider, the cemetery will not have to pay any added outsourcing or rental fees. A well-rounded provider can reduce outsourced labor and resources, saving both parties time and money.
4. Affordability
Full cemetery restoration projects can cost anywhere between $5,000 to $250,000, which is why it's essential to find a restoration provider that can meet your budget.
Once you've narrowed down your top cemetery restoration provider options, compare pricing between them. Factors that can play a role in pricing include:
Whether or not the provider owns their own equipment. Costs to outsource equipment are often passed on to the cemetery.
How many services they offer. Working with one cemetery restoration provider that can handle all services is not only easier, but often less costly.
The provider's location. Nearby restoration providers are often less expensive than out-of-state providers.
Their relationship with stone suppliers. If they have a strong partnership with stone suppliers, you're more likely to receive a fair price for high-quality products.
Finding a cemetery restoration provider that's honest about pricing from the start can also give you an idea of the level of transparency you'll receive throughout the entire project.
Take the First Step to Restore Your Community's Cemetery
If your cemetery is in need of professional cemetery restoration services, contact Milano Stone & Restoration. Our team of restoration specialists has years of experience in restoring cemeteries to the serene, peaceful resting place they once were.