Jim Patti is a memorial specialist that heads up our Youngstown location. He's been with Milano Monuments for about six years, but has been in the memorial industry helping families honor their loved ones since 1996. Before joining our team, he spent time with all types of memorial companies, ranging from a small family memorial company to North America's premier memorial granite company, Rock of Ages.
His expertise is in art and design, but Jim has a heart for helping families make something beautiful in the midst of one of life's most difficult experiences—losing a loved one.
Recently, I had the chance to interview Jim about his time with Milano Monuments and beyond, and he shares some interesting experiences and stories he's gained during his time in the industry. Read on to learn all about Jim, and his unique experience and perspective.
Q: How do you explain what you do on a daily basis as a memorial specialist?

My focus each day is on helping families memorialize and honor their loved ones. This may involve going to their homes, meeting with them at a funeral home or having them come to our Youngstown location.

No matter the situation, I'm there to help them. I simply facilitate the process and walk them through it. There's no script for me to follow—I speak from the heart, answer questions and educate families as we go.
Q: How did you get into the memorial business?
I graduated from college with a graphic design degree in 1996. I interviewed with a small memorial company around that time basically by accident, and immediately realized it would be a perfect fit for me. Along with graphic design, I'd also studied history in college. The idea of preserving and celebrating an individual felt very meaningful. I was always intrigued and would often take pictures or make paintings of beautiful sculptures in the cemeteries.

It's been an extremely rewarding experience to use my love of art and history to help families memorialize their loved ones in a special way that will represent and celebrate them for centuries.
Q: How do you use your graphic design experience in your work today?
My design foundation has been a huge help for this job and throughout my career. When working with a family, I always try to jump into designing a mock-up as quickly as possible. It can be difficult to imagine what a headstone will look like as we talk about it, so seeing the design on my computer screen helps the family see if the idea in their head matches what we're able to create.
With the software, we can show designs with the appropriate granite color, personal information and any other design elements they want. If the family texts me a picture they want placed on or etched into the memorial, I'm able to use Photoshop—a design program—to quickly show them what it will look like.
Q: What can you tell us about Rock of Ages?
Rock of Ages is the oldest granite quarry in the United States. I worked at their Youngstown retail store for several years, and had the chance to visit the quarry in Vermont in 2012.
Milano Monuments is a Rock of Ages Authorized Cemetery Monument Retailer, so we are able to offer Rock of Ages granite with their Perpetual Warranty. The warranty passes on through generations of your family, as well as with the cemetery where the memorial is set. That means that if your Rock of Ages cemetery monument or mausoleum ever proves defective, the stone is repaired or replaced at no cost to you.
Q: Is there any specific story that comes to mind when you think of this process working with families?
One story that comes to mind involves an older Italian gentleman I was working with named Ralph, whose wife had recently passed away. He'd picked out a beautiful black granite, and wanted some other very elegant designs around the name. He had also wanted to have a porcelain photo of his wife and him in the center.
After finalizing the design, he came back with a photo of himself and his late wife that had been taken just a month or so before she had passed. This was likely how he pictured himself and his wife, but I asked him if there were any other pictures he would rather have on their memorial for generations to see. He liked that idea and came back with the most incredible photo.
Ralph came back with a black and white photo from the 40s. The picture (shown below) included the two of them looking like two movie stars! I said, "Ralph, is that really you?" We laughed about it, but it was really a meaningful and memorable moment to see his immediate reaction to the mock-up, and to later see how much he appreciate the completed memorial.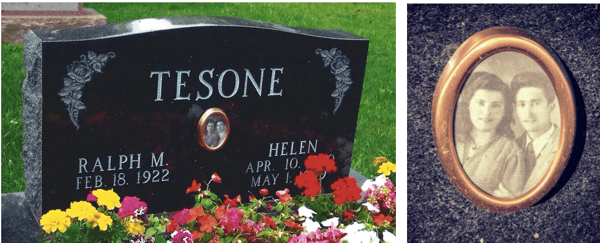 Q: What does memorialization mean to you?
I often hear people talk very flippantly about what they want to have happen with them after they pass away. Most don't care. I think about it in two ways:
First, if you lived a life, you deserve to have a memorial or something that marks that you were here. Even cavemen used to make marks on stone to show to future generations they existed. I think each of us deserves that and more.
Secondly, even if you don't personally see the value, memorialization isn't necessarily for you—it's for your loved ones. It's a big misconception that no one visits the cemetery. People don't always tell others when they go. Oftentimes you won't know who will appreciate having a place to visit to remember you.
Q: What do you wish families knew about memorialization?
Sometimes it surprises families how long the process takes. From the time we design the memorial until it is placed in the cemetery, it can take anywhere from one to six months, depending on several factors.
This is because memorials and headstones are deeply personal, so each is crafted specially for the individual or family. There are also several groups that have to communicate to make the memorial—the granite supplier, the memorial provider and the cemetery.
Whenever possible, I recommend that people preplan. There are financial benefits, emotional value and it relives stress later on.
Q: What is your favorite part of working at Milano Monuments?
Being in Youngstown, away from our main Cleveland showroom, I'm somewhat on my own when it comes to the day-to-day operations of this location. What I appreciate about this setup is that I get to be involved in all aspects of the process.
Not only do I get to spend valuable time working with and helping families design memorials to honor their loved ones, I also get to go out to cemeteries to work with the finished memorials. This might involve laying the foundation for a memorial, setting/installing the stones, installing vases or straightening stones that have shifted over time.
Q: What do you consider to be the "Milano Difference?"
I truly believe that the Milano family and each person that works on our team deeply cares for the families we work with. The Milano family has experienced extremely difficult losses, so they understand what these families have gone through. We have genuine empathy and compassion for our customers.
Meet with Jim or One of Our Other Memorial Specialists
As you can tell, Jim believes every person deserves to have their life recognized. If you want to talk about a memorial for a loved one or preplan for yourself, schedule an in-person or video appointment with a memorial specialist today. They'll be happy to guide and educate you to make the best decision for yourself.