The holiday season is one of the most joyous times of the year—it's a moment to slow down and enjoy time with loved ones. But for so many of us who are grieving, the holidays can also be the most difficult time of year.

It's normal for grief to intensify the void your loved one leaves during this time of year. However, the holidays provide the perfect opportunity to visit with a loved one at their final resting place. And just as you put up a Christmas tree and adorn your home with festive lights, you can also add a special touch to a loved one's memorial or headstone with seasonal décor.

Decorating a memorial at Christmas is a time-honored way to celebrate the life of your loved one, the memories you made and the time you spent together. Whether you decide to place flowers, an arrangement or personal mementos, explore the following ways to celebrate your loved one's life this Christmas season.
1. Fresh Flowers
One of the most popular ways to decorate a loved one's headstone is with fresh flowers.

Fresh flower options can include Fraser fir style winter wreaths, roses, carnations and winter-style bouquets. Each of these flowers can handle winter conditions better than some other plants. To ensure your loved one's memorial is decorated on Christmas, consider placing them on Christmas Eve or Christmas Day.

Depending on your loved one's grave type and the cemetery's rules and regulations, you may have the option to place flowers as a headstone saddle, in a permanent vase or in-ground.
2. Artificial Flowers
As noted, one of the biggest challenges of placing flowers on memorials in Northeast Ohio is the cold that grips the region this time of year. Alternatively, artificial flowers offer a way to decorate your loved one's grave and ensure that no amount of snow or frigid temperatures will harm them.

Choosing artificial flowers to decorate a memorial gives you many options and flexibility, including:
Decorating in the weeks leading up to Christmas with no worry of frost, snow or wind damage.
A selection of artificial varieties of natural plants that are not available in the winter months.
Often more affordable options for creating larger arrangements.
During the holiday season, our Milano Inspirations Gift Shop sells artificial poinsettias, holly, carnations and amaryllis—all true Christmas staples.

Poinsettias
Poinsettias are popular Christmas flowers both for decorating a memorial and placing in homes. Their brilliant red leaves are a symbol of the holiday season.
Holly
Holly is another hallmark of the holidays, but did you know it also has symbolic meaning? Some believe the prickly leaves of holly represent the crown of thorns that Jesus wore when he was crucified. The bright red berries are the drops of blood that were shed by Jesus because of the thorns.
Carnations
Carnations come in a variety of colors, most notably for the season's deep hues of red. They also symbolize love and are worn in several countries as a token for remembrance.
Amaryllis
Also known for their deep, seasonal red, amaryllis is a sturdy option and is often associated with the Christmas season. Amaryllis is said to symbolize love and passion, so these festive flowers could be a great option for a lost partner.
Before you buy artificial flowers for your loved one's headstone, know that there are indoor and outdoor types. For memorial usage, you'll want to opt for artificial flowers designed for outdoor use—otherwise, you run the risk that the flowers could bleed, potentially dying your loved one's memorial or the grass around it.
3. Wreaths
Outside of flowers, the Christmas season is also synonymous with many seasonal plants, like evergreens, holly, rosemary and mistletoe. These hardy, often scented plants immediately signify the holidays are here and make great wreaths.
Wreaths can be placed directly on the memorial or next to it with an easel. Many wreaths also encompass additional decorative, seasonal touches like:
Bows, traditionally in red, green or a plaid design.
Pinecones.
Real or artificial flowers, like poinsettias.
Christmas ornaments.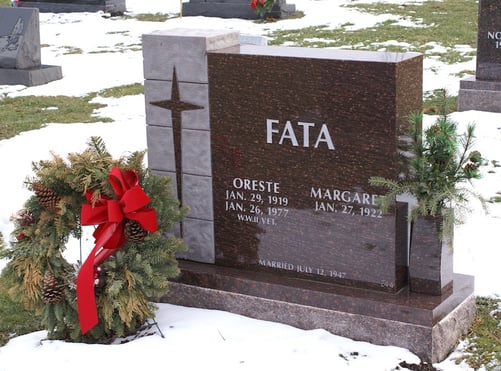 4. Grave Blankets
Grave blankets are an evergreen arrangement that cover the ground surrounding a loved one's memorial. These elegant boughs are decorated like wreaths, with ribbons, ornaments, pinecones or other personalized items.

Grave blankets are an excellent option for harsh winters and add a timeless elegance to a loved one's memorial. While many flowers cannot last through the entire winter, these evergreen blankets remain green throughout the season, and look wonderful dusted with snow.

Because they are most often custom-made, speak with a local memorial provider to discuss and design the grave blanket that best fits your loved one's memorial.
5. Ornaments
One of the most common holiday mementos are Christmas ornaments. Decorating your loved one's headstone with non-family, non-glass ornaments will add a nice holiday touch to their gravesite.

Stringing ornaments over their headstone can add a pop of color and bring holiday spirit to the entire cemetery. You can choose to use ornaments with traditional reds and greens or use ones that match your loved one's favorite colors.

To give you a sense that you're continuing to keep your loved one involved in your family's lives, you could also drape garland over their headstone and add a new photo ornament of the family each year.

Note: We recommend passing meaningful family ornaments down to other loved ones so that they do not get damaged or broken in the cemetery during the winter.
6. DIY Holiday Decorations
If you'd like to add an extra special touch to your loved one's memorial, start a new family tradition of creating DIY ("do it yourself") projects each year to decorate their headstone for the holiday season. Below are a few ideas to get you started:
Each year, you also have the opportunity to join the Milano Monuments team to create your own holiday wreath, tree or cross to honor a lost loved one. Families have the option to attend a small class in-person, or order and pick up their wreath materials to build at home. Click here for more details.
Discover Headstone Decorations at Milano Inspirations Gift Shop
Before you head to your loved one's gravesite, stop by our Milano Inspirations Gift Shop to pick up a beautiful wreath, bow or other decor to brighten your loved one's memorial for the holidays.