Life-size pirate statue donated in memory of Rocky River High School graduate, Maria Milano
ROCKY RIVER, Ohio -- By the time basketball season rolls around for the Rocky River Pirates, fans will be greeted by a life-size pirate statue on their way to the high school gym.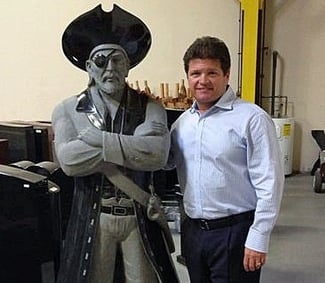 But the statue, in memory of 1983 graduate Maria Milano, will make its debut on Friday at the first home football game of the season. Donated by Milano Monuments, the about 6-foot, black granite pirate will be on display at the game, with a dedication ceremony scheduled for halftime.
Jim Milano, a 1982 Rocky River graduate, said he and his late sister were extremely close and enjoyed some of the best times of their lives when they were in high school. That's why he thought a statue of the team mascot would be a good way to remember her.
She was a cheerleader; he played football and hockey. Milano said that long after she graduated, his sister -- who was also his business partner at Milano Monuments -- continued to stay in touch with her high school friends.
Maria Milano, who was the mother of four, was "very sweet, very caring and giving," said longtime friend Tammy Kramer.
Maria Milano died Dec. 12, 2012 after being diagnosed with a highly aggressive form of breast cancer. She was 47. Her daughter, Alecia Milano-Michitsch, thinks her mom would be happy to be remembered at her alma mater.
"My mom always talked about Rocky River High School and the friends she made. You could tell she was very happy at that time in her life," Milano-Michitsch said.
Jim Milano said it took roughly eight months to create the about 3,000-pound statue, starting with conceptual drawings and a clay model. Parts of the pirate, such as his hat and long coat were hand-polished to a deep shine -- a time-consuming process, Milano said. "But I didn't want to cut any corners."
The pirate is detailed down to an earring, ponytail and a sword at his side.
After his debut on Friday, the pirate will head back to Milano Monuments to be fitted on a pedestal, which will include a hand-engraved photo of Maria Milano. The statue ultimately will be installed inside the Wagar Road entrance of the high school.
Jim Milano declined to say how much his donation is worth. "It's not about the money," Milano said. "I just thought this would be a way to leave our mark" at a place that was important to both siblings.
His cousin, Jay Milano, is president of the Rocky River school board. The pirate statue is "spectacular," Jay Milano said. "For the schools, it is an extraordinary finishing piece with what we're doing with the campus."
The halftime ceremony will thank Jim Milano for the donation and thank supporters of the Rocky River Campus Foundation, a public/private partnership that continues its work to improve the grounds around the high school. Members of the foundation will be on hand at Friday's game to explain more about their efforts.
There is also a reception in honor of the statue donation scheduled for 5 p.m. in the commons area of the high school. Jim Milano said he hopes to see many alums from the 1980s attend.