Poland Riverside Cemetery
About the Cemetery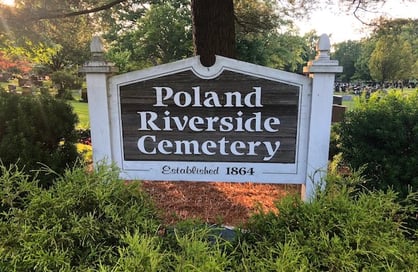 Poland Riverside Cemetery—also known as Poland Cemetery or Riverside Cemetery—has been serving all faiths in the Youngstown, Ohio area since 1865. Poland Riverside Cemetery is located on 110 Riverside Dr. in Poland Village of Youngstown.
The cemetery is owned and cared for by Riverside Cemetery Association. Poland Riverside Cemetery offers a choice of burial options, including graves permitting above grave markers or headstones and upright monuments.
In 1865, three acres of land on the east bank of Yellow Creek established the cemetery. Over the years, Poland Riverside Cemetery has grown to 30 acres, containing one mile of paved roads and over 5,000 graves.
History of the Cemetery
The story of the Poland Riverside Cemetery is really the story of two brothers, Cook Fitch and Charles Newton Kirtland—or "Newt" as everyone called him. They were the sons of Henry Kirtland and grandsons of Turhand Kirtland, the founder of the Village of Poland. Both were farmers that owned large tracts of land to the south of the Village. The Kirtland brothers utilized their extra land for grave sites for any needy veteran to be buried. It was a way for them to show gratitude for their military service. The Kirtland brothers, along with others in the community, had plans to erect a monument in memory of its soldiers who have been killed or have died in the Confederate prison camps.
For the next twenty years the two Kirtland brothers planned for the monument. They were the ones who donated a large portion of the cost to sculpt and erect of the life-size statue of a Civil War veteran grieving over the graves of fallen comrades. At the dedication ceremonies of this war monument in 1887, Cook Kirtland introduced William McKinley, then an Ohio State Senator, who later became President of the United States. This story is only one of many that are found at the Poland Riverside Cemetery. Read the entire story here.
Poland Riverside Cemetery
110 Riverside Drive
Youngstown, Ohio 44514
Milano Monuments' Headstones, Grave Markers and Mausoleums at Poland Riverside Cemetery
Milano Monuments and Poland Riverside Cemetery have worked together to serve the Northeast Ohio community for a number of years. Together we help families plan and carry out meaningful tributes to their loved ones.
We created the Northeast Ohio Cemetery Memorial Guide to help you make the best decision based on your needs and priorities. Learn about the memorial regulations and the associated fees at more than 40 cemeteries across the Cleveland area. Access the guide to see how Poland Riverside Cemetery compares to others in the area.
Family-owned and operated since 1969, Milano Monuments offers the best quality, service, value, and craftsmanship in the monument industry.
Our on-staff Cemetery Advisors are well-versed in the rules and regulations of Poland Riverside Cemetery, and can assist you with everything, including lot selection, cemetery regulations and memorial styles and colors.
We make planning simple for you, whether it's for a single grave marker or headstone, custom-designed estate cemetery monument or family mausoleum.
What You Need to Know About Cemetery Fees and Costs
Before you meet with a cemetery to select a final resting place, be aware of the various costs involved. That way, you'll be able to purchase or preplan without fear of financial surprises.
You may be surprised to find out that costs can differ significantly from one cemetery to another, even in the same city or county. That's one reason we highly encourage working through a third party, such as a memorial provider, to help you navigate these decisions. We've worked with hundreds of cemeteries over the years, and can help you make the best choice for your family, factoring in costs, upkeep and other considerations.
Memorial Regulations and Fees at Poland Riverside Cemetery
Each cemetery has its own rules and regulations for the headstones allowed on their grounds. Though most cemeteries are not overly strict, many have requirements for the grave marker's material and size at most cemeteries. By learning about these rules, you can better ensure the memorial you design can be placed.

We created an interactive map and list of the memorial design rules and regulations for dozens of the most visited cemeteries in Northeast Ohio.
Learn about the memorial rules and costs at Poland Riverside Cemetery and see how it compares to other cemeteries in the area.
Tips to Simplify Your Experience with Cemeteries
1. Ignore the myth that you have to purchase through a cemetery.
Contrary to popular belief, cemeteries cannot prevent you from working with an outside vendor. At Milano Monuments, we advocate for our customers to ensure their right to memorialization is protected. We have supported our customers when working with cemeteries to help them get the memorial they want approved.
2. Work with a local, knowledgeable provider.
Across all industries, nearly one-tenth of all retail sales now happen online. While this can seem like an easier option, even for headstones, it rarely is. Due to the unique restrictions of each cemetery and the various forms that must be approved, we strongly recommend working with a provider that knows your cemetery and can advocate for you.
Get Help Working with Cemeteries
We have relationships with local cemeteries and educate you on the differences between cemeteries, the fees each requires, and the rules for headstones (including how they vary from section to section within a cemetery).
We work with you to create your memorial on our computer aided design system. You'll see a full-size rendering of your memorials before it's committed to granite.
Here are related cemetery resources that will help make you feel informed about cemeteries, including regulations, costs and more: