No matter the business or organization, building renovations can be tricky—especially when priceless statues and sculptures are involved.
In addition to finishing renovations on time, keeping statues, sculptures and monuments clear of construction is a main priority. This means safely moving meaningful tributes out of the building to a safe location until heavy construction subsides.
However, safely relocating heavy, fragile objects is no easy task. Some statues must be disassembled, then reassembled and installed in a new location. Many times, the responsibility of safely moving these relics is too much for the construction company, and the business owner must find a solution before renovations stall.
What do you do? You can try to move the statue or sculpture yourself, but oftentimes these objects are immovable by hand or common construction equipment and the burden of damaging the piece is too great.
Fortunately, there is a safe solution. Read on to discover how Milano Monuments helped St. Ambrose Catholic Parish relocate and restore a sign and three statues during their church renovation.
New Life at St. Ambrose Church
In September of 2018, St. Ambrose Catholic Parish chose to repair and remodel their 36-year-old church. At a cost of nearly $5 million, the church renovation included:
A remodeled sanctuary.
A new roof.
A new family room.
Handicap accessible features.
More pews.
New carpets.
But before St. Ambrose could start construction, they needed to carefully move the church sign and three statues (one of which was sculpted by a nun from the original parish).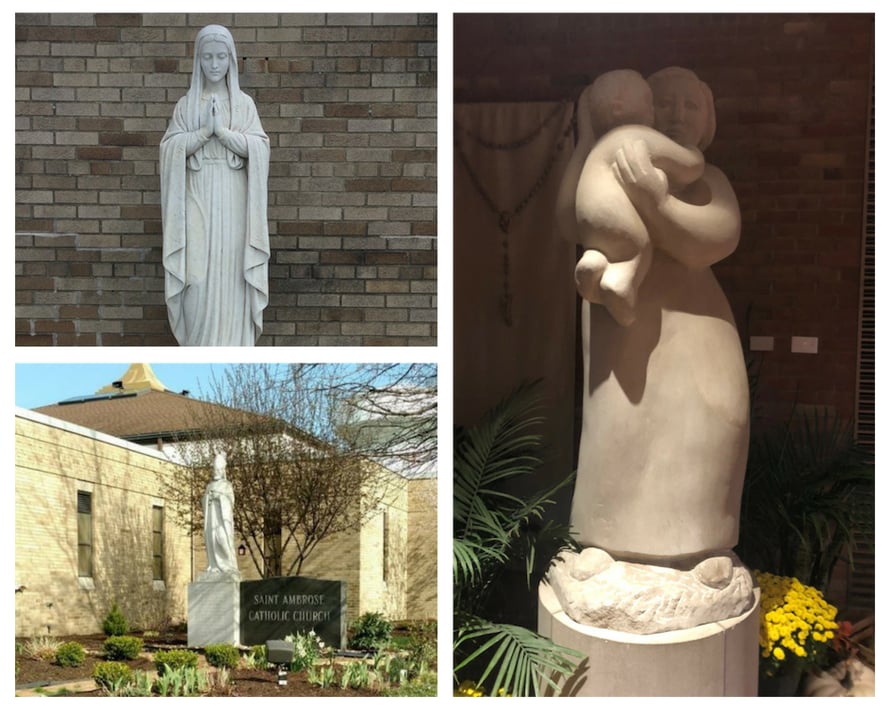 The Resurrection of St. Ambrose
St. Ambrose needed an experienced professional with the right equipment to safely move the statues—something many construction companies aren't equipped to do.
So, St. Ambrose's church staff reached out to Milano Monuments.
"We moved two outside statues before moving one that was located inside the church," Vice President Michael Milano said. "Once all of the carpet and pews were removed, we were then able to successfully move the statue that was inside the church outside."
After the statues and sign were removed, they were then taken to Milano Monuments for restoration.
"We repainted the lettering on the church sign, as well as retooling the St. Ambrose statue and pedestal," Michael said. "We also refurbished the marble statues by cleaning all of the mildew and moss off of them, restoring them back to their original states, and then moved them back to the church after the remodel was completed."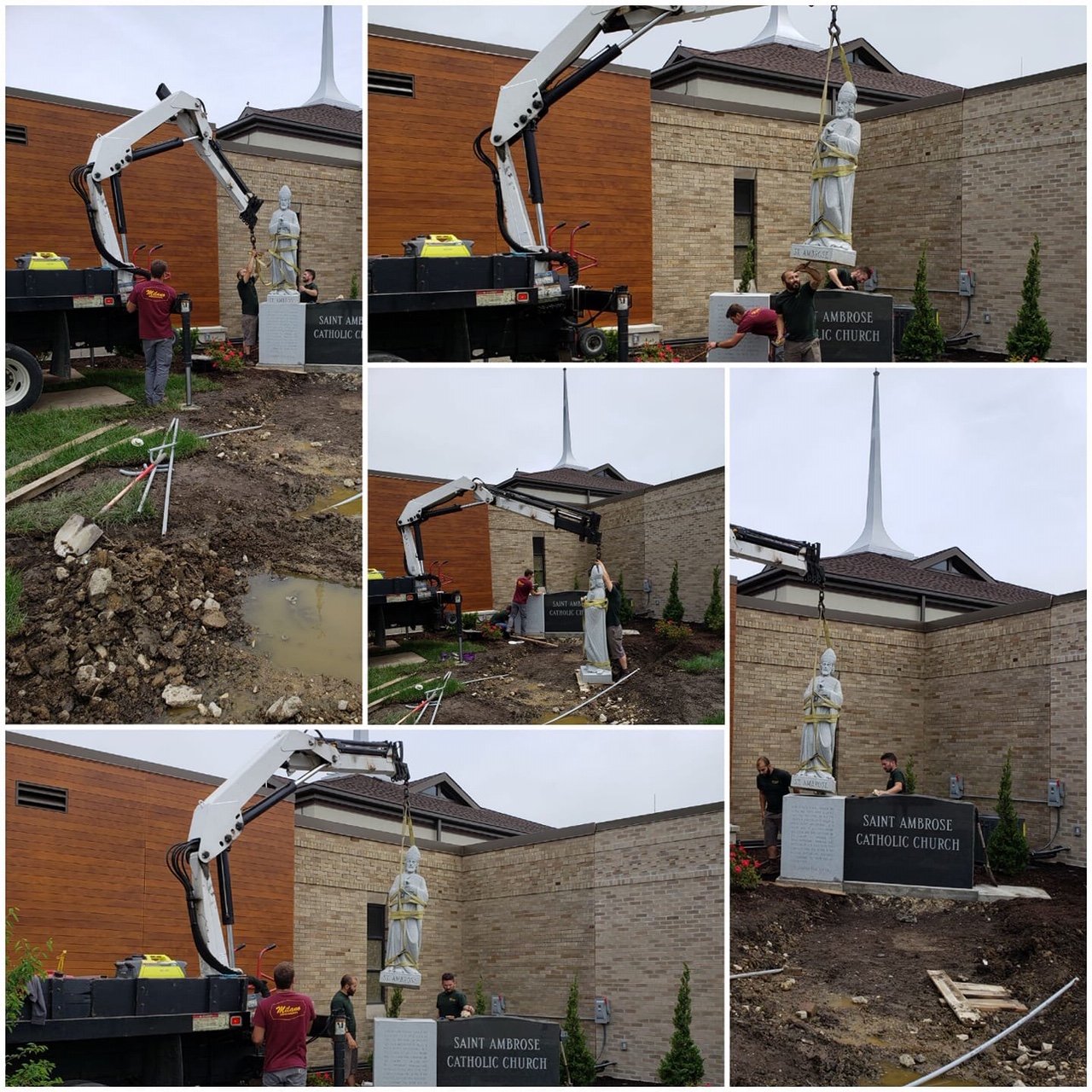 Milano Monuments reinstalling the St. Ambrose sign after restoration.
Move and Restore Priceless Statues with a Professional
Weather it's a commercial business sign or a 100-year-old marble statue, Milano Monuments has the experience and equipment needed to complete your project.
Our equipment, cranes and trucks can safely and efficiently handle all types of materials and finished pieces. You can even rent our trucks or hire us to help transport any heavy pieces of art. And, if necessary, we can store pieces in our 50,000-square-foot indoor facility. Contact Milano Monuments to discuss your commercial project.