There's a lot that goes into creating a commercial sign that stands out from the crowd. You must consider the sign's location, materials, color and design, and ensure all elements embody your company's brand.
To find that inspiration for your business' future sign, you don't have to go far. There are many signs in the Cleveland area that succeed at representing their company's brand to prospective and current customers.
Below, we explore four nearby signs that make a great first impression to those passing by.
1. Cleveland Browns Training Facility
The Browns Training Facility is a popular summer destination for fans as its doors open for training camp each year. The sign on Lou Groza Boulevard welcomes fans into the facility and is the first impression in many ways.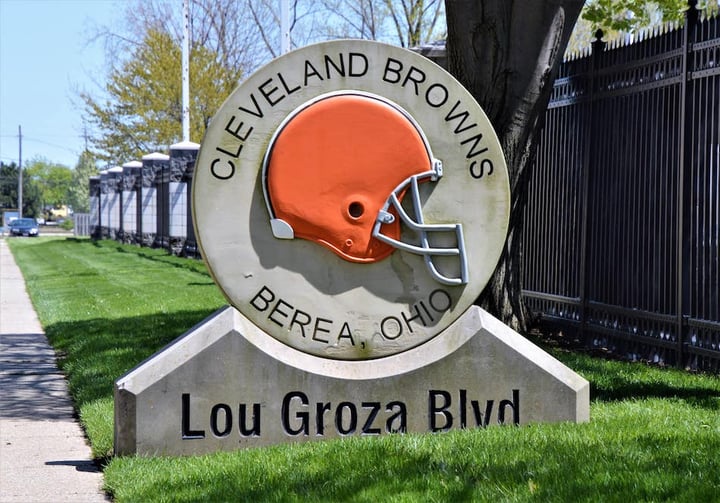 Cleveland Browns training facility located in Berea, Ohio
Refurbished by Milano Monuments, the sign is made of limestone with a sculpted emblem of the helmet. The bright orange helmet is the logo established with the Browns brand, evoking the history of the franchise and the team's return to hopeful success.
2. Saint Joseph Academy: Rawlings Field
Saint Joseph Academy is the only all-female Catholic high school in the city of Cleveland. Its mission is to "foster unifying relationships with God and all creation, empower each young woman to achieve academic excellence, and inspire a life of compassionate leadership and service in a global society."
One way the school empowers its students to strive for excellence, exercise leadership and learn the value of service for a team, is through athletics.
Known as the Jaguars, many of the academy's athletic programs—including the soccer and track and field teams—host home competitions at Rawlings Field, located behind the school.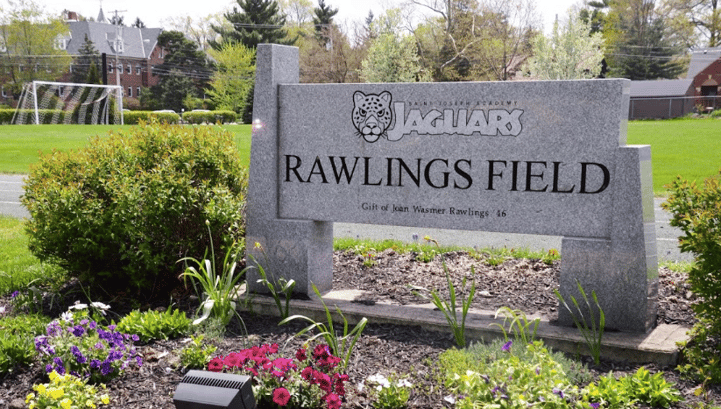 Rawlings Field in Cleveland, Ohio.
First and foremost, the Rawlings Field sign is a clear marker of the field and track's location, but goes above and beyond to embody attributes of the academy and its athletic program.
The light granite stands out from its surrounding, clearly marking the field.
The three large granite pieces combine to be of impressive stature.
The "Rawlings Field" font is large and distinguished, defined by a definitive black color.
The "Jaguars" text is larger bubble letters and brushed with an off-white that contrasts it from the rest. The same goes for the memorable logo of a Jaguar.
Named in honor of 1946 alumna Joan Wasmer Rawlings, the field will continue to be marked by this granite sign for generations of Saint Joseph Academy students to come.
3. Cleveland Script
The Cleveland script signs are a staple for both natives and tourists to the Cleveland area. Created by Destination Cleveland, a tourist agency for the city, the signs drive a unique experience for visitors and residents alike.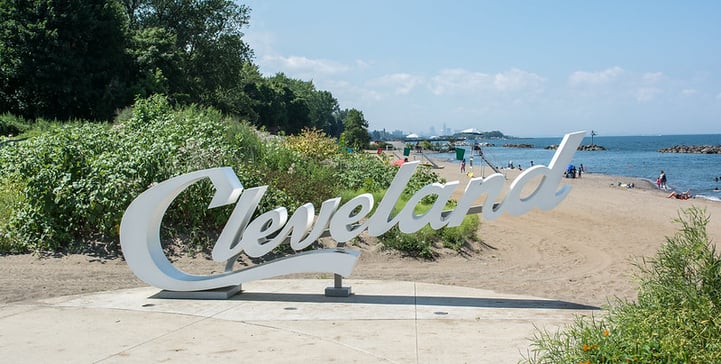 Cleveland script sign located at Euclid Beach Park.
The classy, but stylish, font appeals to what makes Cleveland great as a blue-collar American city, but also what makes it a fun place to spend time and visit.
In this case, the location is critical. The six signs are scattered throughout the city in front of scenic backdrops, offering the perfect photo opportunity. You can check out the signs at the following locations:
North Coast Harbor
Tremont Abbey Avenue Overlook
Cleveland Hopkins International Airport
Edgewater Park
Euclid Beach Park
The Foundry
4. Gill Podiatry
Representing Gill Podiatry Supply and Equipment Company in Strongsville, the sign below is made of limestone, granite and brick. It is the first mark you'll see as you approach the office and is designed to represent their brand.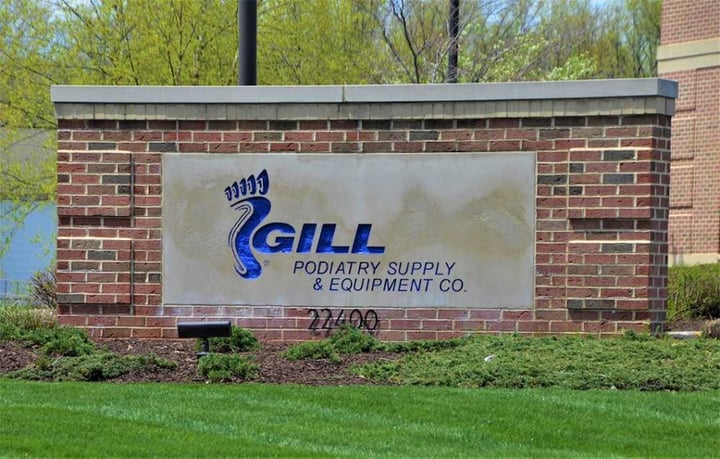 Gill Podiatry Sign located in Strongsville, Ohio.
As a family owned and operated business established in 1932, reputation is important.
Rather than a sign that relies on flashy lights or bulbs to stay lit, Gill's sign is made of a rock-solid material. It exemplifies the company's history and decades of success.
The gray backdrop, contrasted by the clear blue Gill logo, makes the logo stand out on the solid foundation.
Interested in Creating a Commercial Sign of Your Own?
Our experienced and creative team has decades of stone working experience and have designed and created several signs for businesses of all types, which is why we've extended our brand to include Milano Stone & Restoration.
Contact us today to let us help you design expertly crafted signage uniquely made for you.