Imagine seeing Abraham Lincoln, William Shakespeare and Bob Feller all in one day.
In Cleveland, that's possible! Well, kind of.
Cleveland is full of historical statues and monuments. From government officials and athletes, to religious and historical activists, stone tributes of legendary figures are scattered throughout Northeast Ohio.
Use this list as your guide to check out some of the most popular statues and monuments our city has to offer.
Interactive Statue Map
Below we present the 25 key statues to visit around Cleveland. Use this interactive map to see where the 25 statues are located across the city. Some are downtown, while others stretch to University Circle and beyond.
Athletes
Bob Feller — This Major League Baseball hall of famer spent his entire 18-year career with the Cleveland Indians. His statue, located outside Progressive Field's right field gates, shows Feller winding up to throw a pitch.
Jesse Owens — Although he was born in Alabama, this four-time gold medalist moved to Cleveland at the age of 8 with his family during the Great Migration. You can find Jesse's statue in downtown Cleveland in Fort Huntington Park.
Jim Brown — This hall-of-fame running back spent his entire NFL career playing for the Cleveland Browns, leading the NFL in rushing in eight of his nine seasons. As the most accomplished player in Browns' history, his statue became the first statue outside of First Energy Stadium.
Jim Thome — With 612 home runs over a 22-year career, Jim Thome secured his place in the National Baseball Hall of Fame in 2018. You can find Thome pointing his bat outside Progressive Field's center field fence.
Johnny Kilbane — In 1912, Johnny Kilbane became the World Featherweight Boxing Champion after outlasting his opponent in a 20-round match in Vernon, CA. Kilbane held the world featherweight title from 1912 to 1923, the longest period in the division's history. His statue currently sits in Cleveland's Battery Park.
Larry Doby — Just months after Jackie Robinson made his debut for the Brooklyn Dodgers, Doby became the first African American player in the American League. During his career, Doby was a seven time All-Star and put together five 100 RBI and eight 20 home run seasons. You can find his bronze statue outside Progressive Field, standing alongside Hall of Fame pitcher Bob Feller and first baseman Jim Thome.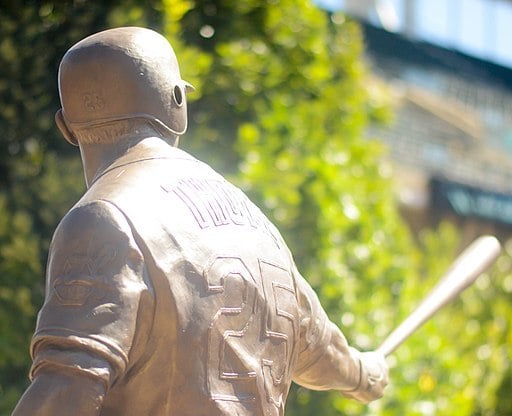 Jim Thome's statue, located outside Progressive Field's center field fence.
Religious Figures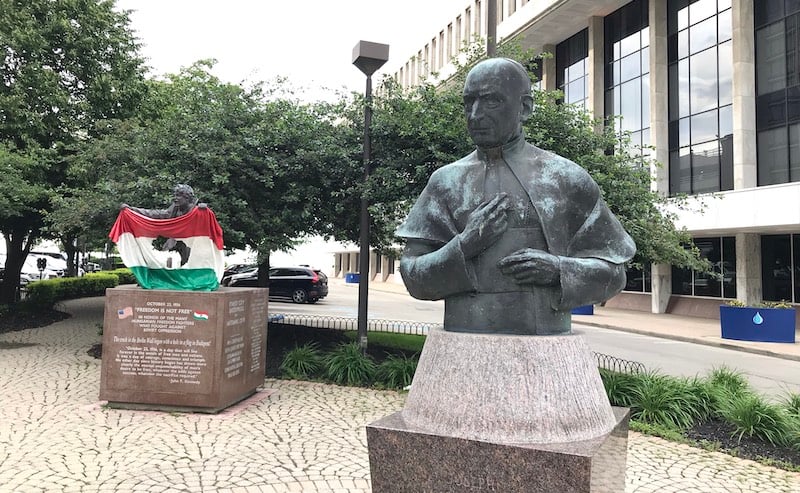 Cardinal Joseph Mindszenty's bronze bust located in Cardinal Mindszenty Plaza.
Government Officials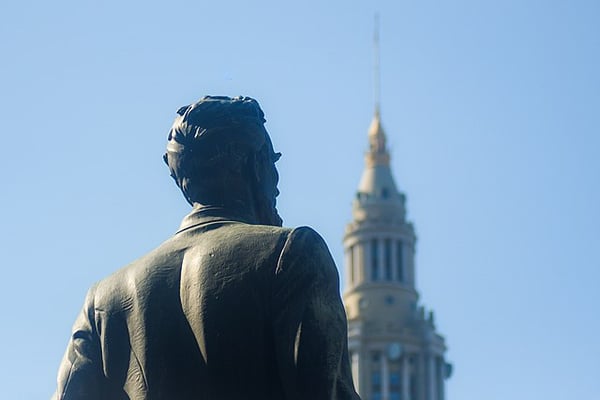 Abraham Lincoln's statue behind the Board of Education building in Mall A.
Historical Figures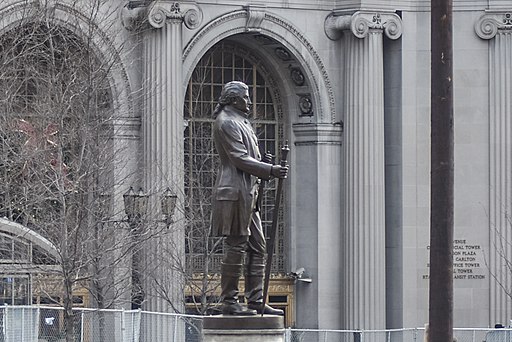 Moses Cleaveland's statue in Public Square.
Interested in Creating a Statue, Monument or Memorial of Your Own?
Milano Monuments is built on three generations of service, excellence and commitment in the monument and memorial industry in Northeastern Ohio. Contact us today to let us help you design an expertly crafted memorial or monument uniquely made for you.